Unlike every year, 2015 was a little uneventful year in terms of the changes & updates Google rolls out in the search world. Still there were few changes such as another Panda, Mobilegeddon, local became a 3-pack, referral spam became a bigger issue and local became partially paid. Though with the dawn of every New Year we get to hear things like SEO is dead and that you hardly have to do with thinks like keywords, link building and so on. On the contrary, the fact is SEO is expanding even more and that your marketing strategy must include a dedicated blueprint for SEO as well. Of course, there could a change in the way you conduct it. And why not? Google comes up with new & improved updates every now & then and SEO is all about the search world that's headed by search giants like Google. According a recent report released by Hubspot, almost 12 billion web searches are conducted each month in the U.S alone. The best part is through SEO you drive quality traffic, get visibility, boost your brand and all of that organically. You create so much content but where do the people get to have access to your content making the content creation worth. Obviously platforms like search, social media and so on. In fact, at times they even search the social media content on the search engines. It actually not the time to realize why SEO is so crucial rather it's the time to realize how to better make it more useful by further optimizing your content for platforms like mobile. Let's have a look to a few SEO tactics that must be a part your digital marketing strategy in 2016.
Focus more on Social Content
Social content has already gained ground but with the passing time it will become even more crucial. Whether it is Facebook, Linkedin or Twitter, the content on social networking sites will gain more significance on search engine ranking pages (SERPs).
Stats for Social SEO:
76% marketers are already using Social Media to support and boost SEO – Impactbnd.com
2016 is exhibiting the search engines like Google, Bing, Yahoo etc. to index more & more social media content. And so! Marketers must be prepared to create, curate ad utilize your valuable social content for optimizing your page for maximum visibility. Mostly, if you are making a search through keywords that are based on the brand names, the results that you get are social content. Let's say you searched for "Digipeform" on Google, the top search results that you get is for the company website, its Facebbook, page, You Tube link & so on.
Pay more attention to Local SEO:
Letting Google know where you are located and what are your offering is actually a very good idea as this is how you can be visible to the most important segment of your potential customers, your local customers who can be easily be moved through the sales cycle towards the conversion. Especially after the 'Pigeon' update by Google for local SEO, it has become very important for businesses and marketers to pay attention to the local tangent.
Stats for Local SEO:
Local searches lead 50% of mobile visitors to visit stores within a day – Searchengineland.com
More than 60% consumers have used local information in ads – Business2community.com
50% mobile searches are conducted in hopes of finding local results – Business2community.com
The more is consumer engagement more will be your ranking and the idea is your listing in the local pages can increase consumer engagement significantly. Here is an illustration for the same in the image below and see how the hospital with the highest reviews is ranking highest among the three.
Give utmost priority to mobile optimization
Consumers are not limited to a device anymore they are using internet on various devices that include tablets, smartphones, laptops, phone watches etc. to browse the web. This is why innumerable brands acted smart and opted for a responsive website in 2015 itself. There is no look back to it, the trend will only get deeper and go farther. So conceptualize and create your SEO strategies keeping mobile searches in mind.
Stats for Mobile SEO:
The total number of searches on mobile devices has seen a 43% increase year-over-year – Neilpatel.com
4 out of 5 consumers use smartphones to shop – Convinceandconvert.com
70% of mobile searches lead to online action within an hour – Socialmediatoday.com
Over 1.2 billion people access the web from their mobile devices – Mobify.com
Global mobile traffic now accounts for 15% of all Internet traffic – Newtarget.com
95% smartphone users have searched for local info – Adwords.blogspot.com
Videos will become even more crucial
Videos anyways are quite successful in holding the interest of the consumers and engaging them. But did you know it boosts your ranking on SERPs as well.
Stats for Video SEO:
Videos make for 62% of all Google searches universally – Marketing Land states
Videos get 50 times better organic page ranks in Google as against plain, static text results – Quicksprout.com
Video searches garner 41% higher click-through rate as compared to plain, static text content – Relesoo.com.
Just a few seconds or may be minutes back while talking about social content we saw in the image about how blended results Google is giving now. This is an opportunity that you can identify and make endeavors to attain the top ranking in SERPs. Let's have a look here in the image below as to how search result looks like for the search query "777 built in 4 minutes".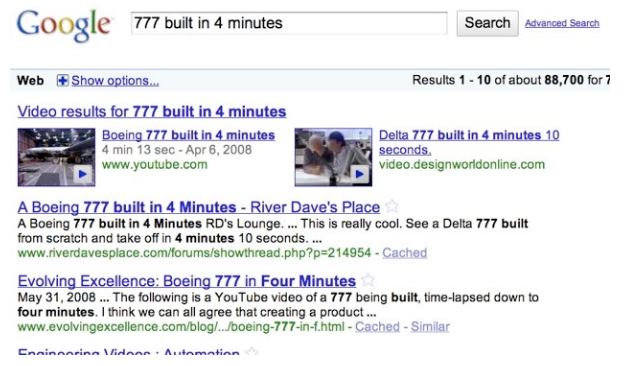 However, creating and uploading isn't the work done you need to make sure you are keeping the right keywords in mind for Google to find your video content, index it and display for those keywords.
So!
Go SoLoMo (Social Local Mobile) & focus more on Video SEO! Create fresh and quality content and promote it across the social channels as this will not only enhance your business credibility but also improves your search ranking in SERPs.
At Digiperform, the
search engine optimization course
covers in and out of SEO starting from its introduction to how to conduct it efficiently, introduction to keywords, how to select keywords, on-page SEO, HTML optimization SEO best practices and a lot more. Experts@Digiperform share with you some awesome techniques about selecting the keywords as well as optimizing HTML for SEO. This is just a gist of what you will learn here, for the detailed course curriculum, you can always download it on our website or simply
click here
!