Since Narender Modi took over as Prime Minister of India, one dream that he has always talked about it is "Digital India", and because of digitization, he could bring transparency in Gujarat during his tenure.
Somehow an internet played a pivotal role in bring corruption down.
Like Gujarat his objective is to bring in clarity in governance through internet. Narender Modi with his speech enthralled the top industry honchos as well as infused the tremendous energy amongst students who are amid their academic education. He exhorted that by 2020 on the digital space there would be more than 18 Lakhs available to students. while the launch of Digital India week many industry joined hands to government to make e-India a reality. On this Occasion, Reliance chairman, Mukesh Ambani, announced to spend about 1 lakh crore to make Prime Minister Narender Modi's vision a veracity. At the beginning of Digital India week Prime Minister gathered around 4.5 Lakh Crore rupees through business leaders across verticals to make internet and smart phone a reality to each human being existing in India. Not only Narender Modi but preeminent business leaders believed that students pursue their career in digital world as it is one of the hot and new career option. In the domain of digital marketing there are various lines such as search engine optimization, social media marketing and web designing, so students may opt for specialization according to their taste and preference.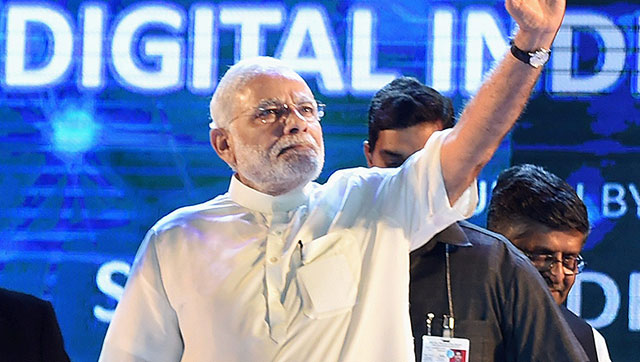 Benefits Of Digital India Campaign
Digital India help young entrepreneurs to start their own enterprise at minimal cost.
The Government doings will be transparent as compared to present.
Each citizen would be empowered to access information.
Two way communication will be established between citizens and Government.
Education would be mightier than material power.
Digital India campaign will help in reducing the negative impact on ecology or global warming.
Through Digital India corruption may be bring down or controlled
Most significant it will render employment to about 18 Lakh People as Narendra Modi Stated.
Digital India will make e-education, e-health, e-governance possible.
In addition the Digital India Campaign intend to render Universal Access to mobile, e-governance, and ample IT jobs for fresh college graduates.
How Students Can Get Maximum Benefits of Digital Marketing
For Job Seekers:
Being a job seeker or a student you might have heard Narendra Modi talking about
digital and its awareness
and while launching the Digital India Campaign, he comprehensively told us about the relevance of digital media in all sphere of lives, and how this industry will absorb about 18 lakhs of students. However it is digital marketing that will yield millions job to college going students, but students needs to introspect that are they prepare for the opportunity? No, future is yet to come, but at present companies are struggling for skilled employees to meet up their requirements, because hardly 30% of digital marketing employees are comprehensively skilled in their craft. Then the question remains that how can students bring in prudent skill or knowledge of digital marketing? It is through comprehensive digital marketing training students can acquire required skill. At present Digiperform, all-inclusive digital marketing institute in India renders complete digital marketing training. And students will have option to pick up best specialization such Seo, Google Adwords, Web designing, Content Marketing and Affiliate Marketing.
For young school going students:
As a young student you must go through Digital Wellness Online Challenge that seeks to augment knowledge and awareness amongst students or youngsters about the cyber threat, cyber bullying, gaming addiction, copyright infringement and malware. In other words it is an initiative and scheme that aims to impart knowledge like safety and responsibility of digital media users. As yet more than 10,000 children have registered themselves on this initiative of government in association with
Digiperform
. Digital Wellness Online Challenge is a quiz website that asks multiple choice questions in interesting and funny ways so that students not only could get knowledge but propel other children also to take part in quiz. Digital Wellness Online Challenge is a subdivision or a part of Digital India Campaign.