Sneak Peak:
Read this case study to know how a Live Video Social App used Facebook video ads to reach and engage potential customers and increased sales by 2.5 times at 50% lower cost. 
Company:
#fame
Industry:
  Digital Entertainment
Tool Used:
Facebook Marketing
Result:
2.5 times increase in sales at 50% lower cost
Business Type:
B2 C
The Brand & the Story
Fame, the digital entertainment network, launched India's first live-video social app called #fame that let people display their talent through live performances for audiences all over the world to watch it. Performers & fans can interact with each other on this platform through live chat, comments and stickers. The digital entertainment company wanted to reach & engage new customers and encourage them to run app installs for which they used video ads & app install ads and achieved a 50% lower cost per install.
#fame's objective behind Facebook Marketing: Installs and engagement
#fame wanted to generate awareness about it in the target audience and drive 25% more app installs. The brand also wanted to boost its app retention rate by 10% and so encourage people to engage with the app.
#fame's strategy for Facebook Marketing: App teasers
In order to encourage amateur & professional performers to go live on the app and get everyone to watch, #fame published fresh content every day. For endorsing the live events, #fame not only shared photos of popular movie stars like Shah Rukh Khan and Arjun Kapoor but also shared videos featuring budding stars from the app who responded to challenges or shared tips. For instance, tips on men's fashion were shared by #fame star Ratanpratap.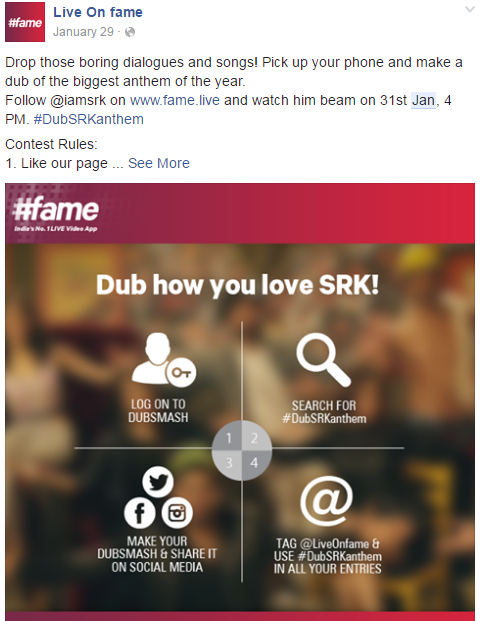 #fame kept the tone of content raw and authentic tone in order to show people that it is a platform for everyone to connect with each other on their path to fame, and not just for the celebrities. At the same time, the brand never missed out on sharing well-timed content related to trending topics that include cricket, popular movies and other events. Mobile app ads (through Facebook & Audience Network) and video ads were used to drive awareness, engagement and direct actions. All the ads contained a clear call to action. #fame also increased engagement by building a Custom Audience of people who had already installed the app and targeting a video ad compelling them to check in. The brand made use of Lookalike Audiences as well for finding people who more or less resembled the current customers and targeted an app install ad to them.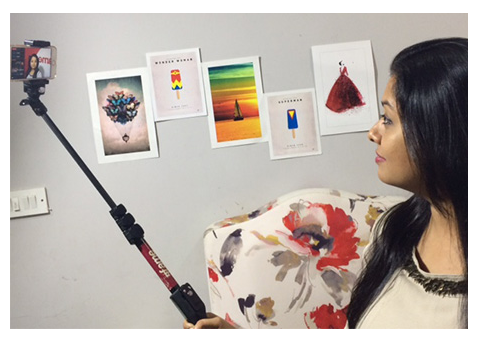 Products used:
Adverts
Video
Desktop News Feed
Mobile News Feed
Custom Audiences
Lookalike Audiences
App Installs
The Success: More & Loyal Customers at Half the Cost
With the help of authentic photos & video teasers, #fame found new app fans who not only installed the app but engaged with it and proved to be loyal customers.
Within 4 months (October 2015–January 2016), the brand achieved:
5 times more app installs
50% lower cost per install with the help of tools like Custom Audiences and Lookalike Audiences
Words by Puneet Johar, CEO & co-founder, #fame
Facebook has really performed in terms of conversions and the retention rate for new app users. It's an effective channel for us for driving video views of content from our app while building the #fame brand. Facebook Ads are a scalable and sustainable way for us to grow our platform, both on mobile and desktop.