How FIU Online Used LinkedIn Marketing to boost enrolments in niche professional programs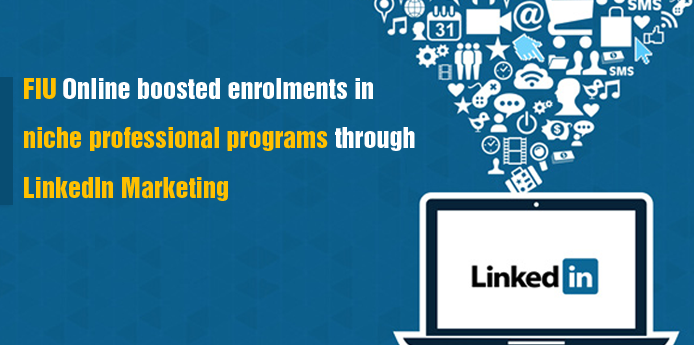 Sneak Peak:
Read this case study to know how a university uses LinkedIn marketing to boost enrollment in its online degree programs.
Company: FIU Online
Industry:  Education
Tool Used: LinkedIn Marketing
Result: 4 applications in less than 2 weeks
Business Type: B2C
Reaching well targeted prospects for online degree programs
A public, research-focused university based in Miami, Florida International University (FIU) has an enrollment of more than 55,000 students. FIU Online, which is the University's online division, offers 20 undergraduate degree programs and multiple graduate degree programs in fields like business, communications, education, and engineering.
Since the programs offered by FIU Online are highly specialized, the university needed a customized approach for reaching pre-qualified prospects with job experience in each vertical market.
Initially the school made use of LinkedIn's self-service platform for building interest in its online programs. However, when they saw some considerable results there, they increased its investment without any delay. The school worked with a dedicated account management team for leveraging both LinkedIn Sponsored Content and Sponsored InMail for building overall brand awareness and driving pre-qualified leads. For them the ultimate goal was increasing enrollment in niche professional programs.
Hitting the bull's eye
Criteria such as job function, education level, and field of study were used by the FIU Online for targeting and reaching just the right audiences. For instance, while targeting for enrollment in the Master of Science in Human Resources Management, the school displayed targeted Sponsored Content only to prospects who had undergraduate degrees and were working in an HR function. However the same prospects were targeted with Sponsored InMail that offered a short but detailed message explaining the benefits of the 12-month degree program and including a call-to-action that said 'learn more'. The strategy generated awesome results with one InMail campaign resulting in four applications in less than two weeks.
Monitoring leads through conversion
The school was not just able to reach highly targeted prospects but they also tracked the attribution of leads for making adjustments in their marketing spend accordingly.
The campaign highlights:
­ 4 applications in less than 2 weeks from one InMail campaign
­ Sponsored InMail open rate up to 2x LinkedIn benchmarks
­ Up to 1.8 % engagement rate on Sponsored Content
­ Ability to attribute leads directly to LinkedIn and connect on a personal level
Words by Cristina Raecke, Executive Director, Marketing, Recruitment, and Enrollment, FIU Online
 "We're always trying to find the right mix between brand awareness and lead generation, and I think that LinkedIn does a very good job of matching the two."
 "We're always trying to find the right mix between brand awareness and lead generation, and I think that LinkedIn does a very good job of matching the two," says Cristina Raecke, executive director of marketing, recruitment, and enrollment.
 "Our goal is always to increase enrollment with the right qualified students, and LinkedIn makes it so easy for us to find the target audiences that we need for our programs."
 "LinkedIn allows us to easily determine our ROI," she says. "We are able to promote FIU Online to top-of-funnel prospects that are qualified for our programs and follow their path from lead to enrolled student."