Sneak Peak:
Read this case study to know how a hotel used content marketing to increase coverage and hotel bookings via organic search.
Company:
FRHI Hotels & Resorts
Industry:
  Hospitality
Tool Used:
Content Marketing/ SEO
Result:
­ $1,000,000 in advertising value
Business Type:
B2B/ B2C

The Brand & the Story
One of the world's most luxurious hotel groups, FRHI Hotels & Resorts is a Toronto, Canada based hotel management company that has three leading brands: Fairmont, Swissôtel and Raffles. The hotel group wanted to increase coverage and hotel bookings via organic search for which it collaborated with the SEO agency Builtvisible.  In order to increase the organic search the team paid main attention towards generating content. The campaign helped the hotel brand achieve $1m in advertising value.
Improving the SEO performance
FRHI wanted to achieve brand exposure for driving relevant referral traffic, increasing bookings, and building high-value links to the domain for improved SEO performance.
Attracting & engaging the audience through distinguished content
The team at first conducted a deep research about the relevant content to be published under the campaign after which they created, published & promoted a series of content pieces for engaging the luxury hotel company's audience and attracting new coverage across different global markets. Under the campaign, a series of content pieces were produced since the beginning of 2015 that included long-form content, interviews with key staff, infographics & so on that were able to secure coverage in some of the major publications including The Independent, Mail Online, The Huffington Post, and Buzzfeed.
Content produced included:
Decline of Bees – Fairmont.com
Confessions of a Savoy Butler – Mail Online
Wedding Dresses through Time – Buzzfeed
Juicing for Every Type of Holiday – Tripzilla
Details that Make a Difference- – Fairmont.com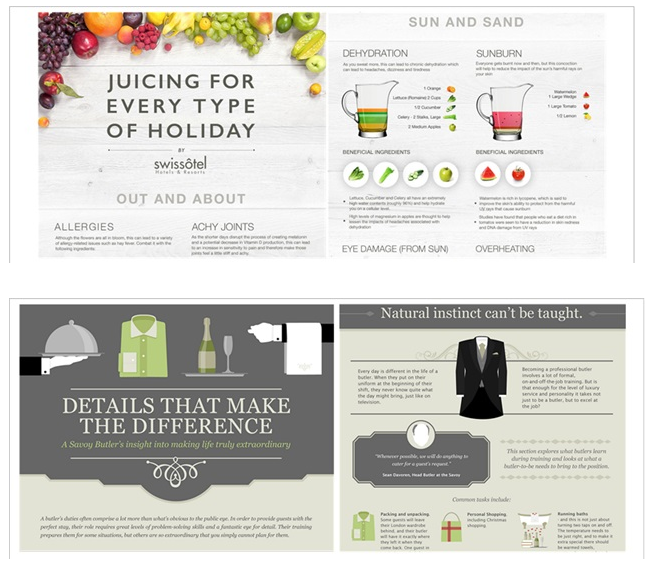 Exceeding the expectations
The FRHI group witnesses a great success within the first six months of 2015 through the content marketing campaign. The company could achieve $1,000,000 in advertising value (AVE) apart from reaching 10,000,000 people via social as well as gaining 172 pieces of editorial coverage.