Chances are that you like most marketing professionals especially in small sized B2B service companies are one man army – doing SEO, social media marketing, leads generation online PR and even web site analytics. Yeah, life sucks sometimes.
No worry, you are not alone. More than 80% of all seasoned professionals who address Digiperform and our team of international trainers feel the same way like you do before they attend our programs caters to their own specific needs. Trust us we know how you feel because long time back we use to be in the same waters like you do.
Yet, most marketers can "manoeuvre " around all these activities except for one.– how to prove their ROI.
Life really is unfair when you have to do things by yourself forced to be good in multiple things at the same time. However proving the ROI of those efforts is where most marketers truly feel lost.
Perhaps the inability to prove real ROI with data will not fire you immediately in companies where the culture of doing things just for the sake of having them done prevails. Yet you will neither get the promotion you want because you are unable to do prove that what you actually do translates into bottom line results.
Those few who are well acquainted with web analytics tend to be reporting squirrels – extracting tables of data and filling bags of datasheets of excel like the popular AvinashKaushik from Google would call data pukes.
The problem with this approach is that these marketers present data but not insights. They demonstrate ability to track basic metrics and KPAs like site visits and sessions where in fact other underlying factors wait to be discovered that could bring real breakthrough for your business and make you a rising star in the company if you manage to discover them.
In other words ladies and gentlemen, we are talking about a Golden mine waiting to be dug. This is the reason why we have introduced the advanced Web analytics course for marketing professionals willing to transform themselves from reporting squirrels to real analytics ninjas.
Imagine the following scenario – your website generates 100 leads per month which with a common conversion rate of 2% means 2 expected qualified leads per month.
Your boss says – come one Prateek if it can be 2% why can't it be 10%. Just do it!
Prateek, a.k.a you leaves the office in totally confused as if 2% can be turned into 10% with a simple abracadabra. But you have a boss to please and promotion you want to grab.
What can Prateek do?
First of all he will have to change his overall mental impression regarding how his website work. Long gone are days when a website used to serve information purpose. Today, a website is an integral part of the entire sales/marketing machinery, and as such it is supposed to deliver tangible and measurable results. It is time that Prateek unlocks and demonstrates the hidden ability of his website to bring new business with the help of web analytics.
How would Prateek prove that his website brings results?
He brainstorms all the possible outcomes his website can produce for the potential visitors. In other words he decides on the website's micro and macro conversions.
Macro conversion = the primary type of conversion a website is supposed to achieve such as ask for quote, request a demo or request more information
Micro conversion = assisted conversion which may not translate directly into bottom line but have large potential of driving sales or brand awareness. This includes subsribption on the blog, download of an ebook or a corporate brochure etc.
What else is missing in his new secret weapon?
After Prateek defines the different objectives his website can accomplish (micro and macro conversions) he attribute to assign a monetary value for each one of them. Before that Prateek opens his web analytics tool, say Google analytics to see which pages are most visited.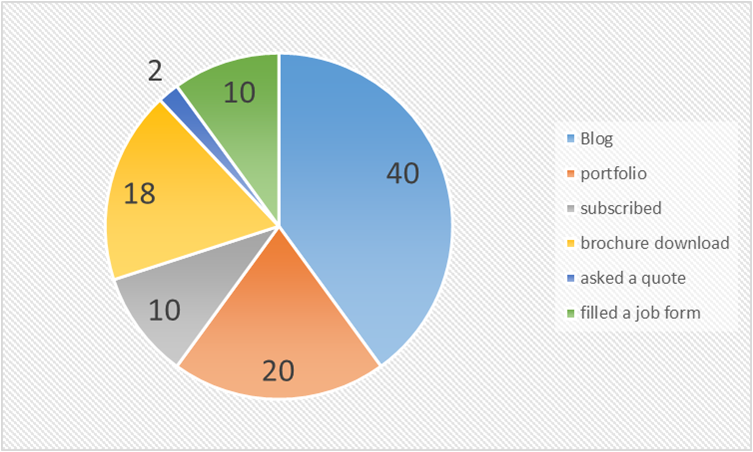 As you see, Prateek prepares a pie chart on which he shows the performance of the micro and macro conversion indicators. Now he can start calculating the so-called Economic value the company's website is delivering.
As we said above, out of 100 visitors only 2 have converted which accounts for humble 2% of conversion.
However not every visitor to your website comes straightforward and ready to convert. As you see in the chart 10 visitors were actually job seekers who filled up a job form. It would make sense that Prateek excludes those visitors from the total number when he calculates the conversion rate. Under this new approach, the new conversion rate is already 2.22%. Historical data have confirmed that the average deal value for clients coming from the website requesting a quote is approximately Rs. 67.000 or Rs. 1.34.000 for 2 leads.
Prateek sees that 18 visitors have downloaded their corporate brochure which could be just one step before actual conversion. He goes to his financial department and asks how much is the cost of a delivery of a brochure via mail (costs includes printing plus postal costs). The finance executives usually has this exact number because this belongs to the category of material costs and tells Prateek that a cost to get a brochure delivered to any location in Delhi is Rs. 70.
Prateek multiplies the total cost of offline brochure distribution with the number of times an E-brochure has been downloaded from his website(18×75) and gets the amount of Rs. 1350
Prateek also notices that good number of visitors convert as job applicants which significantly eases the job of the HR department in terms of increasing the pool of candidates for screening. Ofcourse the company opts for LinkedIn recruiter solution to attract high profile candidates. Prateek knows that a packet of 5 job postings on LinkedIn costs the company around Rs. 6.200. He adds this amount of Rs. 12.400 as well.
Prateek also notices that this month 10 visitors have turned into new subscribers of his corporate blog which through smart Inbound Marketing can be nurtured into leads and converted into customers. From 2rd party resources (eMarketer), Prateekdiscovers that the average monetary value of a blog post subscriber in his industry is Rs. 85. Prateek ads the amount of 850 as well.
Now Prateek is able to calculate the full Economical value of his website:
TEV (Total economic value) = 134.000 + 1.350 + 12.400 + 850
TEV = Rs. 148.600
This approach enables Prateek to prove that his website is responsible for generating 9.8% more income and revenue than initially anticipated.
Prateek visits his seniors and CEO and enlightens them with the new insights. Prateek makes it clearly visible that this percentage will keep increasing with every website visitors that is optimized to land and accomplish the appropriate objective on our website which motivates the Top management to approve that long needed budget for website redesign and optimization.
CEO is happy and Prateek gets the praise he deserves and probably even a promotion. On a minimum level, he is entrusted with the privilege to lead the redesign process after he is given the team and the money and that means a further chance for him to shine and to add new project management skill on his resume.
We want you to be next Prateek. Our Web analytics course is stashed with tactics and reporting dashboards which will make better marketer and web analytics and will surely transform you into a rising star within your team. Fill up the form here andwe shall inform you about the commencement of the program as soon as we are ready to launch.
Catch up soon