Most of the PR professional have already started using
social media Marketing
as they are fully aware that it's the best
Press release distribution
channel to carry interaction with the brand's current consumers and prospects directly. Earlier, Most of the bigger brands were finding it difficult to directly connect with their audience in real-time and were investing a huge amount in carrying door-to-door surveys manually or via mails. Social Media has not only provided a platform where corporate can broadcast their messages to audiences but also a place where they can interact.
Activities on Social Media for Public Relations:
Identify Audience: The first thing that as a PR professional that you can carry here is the identifications of the right platforms for connecting to the audience-based on their types and availability. For instance, a B2B firm using LinkedIn as a tool for public relations can result in a better response than Facebook or Twitter, Whereas for a consumer brand it might work vice versa.
Share Updates: Once you have identified the right platform to connect with your audience the next step is to set a plan for sending out messages for people that they would be interested in and would interact with. We will discuss the types of content to be shared later in this topic.
Build Network: Yes, social media is a place to build a network of people who are connected with your business directly or indirectly not only your customers but your stakeholders, employees, channel partners all could be a part of it. A bigger and loyal network can help you to sustain even the mightiest of Crisis Situation
Monitor:

That's the toughest part of it. People can talk good or bad about you all day & night. There are no office hours here and most of them want you to take notice & respond back to them ASAP. Hence use should clearly communicate your social turnaround times to people and make sure no voice goes unheard. Instead of managing all the stuff manually use tools for Social Media Monitoring.
What Kind of Post should be shared for PR?
News & Updates: You can use it to post the company updates like product launches, product updates & upgrades, Achievements, Major tie-ups, and management changes. One thing that you need to take care of while posting is your social profiles should not look like a news website. The ideal frequency to do such posts is once in a fortnight or a month.
Customer Stories: You should create stories about the experiences of your customers. Encourage your customers to post positive reviews about your company & product and how it changed their lives. You can plan giveaways or contests to encourage them.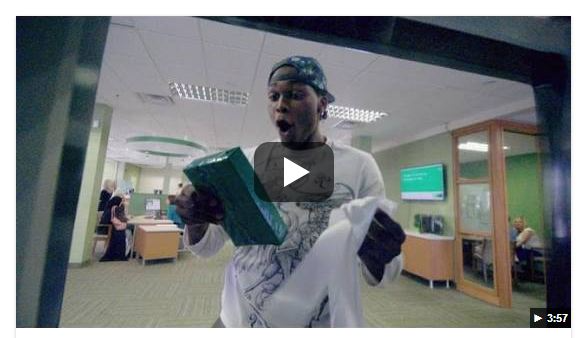 This is what TD bank did; they created a campaign where they turned ATM's into automated thanking.
Watch it here
and created hashtag #TDthanksyou that went viral.
Employee Stories: Employees at your organization also have their own personal network on social media and making them heroes of your social posts will surely encourage their personal network to interact and promote your post. Running posts like an employee of the month will boost their morale & also helps an organization to show their human side and the people behind it.
Product Stories: A journey post on how a company works behind a product creation, starting from an idea to its delivery in consumer's hands will help towards increasing awareness of consumers towards products' unique features and its benefits and if they will love it they will surely share it forward.
Apology: Last but not least even the best of the companies can make mistakes. So there is no better place to have an open apology than in front of your fans. This will not only show that you care but will also reduce the chances of your competitors taking a dig at you. Read our latest article that covers how Flipkart apologized to its customers for their bad services.

We are soon launching a customized digital marketing course for PR professionals and you can register with us to get updates on dates.