Sneak Peak:
Read this case study to know how a Korean car manufacturing company used Facebook marketing to achieve an 11% spike up in sales of its hero vehicle, the Sportage while using the social media platform as the communication hub during the 2015 Copa America tournament. And speaking of car sales, giving the 2020 pandemic, some
car prices
went actually down.
Company:
Kia Motors
Industry:
  Automotive
Tool Used:
Facebook Marketing
Result:
11% lift sales
Business Type:
B2C

The Brand & the Story
Kia Motors is a motor vehicle manufacturing company based in Korea. Over 70 years old, the company has maintained a dynamic and exciting brand identity. The car manufacturing company sponsored the Copa América football tournament in2015.
Kia Motors objective behind Facebook Marketing
The vehicle manufacturing company wanted more and more people to visit its event website and measure the resulting sales conversions as a part of its sponsorship activity. The company had a target of reaching 150 million people by using Facebook as a communications hub.
Kia Motors strategy for Facebook Marketing
A series of video & photo ads were run by the team under the umbrella of the theme 'Accelerate Your Passion' for building excitement among football fans in the run-up to the 2015 Copa América tournament. Photo ads were used to drive traffic to the dedicated campaign website. The overall campaign was split into 3 sub-campaigns: #MyKia, #KiaPasíon and #KiaMyCity. #MyKia that was Kia's heritage campaign was run to reward passionate football fans. Fans were allowed to upload selfies with Kia cars and could win tickets to COPA América matches. This created a buzz among the fans. They not only became familiar with the Kia brand, but also shared their excitement during the tournament.
The Success: A good kick-off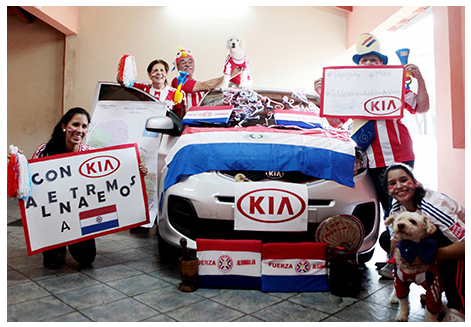 The 3-months sponsorship campaign really helped the car manufacturing company in bridging the gap between online & offline communications apart from reaching more people and forging closer ties with them. Between April–July 2015, the campaign saw:
11% lift in sales compared to the previous year in markets where Facebook Ads were used
15-point increase in ad recall
7 times spike up in engagement per reach
8 times spike up in engagement per click
189 million people reached in 3 months
220 million video views in 3 months
Words by Sun Hur, Assistant Manager, Kia Motors
Facebook was an integral part of our integrated marketing efforts for our 2015 Copa América sponsorship campaign. Facebook's ability to drive website traffic, share video content and pinpoint the right people to target was extremely effective, and we plan to continue our partnership with Facebook in the future.