According to a report published by principal analyst Peter O'Neil, B2B marketers that implement a lead to revenue process for the first time or expand an immature program often feel that they are navigating uncharted waters. However, they do not realize that they are not alone in this race as most of the people are not aware about the successful strategies that can lead them to the sales funnel. Therefore, this blog discusses some of the successful methods that are being implemented by some of the top performers that help them to ease the process of lead generation.  However, we should not forget that even the most experienced marketing pros can struggle with identifying and deploying the best tactics, strategies, techniques and metrics, which can create a positive impact on business goals and revenue. Therefore, a primary question that revolves around various marketers' mind is how to find a clean path to ensure an effective, sales-generating customer engagement. The stats shared in this post from Forrester report will help you to benchmark your current processes while providing an insight on methods to embark on sales and marketing performance. So, how do define a top performer? Forrester defines a top performer simply as a company whose growth during the last fiscal year exceeded its plan. The very first difference between top performers and people struggling with their current marketing plan is that they create and implement different tactics across the sales stages. A survey was conducted among the B2B marketers about their usage of 16 different marketing tactics across the four L2R (Lead to Revenue) stages, with respondents naming the 4 most effective tactics that they had actually deployed. Forrester survey concluded that top performers implement different strategies in each of the phases when compared with low performers. Some of the notable differences were:
A 'Get Found' Approach –
Top performers are aware about this reality that today's buyers are empowered and willing to begin their purchase process through search engines, social networks as well as through other digital mediums. This investigative process is usually termed as 'declaration of need' which refers to a buyer's digital footprint and a vendor's ability to track it, understand it and ultimately match needs with findable content that can start a conversation. As a result, there is a strategic shift from traditional product-based collateral to issue and solution based collateral which directly addresses the prospects in their discovery phase. Experienced and result-oriented marketers usually apply the following strategies in order to pique the interest of buyers in the early stage of brand awareness:
Clear understanding of their target audience and things that they are looking for
Readily available digital content that focuses on target's business needs issues, interests and pain points.
Though leadership tactics such as conducting webinars and guest blog posts on complementary sites where the target audience is expected to visit.
Lead-Generation: Socialize
– This process is less about social media and more about getting figuratively to give prospect buyers an opportunity to know a company. As you can see below in the image, trade shows top the list for generating leads. Depending upon the type of business, size and location, it is quite likely that other in person events would also yield some success such as round table sessions and even small networking event at a local restaurant.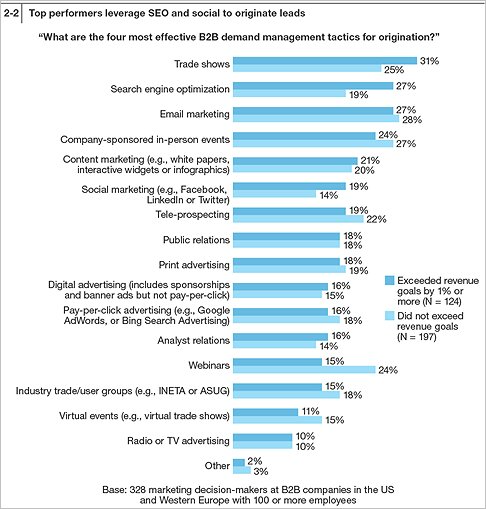 However, a notable difference was found at this stage –
top performers do not compromise on using SEO
and they use it very well. Moreover, since the buyers at this stage are also investigating their issues in much more detail, top marketers have ready to post content, optimized for longer tail keywords to ensure that it gets found by deeper-dive search queries.
Lead-Nurturing: Engage Deeper
– At this stage, what distinguishes top performers is their focus on increasing digital engagement through warm and hot leads i.e. more events (both in-person and virtual) and more communications (social and email) When a lead-vendor relationship is established, top performers usually work in a way to move the leads down the funnel by engaging with them actively and directly. Here strategies targeted are primarily web events, email campaigns and increased social media communication. In contrast, average marketers tend to stay the course in this stage while continuing with passive techniques that are better suited for early
lead generation including SEO and content marketing.
Actively Marketing: Post Sales –
One of the main characteristics of top performers is that they tend to maintain focus on existing customers while aligning their retention strategies with numerous cross-industry studies which indicates that it is less expensive to keep an existing customer than acquiring a new one. By using an optimized range of tactics, market leaders aim at effectively maintaining customer loyalty and expanding the relationship to the next avenue milestone, be it service renewal, the next revenue milestone or a new purchase.