It's an ultra-competitive environment that we have today and if your business doesn't exist in the online world it doesn't exist at all. Though the latter half of this decade have seen many businesses to become substantially aware of the importance of an online presence still there are a number of businesses that don't have an online presence at all. A large part of the consumers begin their search for product & services online and that showing up in a prospective customer's search results can give you an edge over competitors in your niche.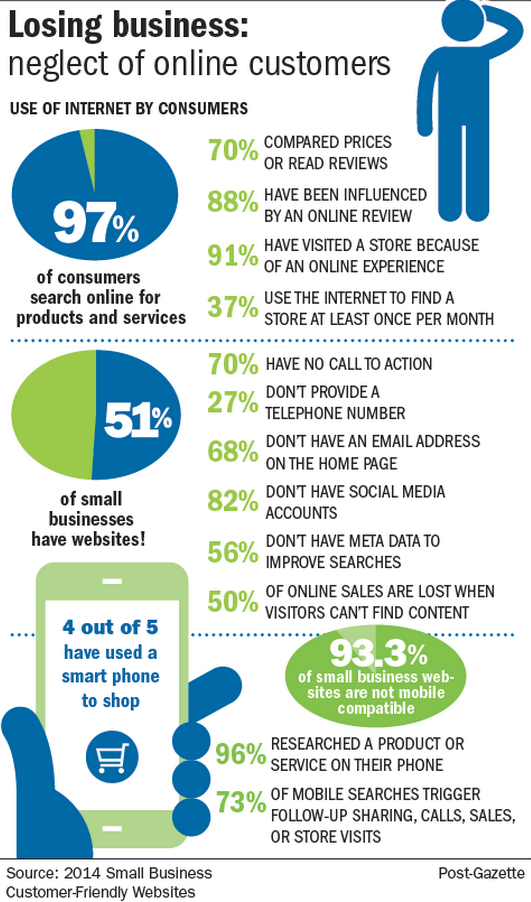 But the question is where to start and how to go about it? The first thing you require to do is to create an online presence.
Creating an online presence
There could be so many ways you can create an online presence but here in the article we will learn about the major four components that perhaps include all.
Websites
Mobile
Content Marketing
Social Media
Websites
The very first thing one needs to create an online presence for the business is to get a website. Your website is your gateway to the online world. Through website you can have an online brand identity and that you can market your business online. When you publish distinguished information about your business on your website and create the web pages respectively such as product & services page, landing page etc. you increase online presence of your business that in turn build awareness about your business among the consumers.
Mobile
Let me present you with a funny data that we have more mobile phones (4.8 billion) than toothbrushes (4.2 billion)! So, you can imagine how crucial a mobile strategy can be for your business. Moreover, according to a recent study, 3 out of 5 consumers search for local businesses on their smartphone. And, if you are not there, don't worry at least some your competitors must be. Hence, make sure you have responsive website, one that compatible for all the screen sizes.
Content Marketing
Some two years ago itself, happened the big revolution in the field of marketing and content marketing is leading the way since then. Content marketing keeps your customer informed & engaged while keeping them updated about you and your business and shoring up your reputation. But that's not the only thing it does! Content marketing also helps you generate leads bringing you more & more sales in the end. By creating & sharing relevant & meaningful content you not only entertain & recreate your customers but also educate the by delivering them with the kind of information they were looking for.  There are various content marketing platforms at your disposal for no charge that you can use to your advantage such as blogs, emails, social media outlets, content marketing websites and so on.
Social Media
The social lives around the world revolve around the social media outlets and so getting social is one of the most important aspects of creating an online presence. Let's go ahead and see how we can create & enhance our online presence through the top three social players that are Facebook, Twitter and LinkedIn.
Facebook Pages
With 1.65 billion monthly active users, Facebook of course have become a platform you can easily keep your customers updated with you & yourself updated with the customers and that matters. You can build a community of brand proponents and develop word of mouth marketing by posting well-timed relevant content on social media platform. It happens to be one of the best ways you can get found by you potential customers and engage with them on the web.
LinkedIn                                          
With 433 million members, LinkedIn is believed to be one of the major players when it comes to the game of lead generation. The social networking site although is most celebrated among the business people.
 Twitter
With 310 million monthly active users, Twitter happens to be another major player through which you can easily create and improve your online presence. The social networking site can prove to be immensely useful for you if you know how to leverage it well.
Afterword
Never stay deprived of the opportunities that you could have easily gained through an online presence. Your online presence drives more traffic to your business bringing in more leads, more prospects and more customers in the end. So, go ahead and follow all the at least the steps we have talked about in this article and effectively boost your online presence and have true value for each penny that you invest.