The recent algorithm changes that Facebook made caused a decline in most brands and businesses' organic reach. Even pages that have thousands of followers have seen a plummet in reach and engagement.
And while their posts are becoming less and less visible on their audience's newsfeed, users are seeing more posts from their friends, family, and communities.
Fortunately, the war for unpaid attention on the platform is not over yet. Here are some
Smart Tips to Boost Your Facebook Organic Reach that will improve your reach on your Facebook Business Page.
9 Smart Tips to Boost Your Facebook Organic Reach
Go Live
Why not start working with live video content? This type of Facebook post type is unique in the sense that it builds a genuine sense of community in the comments section.
Because everyone is sharing the same viewing experience, they have a common touchpoint that they could connect with. 
Facebook is very much aware of this fact. In fact, they stated that live video is said to generate
six times as many interactions
as the average video content. 
It is also important that all your live videos should be, well, live. That's because users are spending
three times longer
watching the average live streams versus previous recordings of a live video.
Also Check:
Learn Digital Marketing with the help of the
Advanced Digital Marketing Course in Delhi 
Publish Native Video Content
Every Facebook marketer is acknowledging that Facebook's organic reach is declining.
Despite that, there is no denying that the social media giant prefers native video content to those that are shared from a third-party video publishing platform. 
But what is "native video" exactly? Well, it means that you uploaded your video on Facebook for your audience to enjoy.
It is known to drive real engagement; that's why a lot of brands invest in creating and publishing native video content.
After all, compared to other types of content like photos and links, you can bet video can generate better ROI. 
If you look clearly at the numbers,
more than 8 billion videos are being watched on Facebook
every single day.
This higher amount of viewership propels videos to get shared over and over on social networks like Facebook. 
Collaborate With Influencers
Another channel that you could utilize to get more traffic is social media influencers. These people could drive organic traffic to your Facebook page as long as you have the right strategy in place. 
In fact, according to
MuseFind
, the majority of people are likely going to trust a social media influencer as compared to a celebrity endorser or an ad. 
While this is not the most "organic" way to boost your traffic because influencers still charge for their work, it is still a great method to funnel prospective customers. 
Join Facebook Groups
Another excellent way of improving your reach in social media is by joining Facebook Groups. This is also something that we do at VoyMedia
Advertising Agency NYC
.
For one, posting in groups lets you share your content with people that are interested in topics that relate to your business.
Second, you could reach a larger user segment that is relevant to your niche, and therefore increases the click-through in your posts.
Strategize Your Posting Times
What time you post on Facebook matters just like the content itself.
If you share a great article at 4 am, by the time most of your audience wakes up, it is already lost at the very bottom of their news feeds.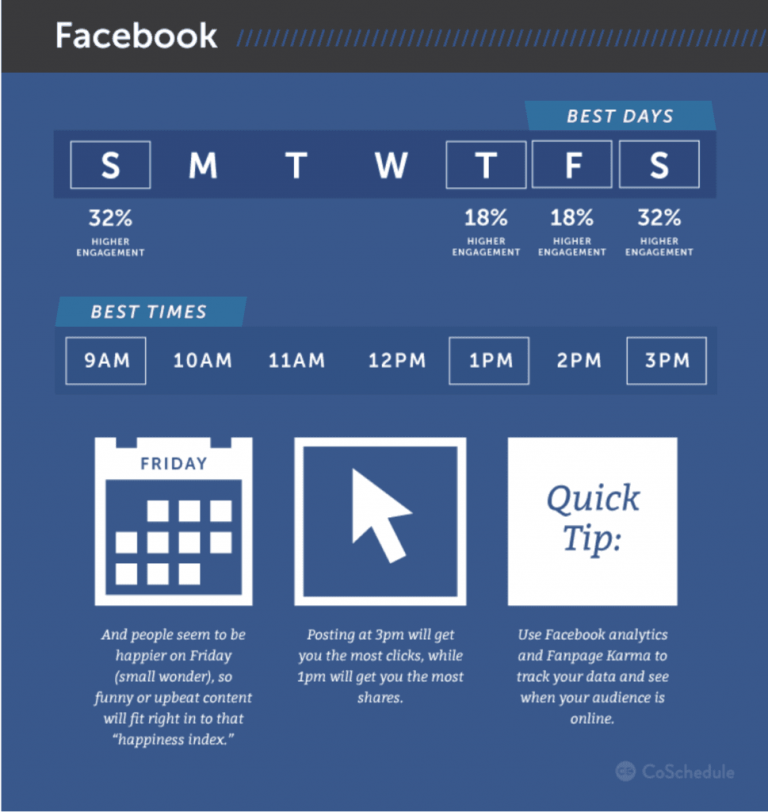 By posting on peak times where most of your followers are probably online on the platform, you increase the chance of your content showing up on the news feeds ‒ and this means more organic reach. 
But keep in mind that by posting at peak times, you will face a lot of competition, as more and more users will be posting at these times.
The best solution here is to publish your content before the peak hours actually come so that your content will be the first one they see when they log in on Facebook. 
For instance, if your Facebook Insight shows that the majority of your audience is active at 6 PM, try posting 15 minutes prior to catch the wave early.  
No to Engagement Bait
Getting users to connect with your content is important if you want to boost your organic reach. On the other hand, not doing it properly can hurt your brand. 
Keep in mind that Facebook's algorithm update is not just about prioritizing posts that generate a lot of engagement.
It is all about elevating your posts in a way that inspires meaningful interaction and discussion. 
The platform will reduce your organic reach if you are using manipulative tactics to generate engagement. 
Target Your Organic Posts
Organic post targeting can boost your organic reach on Facebook. 
In fact, doing so allows you to get your posts in front of a selected group of people, who are most likely to engage with your content.
That way, your content has higher chances of getting shared, which can help boost its organic reach. 
Quality Content Over Quantity
Because of the increasing competition on social media, brands are striving to craft and publish more content than ever.
Brands and businesses are just focusing on producing "more," but it comes at the cost of consistency. 
In the early days, when Facebook was just starting, posting more worked well because it's bound to get you more views.
But in today's times, using that Facebook marketing tactic is no longer a smart move. 
That's why you need to think differently than your competition in terms of how you post your content and when.
Focus on posting more quality content so that it gets seen by more people.
It is high time that you change your approach now and focus only on publishing high-quality content, even if it means that you need to post less often. 
Optimize Your Link Posts
If you have to share your content on Facebook, then you have to do it via link posts.
However, you may not know this, but Facebook is constantly checking the quality of your links.
And depending on the quality of your link, the newsfeed algorithm will decide whether to move your link post lower or higher. 
For instance, in 2017, Facebook announced that it would prioritize link posts that lead to
fast-loading pages
. They would also start penalizing links that lead to slow-loading sites. 
Another thing that Facebook considers is the number of users that click on the link and how many of them engage in the said post afterward.
If more and more people engage in seeing linked content, then that could be a signal that people find your content engaging or interesting at the very least. 
Moreover, the platform is prioritizing links that are "high-quality."
One of the primary signals of link quality is how long users spend on a linked page before eventually returning to Facebook.
So, the longer the time they are able to spend there, the better.  
The Takeaway
Even though Facebook algorithm changes caused your organic reach to decrease, that does not mean that it is the end of your business.
You need to be able to look for ways to combat the ever-changing newsfeed algorithm.
Although the game has surely changed, you could still play it your way, and use it to your advantage by highlighting the tips that we have mentioned in this article. 
Staying on top of Facebook's changes in algorithm, and adjusting your strategy accordingly, might seem a bit overwhelming.
But once you start shifting your focus away from your brand and think about your audience first, you could be able to create amazing content, gain more shares, and gradually improve your Facebook reach.