With nearly
1.4 billion people
calling it home, India is a very fertile ground for all types of businesses. The demand for all sorts of products and services is huge, but so is the supply.
In order to ensure your company is going to be a successful one, you need to find the perfect ratio between supply and demand. In other words, the competition for the product/service you're offering mustn't be too fierce.  
Defining your potential competitors can help you decide whether it's a wise decision to launch your business at all. At the same time, learning about your competition can help you gather some valuable information about the do's and don'ts of your business niche. You will know which business tactics to use once your company is up and running.
Obviously, defining your business' competitors is an essential item on your checklist and if you're not sure how to do it, we're going to help you out.
Before you start your research, you should know that your competitors aren't only those businesses that sell the same kind of product/service as you, but also those who are your rivals in the cyberspace. We refer to those as your indirect competitors.
Understanding Your Direct/Indirect Competition
Your direct competitors are those companies which offer the same kind of product/service to the customers.
In the same way, Pepsi is a direct competitor to Coca Cola, other companies will be your direct competitors, making the customers choose between you and them before making the final decision.
For instance, if you open an ice cream shop in New Delhi, your direct competitors will be other ice cream shops from the Indian capital.
Your indirect competitors are those businesses that don't offer the same kind of products/services in the same location as you but are still your rivals on the internet.
They're using the same kind of keywords as you in order to promote their brand, which in turn, is guaranteed to make your job of getting to the first page of Google more difficult.
The good news is that finding competitors isn't that hard. We're now going to discuss some of the best methods for finding you're direct, as well as your indirect business rivals.
Doing Market Research to Learn Everything about Your Direct Competitors
There are many digital marketing agencies (market research) out there that can help you with finding out everything you want to know about your business rivals. These agencies use various tactics in other to gather valuable data, including customer surveys, official business registers, etc.

By taking into account all kinds of different variables, they can give you a clear picture of whether your new firm stands a chance against established companies from the same business niche.
Although their job is usually very thorough, there's one downside to using market research agencies – their services are often very pricey. If you want to save money, you can do your own market research with the help of social media.
Taking Advantage of Social Media for Learning about Your Direct Competitors
Social media
platforms like Facebook, Twitter, and Instagram can tell you a lot about what customers think about your competitors.
If a company has large followership on social media, it can mean two things – either their marketing team is doing a wonderful job or people really love their products/services.
On the other hand, if a company isn't getting too much attention on those platforms, there's a good chance that the users aren't too thrilled about their products/services.
Apart from using social media to get an insight into how successful your direct competitors are, you can also read some customer reviews and forums that discuss everything regarding your business niche.
Keyword Research for Finding Your Indirect Rivals
When it comes to finding your indirect rivals, that is, those companies with which you'll have to battle for a good place on Google,
keyword research
is your solution. Through keyword research, you can easily get an insight into how difficult it's going to be to promote your brand on the internet.
Basically, keywords are those terms and phrases that users type in Google (or any other search engine) when looking for something. Finding keywords that are relevant to your business niche will help you plan your marketing strategy, as well as give you a lot of info about your competitors.
In order to get that info, you can use Google. Just do a Google search on a keyword related to your business and you'll see how many competitors you have.
Making Use of a Competitor Research Tool
Identifying your direct and indirect competitors with the help from Google will save your money, but will cost you a lot of your time. Not to mention that you probably won't be able to get all the information you need. For all of its pros, Google does have some cons. And that's why a better alternative is to use some kind of a competitor research tool.
Apart from that, a tool like
SE Ranking Competitors SEO/PPC Research Tool
can supply you with some information about your rivals' on-page SEO and on-site content, their backlink volume and quality, the number of website visitors and their location, and so on.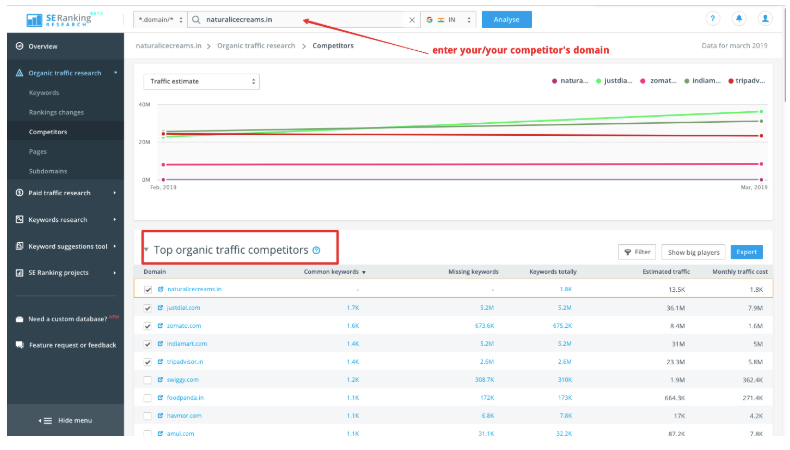 These tools won't cost you as much as hiring a professional market researcher would. But, if you pick a good tool, you will be able to get all the info you need.
Such tools can help you identify all of your direct competitors, as well as give you an insight into which websites could be your rivals on the internet.
Final Word
Information is your most valuable commodity and by gathering info about your competitors, you can put your business on the track to success. Knowing your rivals can tell you whether starting a company in that business niche is a wise idea.
Apart from giving you information about others, it can also tell you some things about yourself. It can tell which areas you need to strengthen in order to make sure your business won't fail.