Social media has become a major part of the business world. Any business with an online presence makes use of social media to target potential customers or to promote their products and services.
With around 500 million people on Instagram and 1.69 billion on Facebook alone, social media is a powerful tool that can assist businesses to reach a bigger audience and to develop their brands. 
Many businesses want to have a social media presence but may not have experienced staff for the job or don't want to hire an in-house team specifically for this task. 
For example,
social media in the IT industry
may not be a priority at first and as a result, IT companies may have no experienced staff to run their social media channels. An effective solution for them is to hire a remote
social media team.
According to
Mobilunity
, social media is a dedicated role and, therefore, a committed remote team or company is required for the job.
Today, increasingly more businesses make use of remote social media teams because of the many benefits it offers. This includes access to experienced social media professionals and affordability compared to hiring in-house. 
Why Social Media Is One of the Most Powerful Tools in Digital Marketing 
Social media is one of the easiest and most profitable digital marketing platforms for businesses. An effective Social Media Post Idea can help you to significantly increase your brand's reach. Benefits of using social media for business include: 
1# Affordability 
Almost all social media platforms are available for free, allowing you to get your business seen – cost-free! To increase your reach, even more, you can run ads on some platforms for a small amount. 
2# Targeted audience 
Social media platforms such as Facebook and Instagram work with complex algorithms, which means that users only see what they are interested in. This allows your business to reach a more targeted audience. 
3# Better engagement 
Social media allows you to communicate and interact with your audience in real-time. This enables you to create credibility and will add a more personal touch to your brand. 
Why Social Media Companies Are So Important 
In recent years, social media for business has boomed. Consequently, many social media companies were established. These companies specialize in the successful running of your social media pages and the management of your campaigns.
But they go beyond just posting updates to your channels. They also find new opportunities to get more visibility for your brand, engage your target audience, and monitor your results.
These companies have access to the right social media management tools, including highly accurate analysis programs, to ensure successful campaigns.
10 Best Social Media Campaigns
What makes successful social media campaigns? Is it unique hashtags, collaborating with other brands or user-generated content? Let's take a look at ten well-thought-out social media campaign examples by leading brands and the elements which make it successful.
1# Mc Donald's: 'Our Lights Are On' campaign 
Mc Donald's showed they care during the worldwide pandemic with this campaign. It features an image of an Mc Donald's building with the lights on, symbolizing that they are operating during the lockdown. It is successful as it plays on emotion and makes people feel hopeful in difficult times.
2# Walmart: 'Staff' campaign
In this campaign, Walmart uses its social media platforms to honor its staff. Every week, they feature a staff member with a quote from the individual. This campaign is striking, as it shows that a big company such as Walmart values its staff and the team goes out of their way to give them credit. People want to support businesses that care and Walmart showed just that. 
3# Volkswagen: 'Regular People' campaign 

When consumers look for products and services, they typically look for businesses that have a good reputation with regular people. With their campaign, Volkswagen showed how different people enjoy the quality, freedom, and beauty of their cars. The campaign was successful, as they've used quality images of regular people showing off a unique feature of their cars with each post. 
4# Taco Bell: '#F21xTacoBell' campaign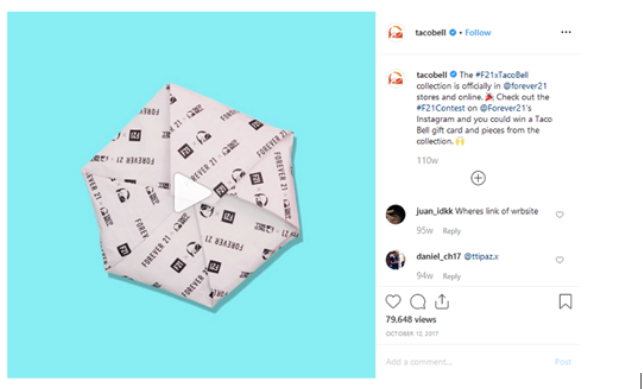 With this campaign, Taco Bell collaborated with another big brand, Forever 21, to launch a Taco Bell clothing collection. Users could share their photos with the #F21xTacoBell hashtag. This initiative allowed both brands to target a larger audience and enhance their credibility. 
5# Gillette: '#TheBestMenCanBe' campaign
Gilette showed that big brands are not scared to address major social issues. They've launched a video campaign that joined the #MeToo movement in 2019. This powerful video offered support for men who are leaders, advocates, and mentors. It was successful because it got involved in relevant dialogue and had a positive message. 
6# Dove: '#ShowUs' campaign
Beauty brand Dove used their #ShowUs campaign to empower women. With the hashtag #ShowUs they asked women to share images of themselves on social media.
The campaign was shared by millions of users. This user-generated campaign was effective because it brought its audience together for a united cause. It also showed that the brand supports all types of women and that they value their customers. 
7# Purdue: 'Day of Giving' campaign 
Purdue University hosts an annual day of giving to raise funds for scholarships. Their Day of Giving campaign was successful because it targeted its network of alumni students. This built a feeling of community that enticed previous students to donate to their alma mater. They made use of interesting graphics and bold text to draw attention. 
8# Marmite: 'Brexit' campaign
Marmite launched a campaign that played on the 2019 Brexit situation. It made use of humor in their social media ads, which was incredibly effective. They've also implemented a bright color and bold text to draw attention. 
9# Apple: '#ShotoniPhone' campaign

Apple made use of user-generated content with their #ShotoniPhone" campaign. This means that users created content through videos and images, clicked with an iPhone, using the hashtag. This automatically boosted Apple's brand on social media. It is successful because the content was generated by real users, while Apple simply had to share some of the images and videos on their own channels. 
10# Casper: 'Sleep Channel' campaign
Mattress store, Casper, created a viral campaign through a sleep channel on their Facebook page. This consisted of a playlist that included a range of bedtime stories, meditations, and sleeping sound to help people sleep better. This highly effective campaign was shared by thousands of people around the world. The success of it is due to Casper trying something completely different and bringing value to its audience. 
Make Social Media Part of Your Marketing Strategy
If you're not taking advantage of social media yet, your business is missing out on an affordable and effective way to reach a large audience fast.
With such successful results, your business needs to leverage proper social media channels in the best possible way. To achieve this, you need to invest in a dedicated social media management company. This will allow you access to a proper social media strategy, better social media campaigns, and ultimately, more sales.