If you run a small business, it can be hard to know where to start when it comes to improving your social media presence or creating a website that's functional and accessible to consumers. 
To achieve success, you should know the benefits of using digital marketing and how it can help you stay on top and ensure consumers can easily seek out your services. 
To help get you started, here are 10 digital marketing tips for your small business.
Research Competitors
If you aren't sure where you're going wrong, it can be helpful to check out competitors in your field to see what they're doing.
Competitor research is crucial for any company, as you will want to offer as much value as you can to the market.
Simply doing a Google search can be a great place to start as you will be able to see how your rivals are positioning themselves with their advertisements. 
Let say, if you have an online domain selling business, and you searched '
Buy Domain
' on Google, then
hostinger, Godaddy and Hostgator
will be your top 3 competitors.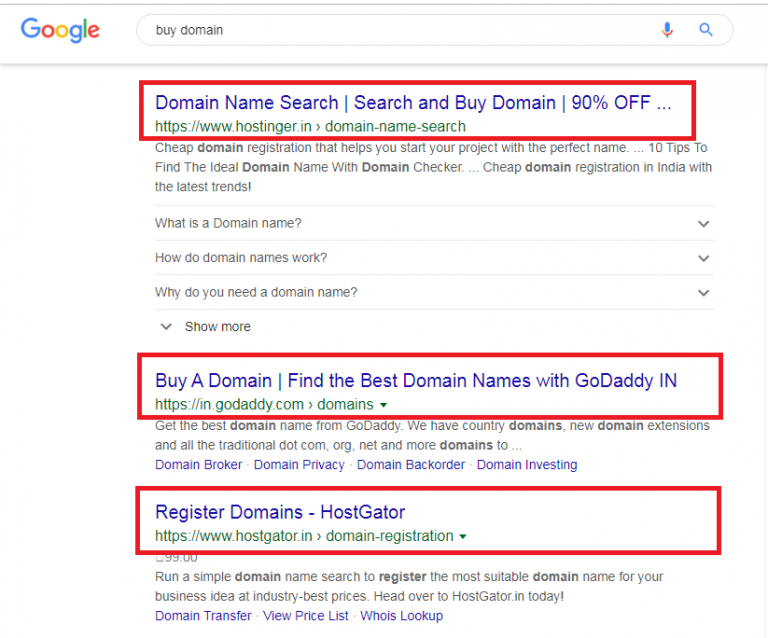 When it comes to differentiating yourself and creating a unique selling point for your company, there are several things to think about, such as the products you deliver, the costs of your services, as well as your brand image and reputation.
Sort Your Website Basics First
With online users being spoilt for choice when seeking out businesses, consumers are becoming increasingly demanding on the type of experience they expect from your website.
Understandably, they will want your website to load as quickly as possible, therefore, using various tools such as Google's PageSpeed Insights can give you a better indication of how you can decrease the loading time of your business page.

Improve Reputation
As a small business, your online reputation is everything.
If customers and clients aren't happy with your services, they may be likely to leave a negative rating or review on your page which can turn potential customers away.
Thankfully, there are tools out there such as Google My Business which can provide you with a level of control to check how others perceive your business. Here is an example:
There are common mistakes that you need to avoid too, such as posting duplicate listings or adding unnecessary promotional messages.
Remember, you want to attract people to your business, not scare them away!
Create Interesting Content
No matter what sector of business you're in, the chances are you have many competitors who are fighting for the same custom as you, therefore it's crucial that you come up with innovative and interesting content that catches consumers' eyes.
As a small business, it's highly unlikely that you will rank on the first page of Google's search results, so you will need to do all that you can to stand out from the crowd and entice people to check out your page.
If you've created a business blog, there are lots of tips that you can take on board, such as making sure you put your audience first, using the correct tone of voice, as well as showing readers that they can trust your brand.

Consider Google Ads
Originally known as Google AdWords,
Google Ads
is being used more and more by small businesses to help drive traffic to their page.
The program enables you to create online ads that can reach your target audience who are likely to be interested in the products and services you have to offer.
When creating a Google Ads search campaign, it's crucial that you pick the right keywords to help boost your search engine ranking.
Optimize Your Website for Smartphones
With many of us leading busier lives than ever, most consumers don't have the time to sift through your website on their laptop or PC, therefore, making sure your website is optimized for smartphones can help the consumer out and enable them to check out your page while on the go.
When you take into account that more than 80% of internet users regularly browse the internet on their smartphone, it makes perfect sense to adapt your website accordingly. 
Use SEO
As a small business,
SEO
will be your best friend when it comes to increasing traffic to your page and building a customer and client base.
SEO (search engine optimization) is all about improving your search engine ranking result, helping make it easier for consumers to seek out your products and services.
It's important that you create a website and blog that is SEO friendly, otherwise, your audience may not be aware of your presence on the market.
Make Use of Social Media
Most small businesses have social media pages to let their followers know about the latest promotions and goings-on in their company, however, there's a fine line between sharing information and spamming consumers with content they're not interested in.
The last thing you want to do is turn your audience off, so to build trust and brand loyalty, make sure that you engage with your customers as they will be more inclined to engage with you, rather than skimming past your content.
Use Email Marketing
As one of the most efficient and cost-effective marketing tools, there is for small businesses, email marketing is a great digital marketing tip when it comes to growing your brand loyalty and connecting with your target demographic in a powerful way.
When using the right incentives and strategies, not only can you bring in new clients to your business, but you can ensure your existing customers stay loyal to your brand.
Gain New Skills and Qualifications
To run a successful business, it's important that you have the right skills and qualifications behind you, therefore, undergoing training or studying a course can teach you the knowledge you need for success.
For example,
studying an MS in operations management
online can teach you more about marketing management and operations management, which are key aspects of business, especially when coming up with digital marketing strategies. 
No matter how long you've been running your small business, it can be easy to let operations slide, which can result in disastrous consequences for your company.
Using all the tips listed to your advantage can help point customers and clients in the right direction to the products and services you have to offer.