Marketing is an indispensable aspect of every business today. Traditional marketing techniques are getting phased out, and digital marketing is rapidly becoming popular. Besides coming up with unique and effective digital marketing strategies, brands need to invest in top-quality marketing equipment.
Many people think that all a digital marketer needs are an internet connection and marketing skills. But then, you need the right tech tools to create a successful online marketing campaign. This post looks into the tools that you need before you get started with your digital marketing.
Let's get into it.
Laptop, Shock Proof Case, and Bag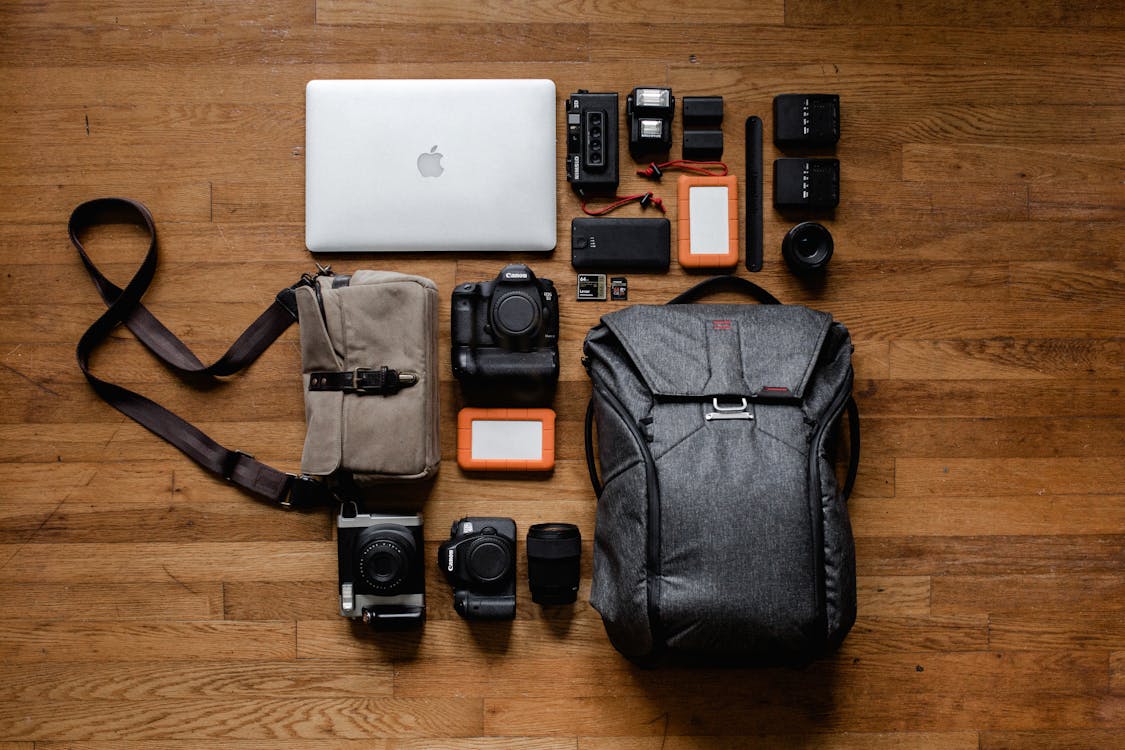 Source: pixel.com
We cannot overstate the importance of a laptop to a digital marketer. It is an excellent alternative to a desktop because of its portability, despite desktops being more assertive. With a laptop, you can store files, do keyword research, create graphics, etc., even when you're away from your workstation.
A laptop is a huge investment
that you'll need to protect at all costs. It would be best to consider buying a shockproof case or cover that will protect it from scratches. Besides scratches, you need a bag that will help you carry your laptop safely when traveling away from your home or office.
Portable Battery Charger
A portable laptop needs a portable charger to work perfectly. Running out of battery charge while away from your workstation can affect your productivity and ability to meet deadlines. Investing in a portable battery charger, also known as a power bank, is one of the best options for you.
This gadget will make it easy for you to recharge your laptop battery without a power supply. Besides, you can use it to recharge your laptop more than once, depending on its capacity. That makes it convenient for a digital marketer but then how long you will be away from a power source.
Multi-Device Keyboard
Typing is one of the tasks that a digital marketer does every day. As a digital marketer, you will spend lots of hours behind a screen creating digital marketing campaigns for your business. You will need a keyboard to type in the information you want to share with your audience.
However, it is not just about having a keyboard. You need one that will work with multiple devices such as laptops, smartphones, tablets, etc. You can also go for one that connects using Bluetooth as it is more convenient to use. A good keyboard will make your digital marketing campaigns more productive.
While we're on the subject of increased productivity, if you're an avid apple-user, adding a
rechargeable trackpad
to your toolset can be a gamechanger. Its ergonomic design and multifunction use make for a highly efficient solution to many repetitive movement tasks, such as swiping down, flipping through photos, and enlarging objects.
Microphone/Earbuds
Your digital marketing campaign isn't only about textual content. You can add a voice-over to spice it up and make it appealing to your prospects. If you want to add voice-over to your campaign, investing in a top-notch microphone will be vital to ensure that there's quality in your voice.
You can check out the
best microphones for podcasts
online and find one that will deliver quality sound for you. Besides speaking, you need to listen to other people's campaigns to design yours perfectly. Investing in a good pair of earbuds will help to improve your listening.
Graphic Tablet
Graphics are essential for anyone looking to build a successful digital marketing campaign. Graphics set your brand aside and create an image that people would like to associate with and transact. Thus, investing in a
good graphics tablet
is vital if you want to get the desired results.
This gadget will help you create images that will capture your audience's attention. Besides, a graphics tablet makes it easy to customize the images you use in your campaign. That makes it easy for people to identify your digital ads and associate with them.
USB Flash Drive
Although your laptop will most likely come with more than enough storage, an external storage device is still necessary. Besides making it much easier to move with your data, it helps to safeguard it from various risks. For instance, your device may crash, making it difficult to retrieve your data.
In other cases, you may want to travel with your vital data and prefer not to carry your laptop.  That makes it vital to have an external USB drive as it is small and highly portable. Ensure that your flash drive has sufficient storage for big data files.
Wireless Charging Station
If your digital marketing department has more than one device, investing in a wireless charging device will be vital. It helps to reduce the cable menace in your office if everyone would have had to carry their wired charger with them.
Besides, wireless charging stations work faster than wired chargers. This gadget is suitable both for home and office environments and is worth considering for a digital marketer. It is also easy to set up and use as you only need to place your phone on the device.
Smartphone
Smartphones are essential devices
for everyone these days. But then, they're more important for digital marketers as they can make it easier to connect with their audiences. Although laptops are portable, smartphones fit into small pockets, making them even more portable and convenient.
Besides connecting to the internet, you will find smartphones easy to use on the go. For instance, you can jot down important ideas when you're away from the office. You can also download various applications that will help boost your digital marketing. A good example is photo editing applications that will make your pictures social media-ready.
AirBar
The digital marketer's job has also become more accessible since the
air bar
came into use. Interacting with your computer using a mouse and keyboard is the most common method. However, there're better ways to interact with your computer, especially by making the screen sensitive to touch using an air bar.
The best thing about this gadget is that it is easy to set up and start using. It enhances your computer's performance and makes it easy to interact with the machine. Another great feature of the air bar is that it is compatible with Windows and Mac OS devices, thus becoming more convenient.
LTE Sim
You cannot mention digital marketing without thinking about internet connectivity. As a digital marketer, it is vital to ensure that you have a reliable internet connection, even when working remotely. That will help you to complete tasks in time, meeting deadlines, and becoming more productive.
An LTE sim card is vital for a digital marketer. The best thing about having one is that you get to connect with the internet anywhere and at any time. Besides, it is easy to carry around and saves you from using public Wi-Fi networks in hotels or anywhere else. That helps to secure your network from cybercriminals.
Conclusion
The digital marketing scene keeps changing every day with new technologies and innovations. It is also becoming more competitive every day, making it necessary to strategize correctly. Kitting yourself with the best tech gadgets is one of the best ways to get your campaigns' desired results.
The tech gadgets mentioned above are worth investing in if you want to sell your brand online. These are the best options for anyone looking to increase their productivity. They'll also help you to stay ahead of your competitors and increase profits for your business.