Online surveys come across as a fine avenue for making some extra cash in order to top off the regular income. And, the extra cash earned can help you to meet your daily expenses in a better way. It is a matter of just getting started.
How? Making Money By Filling Online Surveys!
Filling up surveys is never too difficult. It is the best strategy followed by a number of companies that help them analyze their consumer's interests. That's why they choose common people to pay more for filling up online surveys.
Also, earning through online surveys can help you to cash out your earnings once reaching the desired threshold.
In a few of the cases, the earnings accumulated are valid for a short time period. It is hence advisable to withdraw the earning in the earliest possible time.
Therefore, one should keep the account info and profile up to date once you have made mind to make money online by filling online surveys.
It also helps to come across as genuine brands and companies to send their surveys to fill up. With the latest offers in hand, money-making opportunities will enhance.
How you can make money by doing online surveys?
People are sometimes unsure about the ways in which money can be made by filling up online surveys. Generally, it is materialized by market research, which is a vast industry by itself.
Brands around the world are committed towards their success, and happily churn out billions of dollars doing research over a product before it is launched. It helps them make business decisions over product operation and effectiveness.
So the brands lay a significant bit of percentage over customers' genuine opinion of a product or a service. That's where online surveys come into play.
A survey helps build insight over minute details of a product.
The surveys can be possibly used for facilitating a number of ideas. It may pertain to a new service or a TV commercial. It may even be related to an existing product or new packaging.
In order to figure out people's genuine opinions about their products, top brands across the world willingly compensate the consumers for sharing their outlook, in the form of surveys.
The money offered could be substantial, depending upon the brand for which the survey has been designed.
Figuring out the right target audience comes across as a difficulty for firms involved with gathering customer opinion. Hence, the role of online survey takers becomes significant.
These websites work on small budgets in order to get the required data from the right customer cross-section. Upon filling up the survey, they give the people filling up the forms a small compensation.
The best part is that filling up online surveys makes a person involved market research panels, and the number of companies who are willing to pay for filling up survey forms is hundreds in numbers.
Let us take a short overview of how online surveys work.
Having a computer and an internet connection is the basic prerequisite.
With a large number of companies who pay for filling online surveys, you can have a number of options to choose from.
A few of these websites are free to join, and upon signing up, you are required to share some personal information along with demographics. The information is used to figure out the various opportunities available for filling up the survey for you.
Upon coming across a suitable match, the companies send over an email with a link to the survey, inviting you to fill up the survey. You can then fill up the survey and find compensation.
A few of them offer cash, and a few offer compensation in the form of products or services.
For Example,
BojanglesListens
offers free food coupons for consumers for filling up a survey which is running at their website.
A few of the websites also send over free products to consumers. They can try out the products and share their honest feedback. They may send food or beauty products for consumers to try out.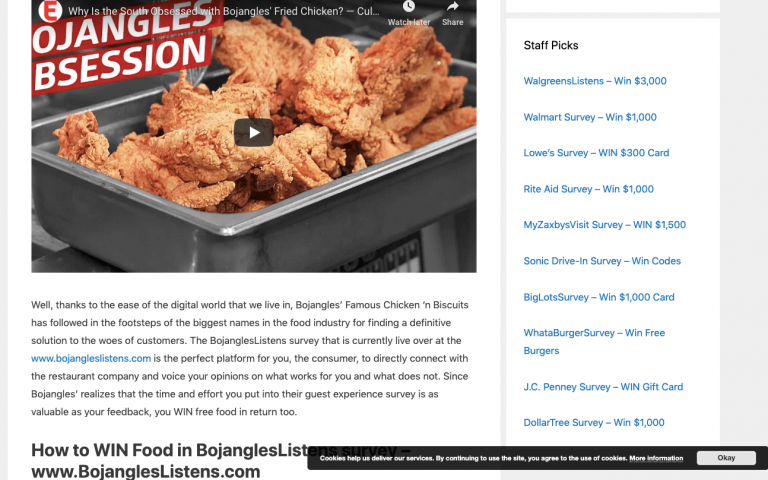 Let's have a look at tips you should keep in mind by filling online paid surveys:
When a consumer sets out to fill a survey, the primary consideration in his/her mind is to get compensation for the time spent filling up the survey.
By keeping certain tips in mind, a consumer can make sure that he/she maximizes the compensation drawn from every minute spent filling up the survey.
It is best to find a survey panel that effectively meets your preferences. One has to tread with caution because the survey panels available are hundreds in number. One has to make sure that one does not choose the wrong panel that does not meet his/her preferences.
The next step is to sign up with a few of the panels and keep a close eye on the offers that they send. The compensation received should also be watched closely, because a few companies pay more than others.
Start by signing up for multiple survey sites
It may be possible that a single survey site sends over just a couple of surveys for you to fill up each month, because you may not be the appropriate target audience for filling up all surveys.
It is hence best to sign up for 10 sites that facilitate a free online survey. This will help you make a sufficient amount each month.
Try and fill up the surveys nicely
Most of the sites consider it as significant importance for the form filler (i.e. you) to be serious about filling up the surveys.
Filling up a form helps brands to build up a reputation.
Sometimes, filling up the surveys nicely helps gives surveyors access to more surveys still. At times, a few subjective type questions are involved which ask for personal information. Being genuine helps the cause of both, the company giving out the surveys and yourself.
Similarly, it is best to fill up the surveys slowly and nicely. Ensure a high degree of accuracy for each answer. It is only when you fill in honest replies, that the company that gives out the surveys can use your services to the best possible avail.
Have a dedicated email account in place for online survey sites
This will be helpful for keeping personal and work-related emails away from survey related emails. Gmail and outlook.com are preferred sites for setting up a new email account.
The profile should be up to date
This will enable you to get selected for excellent offers. Keeping the profile updated may initially seem like a chore. But this will over time yield rich dividends. You'd get access to offer which you wouldn't have received if the profile information had not been proper.
It is a fine idea to update the profile two times every year at least. You can even update it three or four times yearly. In a few of the cases, companies send over surveys as soon as you update the profile.
Keep the demographics elaborate
I
t is preferable to try and fit into as many demographics as possible. Profile questions should be answered with a positive as long as possible.
It is best to avoid expressing that you do not like a few of the products. Similarly, one must express that he has varied experience across a number of fields.
As one fits into multiple demographics, he gets more and more offers. So he can make more money as well.
Bringing about changes in response to profile questions influence your eligibility for a few of the offers. Having a pet can lay an influence over the offers. Similarly, people who have relocated recently get a different set of offers.
If you resumed your studies recently, you'd again get a different set of offers. The offers also vary upon changing the internet service provider.
Survey filler must try and make sure that he never works for free. It is best to only fill up surveys that pay well.
As an example, a few of the surveys can be filled up in just 15 minutes, and pay $15. Others may take an hour to fill up and pay $5. So, one has to select wisely.
Go through the terms and conditions
Prior to signing up with a website, go through their terms & conditions and the privacy policy. You'd then know if your personal information is sold to third-party vendors.
Similarly, if you have an account with multiple websites, it is better to manage them with a software program.
Checking the mail often helps you make sure that you do not miss out on any of the surveys.
A number of companies make payments instantly through PayPal, so it is best to have a PayPal account in place.
Examples of Online Filling Survey Sites:
OpinionWorld India, Neobux, GlobalTestMarket, etc.
Conclusion:
While the earnings may not be too large to start with, they ease meeting the additional expenses in everyday life. Another advantage of making additional money by filling up surveys is that this can be done during lunchtime, or from the comfort of your home.
Even if doesn't help you get rich, it does bring a higher degree of financial freedom in life.
Check out the other ways to make money online:
70 Ways To Make Money Online in 2019