Sneak Peak:
Read this case study to know how an airlines company used Facebook's Custom Audiences targeting tool for attracting overseas customers to fly to China with the airline and saw a 109 times return on its advertising investment.
Company:
Air China
Industry:
Airlines
Tool Used:
Facebook Marketing
Result:
27x return on advertising investment overall
Business Type:
B2C/ B2B

The Brand & the Story:
China's national flag carrier for civil aviation, Air China is the country's leading civil airline and a member of Star Alliance. The airlines company offers flights to 90 domestic cities and over 50 cities worldwide. The brand wanted to raise brand awareness and attract overseas customers to fly to China with the airline for which it turned to Facebook's Custom Audiences targeting tool and saw a 109 times return on its advertising investment.
Calling the customers
Though Air China's main objective behind using the social networking platform Facebook was enhancing its brand image however the airlines brand also wanted to use Facebook Adverts for driving international ticket sales and make Air China the first-choice airline for flying to China.
Words by Lei Jing, Senior Associate Manager, e-Commerce, Air China
"Facebook allowed us to connect with our frequent flyers and provide the right information based on the characteristics and needs of our target audience. As a result, we have been able to effectively identify and convert some potential customers while also reducing some of the losses associated with our online sales."
Placing the adverts precisely
Air China was using Facebook for the first time to conduct direct response advertising for promoting ticket sales as well as improving its brand awareness in overseas markets and generating a bigger return on investment. With the help of creative images and text Air China could show scenic destinations in China, its extensive network coverage and its new aircraft. They could also draw attention to discounts & offers through eye-catching adverts. The company planned to precisely target these adverts for reaching different target audience groups. They made use of the Custom Audiences adverts for frequent flyers and website Custom Audiences adverts for online visitors. However, to add more to its revenue and yielding better results, the airlines company took an extra step of pinpointing Chinese customers living or staying abroad.
Products used: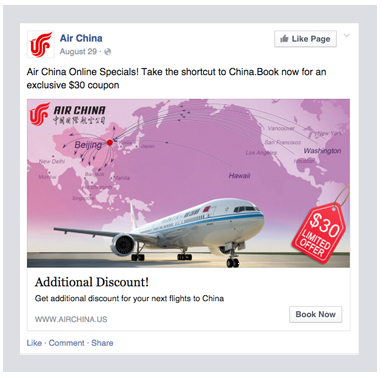 Achieving greater returns and flying high with Facebook
Custom Audiences campaign helped Air China in achieving a return on investment that was up to 6 times greater than that of the standard target settings.
Highlights of the campaign that ran between August – September 2014:
27x return on advertising investment overall
109x return on advertising investment after using Custom Audiences
28x profit generated compared to other digital media
55% of people who saw the advert on their mobile phone went on to complete transactions on their computers
Words by Lei Jing, Senior Associate Manager, e-Commerce, Air China
"Thanks to Facebook's cross-platform marketing, we are now able to communicate effectively with our customers. It has played a helpful part in improving sales performance, and our partnership with Facebook is proving to be a worthy investment."
Source:
Facebook