"The capacity to learn is a Gift; the ability to learn is Skill; the willingness to learn is Choice." – Brain Herbert
One should always be willingly ready to learn new Skills and consider a Choice to increase the level of opportunities. We firmly believe that opportunities increase when we help others to win.
And, in this learning process, we feel very delighted to share the role of a Mentor – Partner – Teacher in our trainees' success.
The success of Digiperform all lies in helping its students succeed and grow.
With continual to this, we would like to share the real experience of one of our trainees who has just joined a well-trusted travel company at Digital Marketing profile just after completing digital marketing training program with us.
Meet Digiperformer Aditiya Ashat who is currently working as a
Digital Marketing Executive
in
WoVoyage
just after completing dCDMC training at Digiperform. Currently, he holds multiple roles in the company like website planning & creation, Google Advertising, Social Media Marketing, etc.
About WoVoyage: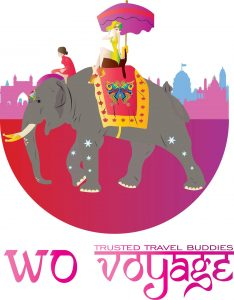 WoVoyage is Women Friendly Travel Company who conduct risk-free & safe tours for female travelers by providing them with female tour guides and designing their tour with Real India Experience. They are famous for organizing group departures which includes concept tours like Photography, Rejuvenation, Yoga, Trekking, Cycling etc.
Digiperform decided to congratulate Aditiya on his new role and asked him about how was his digital marketing journey so far. During the chit-chat session, he also shared how much he cherished his time during classroom training and how it helped him to master this skill.
Here you can have the little rapid question-answers that we asked him during the meet. Have a look!
Digiperform: It's a pleasure to connect with you! Before heading further, we would like to know a bit about you.
Aditiya: Hey! Myself Aditiya Ashat currently working in one of the growing travel company as a Digital Marketing Executive. Before that, I completed B.Tech in Computer Science and been into web development during my internship.
There, I got to know about digital marketing and its role in the current scenario. Then I decided to explore more and made a choice to learn about it. From thereafter, as you know, I joined Digiperform.
Digiperform: What originally attracted you to choose digital marketing as your career?
Aditiya: When I started reading about Digital Marketing, I realized it's not limited to the online advertisement. It has various components that can help you to learn more about the digital world.
Like, SEO can help you to increase your organic reach and keep your website on the top of the search list. Social media marketing can be boon for your business visibility. You can be an influencer if you like to be creative and crave unlimited attention.
Personally, I liked its various ways or strategies to promote your business online along with creativity. Currently, I am using all these practices that I have learned during my digital marketing training to help my company in achieving its online marketing targets.
Digiperform: What exactly that makes us stand out from the competition & urge you to choose us over others?
Aditiya: There are two things that I would like to point out that makes Digiperform stand out from all the competition i.e. its LMS and Trainers.
Digiperform offers an LMS access to its enrolled students/trainees which has content of all the modules clubbed with various case studies, practicals, and quizzes. This is 24X7 access that really helps to read and learn any part of module anytime and anywhere.
Also, Digiperform has a great panel of well-trained trainers where they help you not to learn about digital marketing very precisely. They share case studies and do live training sessions that really helped me to understand the concept completely.
Digiperform: Tell us about your favorite experience you had with us, whether as a learner or as a customer?
Aditiya: Digiperform has a great panel of experienced Trainers and supporting Counselors which made my learning process very easy.
Digiperform: Would you consider Digiperform as a trusted & reliable resource for Digital marketing training? Why?
Aditiya: Yes, Of course. I feel our discussion clearly states that I really had a great time in Digiperform and would definitely consider it as a trusted as well as reliable resource for digital marketing training.
Digiperform: If you were to review our training program, what score would you give it out of 10?
Aditiya: I would give 8 out of 10.
Digiperform: Where do you see yourself in the next 5 years?
Aditiya: All I want to enhance my online marketing skills and be a Digital Marketing Expert.
Digiperform: If you had a piece of advice to someone just starting out, what would it be?
Aditiya: Someone said; "Believe in yourself and all that you are. Know that there is something inside you that is greater than any obstacle."
Just believe in yourself and decision of choosing this industry. You can just call Digiperform and rest have some faith, they will handle it.
Digiperform: Finally, Describe Digiperform in one line.
Aditiya: According to me, it's the best Digital Marketing Institute in Delhi.
Thanks Aditiya, for sharing your valuable experience. We, Digiperform, wish you a good luck for your future. Have a great time!