While searching for jobs on various job portals, for example, Digital Marketing For Freshers, you may hardly find brands that are ready to hire job seekers in one go.
Nobody wants to hire an unacquainted digital marketer in their organization.
They need a digital marketing expert proficient in creating Social Media strategies, SEO plans, or a digital expert having expertise in executing digital strategies successfully.
If you are not getting a good position in an organization, then probably your digital resume is not up to the mark or you are applying for the wrong position.
The guide will help you in finding loopholes in your existing digital resume and also assist you to build an excellent CV to stand out amongst others and get a good job in digital marketing as a fresher.
The Digital Marketing Resume Guide Will Prepare You To:
Choose the accurate layout for your resume 

Make your resume header powerful to stand out 

Write compelling and effective objectives and summary for digital marketing resume

To get appointed as a digital marketer without any experience.
Choosing The Right Resume Layout
There are basically two types of resume layouts categorized on the basis of the experience you have in digital marketing.
If you are a beginner or don't have much experience, then the functional type of resume layout is best for you. Also, there are several video editing tools that help you create video resumes and cv which is a new trend these days.
Such kind of resume focuses more on skills than your work experience. We will explain later how to include skills in your resume. Those having enough experience should use reverse sequence and focuses more on work experience.
However, you should not ignore the importance of including a dedicated section for skills. For example, if you are looking for a Digital Marketing Resume for Freshers, an ideal resume includes:
Well-written objective or summary

Digital marketing work experience

Important skills

Certifications

Education

Your Specialities 
You can also check: Latest resume format for freshers on Surejob
Creating Eye-Catchy Resume Header
A hiring manager receives a lot of resumes in a day. And to stand out from the stack of resumes, you need to have an eye-catchy resume header. Previously, your resume header incorporates your name and contact details only, but things have changed now. You need to follow a few practices to make your resume effective and worthy. 
Firstly, you should add one or two certifications along with your name that prove your proficiency and seriousness about the job role without diving deeply into your experience.
After that, include links to your professional social media websites, such as LinkedIn, Quora, or Twitter, where you have shared self-written informational posts relevant to the digital field or discuss digital marketing.
By simply including these two elements in your resume header, you will convey a direct message to recruiters stating " I am Certified, Proficient, and proud of my work"
Take a look at these two examples
Clearly, a recruiter will prefer the first one. The header of resume 1, includes certifications that show the proficiency of the candidate. And social media links placed on the right side will help recruiters to know you more professionally.
Whereas the second header simply includes name and designation, which is so basic, and certainly won't help you to shine out from other CVs.
Writing Compelling Objective/Summary For Digital Marketing Resume
Your resume objective or summary is one of the best ways to explain more about you as a professional. It's a great place to showcase your digital expertise, experience as well as writing abilities. 
You need to keep your objective compact and focused on describing why you are the best applicant for this particular job role. Writing experts at the paper writing service can assist you with writing compelling and laconic resume summaries.
Note: Don't keep your objective or summary common, means fit for all type objective. 
Now check out these examples:
Here the major difference is specificity. The second template is so ordinary, meaningless and not to the point. It doesn't provide any valuable information to the recruiters. 
Worse, it will leave a bad impression and waste the time of recruiters, and you will lose the chance to get hire. 
While hiring, a recruiter wants to see how experienced or how perfect you are for the role, and including your expertise will help you get recruiters' attention.
How Should You Include Work Experience?
Work experience is a very important part of your resume. However, by simply mentioning your responsibilities will not give anything valuable to the recruiters. You need to show your achievements in terms of results. Show how your work benefits the organization you are working with.
Look at the examples below:
You will see how the same work experience showed in two different styles. A little bit of improvement in listing your work experience can make a huge difference. Work experience with achieved results can leave a greater impact on the recruiters.
How To Get Hired As A Digital Marketer With No Experience
It's great to mention your previous experience along with achieved results, but what if you have no experience. Firstly, don't apply for the job roles that require 2+ years of experience, as they are looking for experienced candidates, and applying for those positions is certainly a waste of time and effort.
If you are a beginner in the digital marketing field, then your skill is the only key to getting a job. The perfect way to show your skills is by displaying the websites or blogs designed and managed by you.  As you need to learn web designing such as from web design toronto. 
There are a lot of ways to showcase your skills as an entry-level digital marketer, without any formal work experience. You need to prove to the recruiters that you are a self-motivated person by showing your certifications, personal projects, blogs, etc.
Does A Digital Marketing Resume Need An Education Section?
Including degrees in fields like marketing, communications, or business management is always a plus point. However, it;'s not mandatory to add so many details except if you are a fresh graduate. Even without a proper degree, you can still prove that you are qualified for the job role.  Presently, certifications are the new form of degree.
Usually, a degree is a way to show you some important skills. And if you can show that skill through certifications or other ways, then it's perfectly fine for recruiters. All they need to know is about your skills and proficiency. Digital marketing is a rapidly changing domain and recent certifications will be more valuable for you to get a job as compared to marketing degrees.
Digital Marketing Skills To Include In Your Resume
No matter, what kind of job roles you are applying for, you need to create your resume according to the specific line of work. Let's say if you are applying for SEO jobs, then you need to ensure that your resume is good enough to highlight the SEO skills required for the job you are applying for.
There are a lot of skills that recruiters are looking for while hiring people for digital marketing job roles, Here are some important skills that you will need to add to your digital resume.
Digital skills for your CV
Paid ads

SEO

CMS

Social media

Communication (written and spoken)

Organization

Mobile marketing

Strategic planning

Creativity

Crisis management

Writing

Curiosity

Independence

Design
Hard skills for your resume
HTML/CSS/JS

Semrush

Buzzsumo

Hotjar

Moz

Hootsuite

Google analytics

Facebook ads

Google ads

LinkedIn ads

Email marketing tools like MailChimp

PhotoshopMailChimp

Buffer

Zapier

Google Tag Manager
However, recruiters expect digital marketers to be practiced in one or more domains. And that's the reason why you need to understand the type of digital marketing jobs you are applying for and focused on the skills important for that job role.
Digital Marketing Resume Templates for Freshers
Freshers always feel confused while designing their CVs. They want to make their resume eye-catchy and don't want to get rejected by recruiters. They feel anxious as companies required experienced candidates. If you are experiencing the same, then you don't have to worry now. Through this post, we will help you to create an outstanding resume for your dream job.
You need to take care of a few points and you will definitely achieve the dream career growth you want. The first thing that you need to do is to make your resume content more effective. Your resume content will help recruiters to conclude whether you are perfect for the role or not.
So, your resume should be clean, and precise which emphasize your best qualities. Here are some resume templates to help you more. 
Sample 1: Content Marketing
Content is the king nowadays! Content marketing is not just about writing and posting content online. It's much more than that. It's a long-term strategy that focuses mainly on creating valuable and researched content for targeting your audience to maintain a great connection with potential customers.
Here are a few tips to create your Content writing Resume:
Mention your excellent writing skills & communication skills

Add Computer competencies

Mention Grammatical proficiency
There are several content marketing jobs available in the market, so don't wait and start creating your resume to grab the outstanding opportunities. Here's the template specially designed for Content Marketing Resume for Freshers. 
Source: Canva
Sample 2: SEO Resume
Before starting the process of creating a perfect resume for SEO job roles, you need to understand the importance
of SEO in the digital marketing world.
Search Engine Optimization is an essential part of digital marketing with a huge scope. Moreover, the Digital India campaign is supporting digital marketing in India, thus creating a lot of jobs in the digital sector.
So, let's get into the part of creating an SEO resume :
The first few things that you need to mention are your career objectives, qualifications, training and certifications, and relevant skills. 

Keep the information in your CV appropriate, precise, and to the point.

You need to mention your personal information and interests in a compelling way.

Showcase your distinct SEO skills in the CV that the employer is searching for.

Mention the previous SEO projects you have done.
Add relevant SEO skills like- Keyword research, MS Excel, Google Analytics, On-Page Optimization, Off-Page Optimization
Here we have shared an SEO resume for the fresher's template. Have a look!
Source: Canva

Sample 3: Email Marketing Resume
First, What is Email Marketing?
Email Marketing is used for building a relationship with potential customers. It is considered one of the most effective marketing channels when compared with others and is still a powerful way to generate a lead.
Follow these steps to create your Email marketing Resume:
Brief your Career Objective with respect to the job profile

Provide your Personal Details with interests and hobbies

It should not exceed more than 2 pages

Highlight your skills and, you can add these keywords to make your Resume interesting and relevant:

Deliverability of your Emails

Email Marketing Automation

Good copyrighting skills

Email Attribution
Consider this below-mentioned template for Email Marketing Resume for freshers.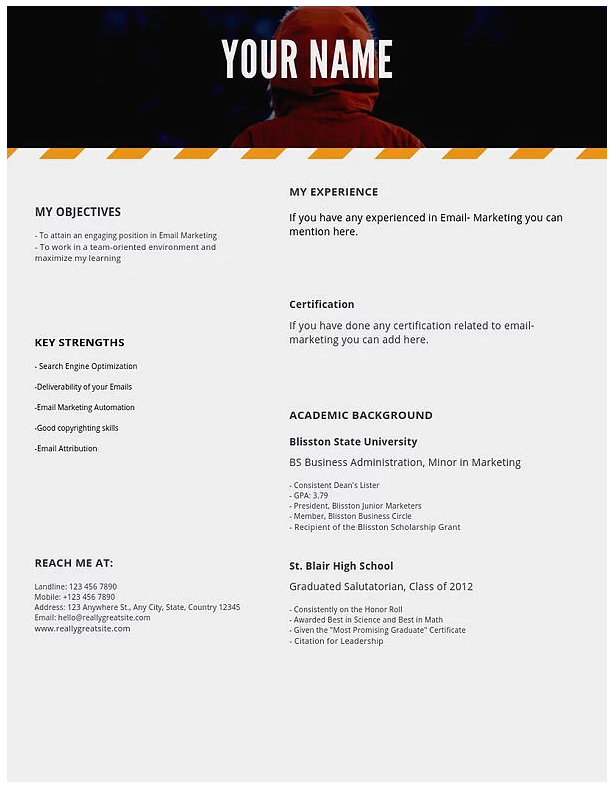 Source: Canva
Sample 4: Social Media Marketing Resume
SMM (Social Media Marketing) has grown faster than the internet itself! It's a process of engaging and sharing content on different social platforms in order to drive traffic and help companies increase their brand exposure.
Now take a rundown at how one can build a perfect Social Media Marketing Resume: 
Mention your accomplishments in your resume.

Add your Qualification details and important Keywords.

Highlight your Social Media Skills, and try including the following traits in your Resume.

Social Media Planning skills

Social Media's campaign execution

Content Marketing

Leadership skill

Creativity
[Pro Tip: SMM is expanding at an exponential rate. Thus, it is recommended to acquire a "Social Media Certification" which will be a big plus for your Resume.]
For reference, you can check out this template for a social media marketing resume for freshers:
Source: Canva
Sample 5: Inbound Marketing Resume
Inbound Marketing is the process of drawing prospects through Content Marketing and is one of the best ways to convert prospects or visitors into a customer.
You must include these elements in your Inbound Marketing Resume to make it shine in the eyes of the recruiter.
Be clear with your objective

Mention your degree, course, certification, and other educational details

Add relevant Keywords, and consider specifying these basic skills to avoid a tasteless impression.

Knowledge of SEO

Knowledge of MS-Excel

Familiar with Online Marketing
[Pro Tip:  "Hubspot Inbound Certification" is in the limelight today, so one can earn this certification to get an edge over the others.]
Sample 6: Market Research Analyst
You might have a doubt in your mind that what does a Market Research Analyst do? Here is the answer to your query: A Market Research Analyst assembles and analyzes the data from various sources, pen it down, make a report and then present it to the client.
Thus, you can add these necessary key skills and competencies:
Ability to work well with numbers and analyze complex data

Knowledge of Word, Excel, PowerPoint

Ability to work in a structured and organized manner

Good  Communication skills
Here's a template example, giving useful insights about the job role. Take a look: