Messenger chatbots are one of the hottest opportunities for all kinds of businesses who want to step into the online marketing game. Most of the world-famous brands are already making huge out of it by using Messenger Chatbot.
Chatbots help businesses in order to facilitate communication with the target audience and increase sales. Those who are already using it immensely believe that chatbots are one of the best digital marketing tools that can help you to achieve great results as well as take your content marketing to the next level.
Messenger chatbots are a brand new channel of communication, which is
more personal than an ordinary email, but at the same time even more targeted than Twitter.
If you are struggling to find a solution, which will help you to boost your marketing efforts, you should learn more about the chatbots.
What Are The Benefits Of Using Messenger Chatbot?
Content marketing strategy is an integrated part of the global strategy of your company. And as you know, all processes are tightly interconnected, so improving one area of your business, you
boost overall productivity
.
For this reason, choosing a chatbot as a new channel of communication and content distribution, you will be able to modernize your approach to customer service. You can start from changing ways of order placement, issues resolving and subscriber list creation.
Help to place an order
The point is that even if you have a great website with the perfectly crafted product descriptions, this is not enough to convince a visitor to place an order. When it comes to online shopping there is always a lack of communication between the customer and your company.
Messenger chatbot is a magic wand, which you can use to solve this issue by providing your clients with real-time support.
You should start from the very first contact with the client and improve the process of order placement.
You should design a chatbot, which will substitute a real salesperson, which serves a client in the most polite and professional way.
Your primary goal is to make online shopping feel more like an offline one.
For example, Nike designed a chatbot, which asks a user a few basic questions to understand his preferences and provide the most relevant options to choose.
It makes a visitor feel like a valued customer and also helps him to make a buying decision faster.
Resolve basic issues fast and easily
Today, your clients can resolve some basic issues without contacting a customer support assistant. A perfectly designed chatbot can provide users with valuable content related to the frequently asked questions just in few seconds. It will help your buyers to save their time, so they will be more loyal to your company.
In contrast to the real employees, Messenger chatbot helps clients to resolve issues with order placement or product delivery 24/7. This is one of the major reasons why most of the modern users prefer to contact a company via chatbots.
People simply don't like to waste their time waiting for an answer from a busy customer support assistant – they want to get adequate help right here and right now.
Build the most effective subscription list
If you create fresh content daily and want to find a way to share it with your target audience, then Messenger chatbot is the best option to choose.
In fact, this channel works in twice more effective than email, because it makes communication more intimate and personalized.  
News
-based magazines and television channels widely use Facebook chatbots to send new content directly to the customers.
For instance, CNN's chatbot offers a
subscription
on different kinds of content: daily update, breaking news or articles related to a concrete topic.
It helps to build an accurate subscription list and provide customers with interesting relevant content at the right time.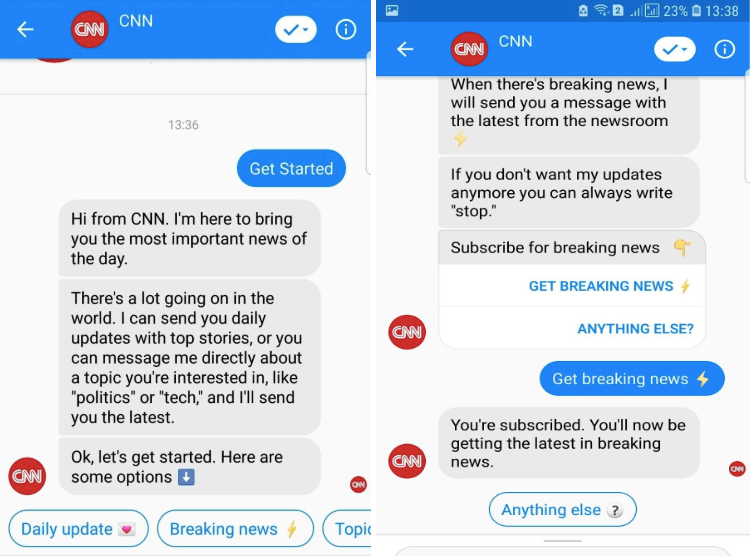 Tips To Create Effective Facebook Messenger Chatbot
If you have already decided to start using a chatbot, you should know how to do it right. Check the following tips, which will help you to avoid the principal mistakes and boost your content marketing efforts.
Provide a value
Communication with your target audience shouldn't look like friendly chit-chat. It should be more like a meaningful discussion of the topical issues with an expert. The chatbot should play the role of the virtual specialist, which can help to resolve any problem.
If your customers reach your company via Facebook, they really need your professional assistance. For this reason, every message sent by a chatbot should contain valuable and helpful information. Also, you can add a relevant link to your website, blog or a file to download.
Don't be too annoying
If your client has stopped answering, a robot shouldn't send new messages. The point is that if the customer is not able to solve his problem using Messenger, he will contact your company later by phone or email.
But if you continue sending messages like "Are you still here?" and "Do
you still need my help
?" you will annoy him a lot.
Chelsea Ann Dowdell, content manager at
GrabMyEssay
, states: "This is a bad idea to text your client too often or to provide him with the irrelevant information.
A user will consider your messages as spam and will block your account. This mistake can shatter your reputation, so you should pay attention to every small detail while designing a smart chatbot for your company."
Make automated text messages sound human and personal
A customer should feel like he talks to a real person, not to a robot. For this reason, you should design a framework, which includes not only polite questions and answers but also some emotional trigger phrases.
If you want to make your
chatbot more like a human
, it should be able to express the different feelings from surprise and excitement to sympathy and compassion.
You should start the first contact with your potential client with a personalized salutation. Depending on the concept of your brand, you can call your client by name or by surname.
If brand loyalty is extremely important for you, you should try your best to 
make
 a user 
feel like
 one in a million.
Polish every message
The chatbot should demonstrate a high level of literacy, just like your human employees do. For this reason, you should revise and proofread every single sentence of the scenario.
In other words, if you don't want to let spelling mistakes spoil your content marketing strategy, you should ensure a high quality of every message.
If you can't do it by yourself, you can check the
grammar and punctuation with the help of services like
HotEssayService
and
SupremeDissertations
.
Some clients are not able to express their thoughts clearly. This is a common reason why chatbot can't accurately identify a topic of discussion and provide a customer with the relevant answers.
However, when you add reply buttons, you significantly facilitate the communication process between humans and a robot.
Buttons will help your customer to navigate through the conversation and find desirable content in a hassle-free way.
The Conclusion
Facebook Messenger chatbots can not only boost content marketing efforts but also increase overall productivity. The only trick is to learn how to design and incorporate a chatbot in the right way to get the most benefits.
If you want to bring changes to your company, don't hesitate to use new technologies and modernize your way of doing business.
About the Author:
Bridgette Hernandez is a content marketer at
 IsAccurate
 and freelance blogger. Bridgette has a Master's degree in Anthropology, and she currently is getting her second degree in Management Marketing from The University of Chicago. Apart from work, Bridgette enjoys playing tennis, dancing kizomba, and reading sci-fi books.