We the human beings were never contented with what we achieved and perhaps we never will be! From fire to cooking, clothing, wheels and super computers, all-so-thirsty homosapiens have always remained on toes in inventing ways to make life better & sophisticated. Just about two decades ago communicating to someone while you were on your move was next to impossible unless you halt somewhere and make a call through any landline connection. But now forget about barely the mobile phones we have smart phones that we can call a kind of minicomputer that we can carry always with us irrespective of whether we are on our go or resting at our homes. In fact, we cannot imagine our lives without mobile phones at present and that it has become the integral part of our lives. May be because we are lazy creatures and find it difficult to use the computer as we need to make some movement in it for sure, whether it is any research or shopping we find it easy to do on our mobile phones unless we are anyway logged on our computers. Mobile phone are of course are quite handy and can be managed easily anywhere anytime. Moreover, a fact that can never be denied is that the life style of the people and marketing are co-related.  If one will change other is sure to change. If consumers have started using mobile internet for various activities including shopping, businesses are bound to focus more on a mobile based marketing strategy. Though it needs not a validation still just to be a little extra sure of what we talked about let's have a sneak peek of a few numbers & figures related to mobile marketing:
Mobile Facts & Stats:
8 billion People globally will use mobile phones in 2016. (Forrester Research)
75% of Internet users went online via a mobile device at the end of 2015. In 2016, mobile devices aren't only the most popular or commonly owned device, but also they're starting to overtake all other devices in terms of time spent online. (GlobalWebIndex)
85% of India's digital population accesses the Internet via mobile, an increase of 30 percent since 2Q2012. During this period, Internet access via PCs/laptops remained stable. (GlobalWebIndex)
Average mobile time doubled to 3 hour per day in 3Q2015 from 1.5 hours per day in 2Q201. (GlobalWebIndex)
40% of mobile web users share their handset with someone else. This trend differs from any other market (GlobalWebIndex)
11% of India's Internet users live in rural areas yet represents 70% of India's population. (GlobalWebIndex)
No brand dominates the Indian mobile market. Samsung (40%) has the largest market share. (GlobalWebIndex)
46% improvement in unaided brand awareness through mobile search. (Google)
51% of people find new companies via mobile search. (Google)
I think the numbers are enough to explain how imperative it has become to have a mobile based marketing strategy and to have a website that's compatible for mobile usage. In fact, majority of business have already embraced the mobile web and are exhibiting a great surge in mobile traffic, whether it is a social networking or an ecommerce website. But then, the idea is how do you define a mobile compatible website and what are the factors that make a website mobile friendly as such.
A Mobile-Compatible Website!
"A website can be viewed on your mobile device does not mean it's a mobile-compatible website. "
Yes! I mean one can almost open any website on the mobile based on the data pack and the internet connection. But that doesn't mean it's a mobile-compatible website. The mobile compatibility of a website is much related with the experience of the mobile web user on that website that includes easy navigation, relevant information, etc. Let me give you an example here! As you can see there are web & the mobile site of ebay below. A few things that are anyways obvious to be observed are simplicity, ease of navigation and of course the relevance of both the sites with respect to their devices.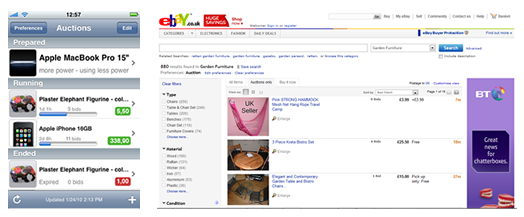 Never overlook the fact that though users find it easy to access internet on mobile than  computers still spending a long time on mobile looking for what they want can be little daunting. This is why; mobile sites are created keeping quick & easy user experience in mind. However, if truth be told, there are still a large number of websites that are not optimized for mobile. But, this can be an opportunity for you to have an extra edge over your competitors. Get a mobile compatible website before your competitors do as mobile marketing is the present and future of marketing?
Important!
One more thing you must be aware of is bounce rates for non-responsive websites are often between 85 – 90% signaling you a fact that there is a direct loss in traffic of between 10 – 25%.
Still!
If you want to find it yourself as to how a responsive website impacts your business, you can always employ & explore Google Analytics data to identify the number of people visiting your mobile-web-site as well as their behavior while they are on your site.
Afterword
Lead the game in place of losing it! Get a responsive website before your competitors do! Drive more traffic and boost sales generating more revenue for your company eventually!