Meet Digiperformer form Guwahati, Arif Ahmed, who is working as a Digital Marketer cum Website Designer in Umang Communications.
Learning has no limits and boundaries. This has been clearly acknowledged by one of the trainees who has completed her MBA in Marketing and now working as a Digital Marketer/SEO Executive. Being an MBAian, she felt the need to learn...
It's always been a happy feeling for us whenever our trainees get placed in reputed companies and take the first step of success in their career. For some, it may be just a placement, but for us, it's one of...
Meet Digiperformer Hrushikesh Mahesh who is currently working in Adjetter Media Network Pvt. Ltd. as a Digital Marketer after completing a digital marketing course from us.
Meet Digiperformer form Vizag, Kambhatla Ajay Kumar, who was working in BPO; got fed with tiresome working operations and started looking for opportunities where he could learn more.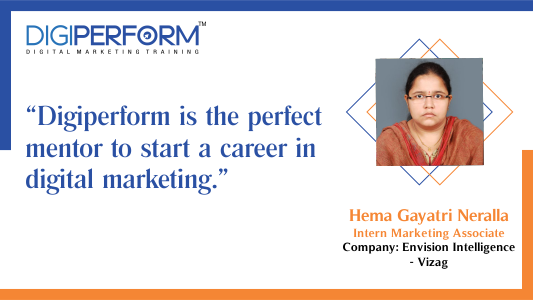 Meet Digiperformer from Vizag, Hema Gayatri Neralla, who is an undergraduate student decided to learn digital marketing to create better career opportunities for her.
Learning has no limits and boundaries. This has been clearly manifested by our one of the trainees in Mumbai - Sana Shaikh who is a full stack developer by profession and a complete marketer by passion.
Meet Digiperformer Swapnil Mishra, one of our brilliant trainees who believe there are lakhs of job opportunities in the digital marketing industry and currently working as a Digital Marketing Executive in one of the startups of India as well.
Meet Digiperformer Amit Sharma who shared in an interview why he decided to switch his marketing skills from traditional to digital and why he choose Digiperform to be his mentor.
Meet Digiperformer Rahul Sharma, director of Tours & Travels Company - IndiaTripin. During the past years, he realized why it's important to promote his business online. Therefore, he decided to learn advanced level digital marketing course from us to learn...