It is said that old is gold. However, that's not how it goes with technology.
With the advancement of technology day by day, the entire genre of marketing, advertisement and e-commerce have changed. Gone are those days when traditional paper pamphlet or word of mouth publicity would have taken your venture sky high.
Nowadays to tap into the global market scenario, and to be the global leader you need a properly designed and enticing mobile responsive website.
So if you want a boost in your business, then it's high time for you to develop a mobile responsive website.
Numbers and stats
A
report from statista
shows that the total number of mobile phone users all across the globe is expected to reach 5.07 billion by the end of 2019.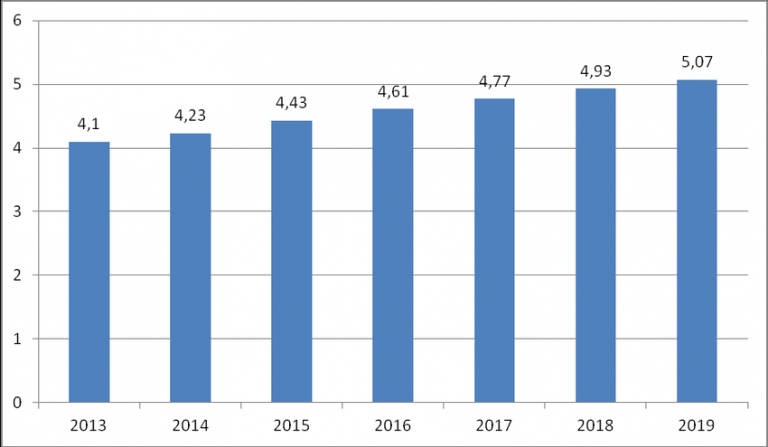 And hence, true to its saying, that those ventures that are still not into catering to mobile users through their web pages are surely paving way for their extinction.
A brief march of time
The concept of designing mobile-friendly web pages isn't that old. The first website that can adapt according to the browser viewpoint was designed and launched by a car giant around 2001. The terms like fluid, flexible, liquid, and elastic were few synonyms used in mobile-friendly webpage designs until in 2010 a developer phased responsive web design.
Reasons for designing a mobile-responsive website
Increasing the availability and traffic of a website:
Mobile phones are easy to use and the availability of the internet has made it possible for users to access the web page at any point anywhere. Desktop or laptops aren't always available to a website that is not mobile-friendly already pushes away more than half of its traffic to a competitor mobile responsive site.
Experience class apart:
A crucial aspect for any website is its experience as perceived by the users. When a website is used in a mobile or tablet interface, it changes its design from an evenly designed page to a vertical configuration.  This transformation in configuration brings in a number of displays and designs together.
This
method of configuration is known as Responsive Website Design
(RWD), where the website properly fits according to the screen size of the gadget by contracting pictures, displays, and contents thus providing the user a class experience without tiresome navigation.
Cost-effectiveness

:  
For designing any website every entrepreneur thinks about the cost. Strange as it might occur to you, a mobile-friendly page is in fact, cost-effective. Before the advent of RWD design, people had to design different websites for different platforms thus doubling or tripling the building cost. However, with a responsive design, a single site can serve for all.
Increase in sales

:
Of course, the ultimate purpose of designing a website is marketing the brand across platforms. With the advent of smartphones and easy internet, the prominence of e-commerce is gaining day by day.
A
report showed in 2013
, that there were only 10% of districts buying online goods through mobiles whereas within two years that rate doubled.
So it goes without saying that a mobile responsive site will tap on a huge customer pool.
Improved Google rankings:
This is beyond any doubt that Google is the biggest search engine of all time. A report suggested that more than 96% of users use Google as their primary search engine. Thus Search Engine Optimization ranks to become a deciding factor for a number of hits on the website.
From the user end, the only first few in lists are generally checked. A mobile-responsive user-friendly website is recognized by Google and is given a higher SEO rank thus getting it more hits from potential targeted customers.
Enhancement of loading speeds

:  
Now speed and fast connectivity acts as a key factor for any website. According to standards set by 'Google Page Speed Developers', the content on the top of a page should load under 1 second and the rest of the page within 2-3 seconds.
These ridiculously high-speed standards cannot be reached by a desktop webpage as they are evenly designed and are a lot heavier. The prolonged time for a page to load acts as a major turn down for customers and instead of waiting they prefer to move to a user-friendly website.
Optimizing the page elements

:
A mobile responsive web page adjusts according to the screen size but with all the visual contents, graphics, and displays. So, the user experience is much effectual and customers can find all the information they are looking for.
Analytics friendly

:
Customer analytics refers to future planning, rectification, and implementations for any venture. However creating analytics reports for customer preferences, logins for multiple versions of sites and tracking all such through a multitude of conversion paths, redirects, funnels are complex and has high chances of data mishap.
However, a mobile responsive site is easier to maintain and document all analytics. Some major analytics like Google Analytics nowadays caters and merges all the reports of mobile responsive pages in a single one.
Improved offline browsing:
Another latest feature is offline browsing. With HTML5-enabled smartphones, mobile responsive pages enable users to continue viewing the contents within the HTML5 web app even without internet connection
.
Lower maintenance:
A responsive page is all fit within one design. So while designing or while maintaining it creates a lesser headache for testing, bug fixing and optimizing thus giving you more time to focus on contents and marketing.
To sum it up
While we reach at the end of the discussion, it's evident that mobile phones are the future and thus a mobile-responsive web page is the only solution that reduces your time and efforts on one end while giving you more customers, and business on the other.
Entrepreneurs, marketers, and business owners gain the opportunity to reach out to a customer pool that engages with their brand and its offerings, which in turn shoots up their ROIs.
Author Bio:
Being a senior business associate, Peter Davidson strives to help different brands and startups to make effective business decisions and plan effective business strategies. With years of rich domain expertise, he loves to share his views on the latest technologies and applications through his well-researched content pieces. Follow him on
Google+
and
Twitter
.