Have you ever wondered how people are discovering websites and businesses online that they've never even heard of? 
They most likely Googled their way to them.
And guess what? Thousands of people in Miami right now who don't know about your business could be searching for the products or services you offer!
Showing up on the first page of search results is your chance of letting these people know your business exists and an opportunity to quickly convert them. 
But unless you have a good
Search Engine Optimization (SEO) strategy
or work with Miami SEO experts, you'll have difficulty putting your business in front of potential customers. 
Let's be real here, SEO isn't something new. Hundreds of other companies, including your competitors are already using them to their advantage, and are probably getting most of the customers in Miami already. 
But don't worry! It's never too late to turn things around. 
Having been awarded as Asia's most trusted brand in digital education by WCRC, we want to share with you how you can put your business ahead of the competition through these top 3 SEO trends of 2021.
But before that, let's first define what SEO is and why it's important.
What is SEO or Search Engine Optimization?
SEO or Search Engine Optimization is the process of making your website and its content more visible for relevant searches. It involves several best practices you need to follow to help search engine bots decide whether or not your business should rank higher or appear on the first page of search results for relevant queries. 
Let's put it this way. Think of SEO as the qualifications of your dream career. For you to get the job you want, you need to work on getting the education, experience, and skills required to become qualified.
The same concept applies to SEO. If you want to rank high, you need to conform to the standards set by search engines, like the following:
Optimize your website and its content for on-page SEO

Optimize for off-page SEO

Optimize for mobile

Use keywords in your content

Publish long-form and high-quality content

Get quality backlinks

Analyze website data
And so much more.
Why Is SEO Important for Your Business?
According to Forbes, 75% of internet users never continue past the first page. This means if people can't see you on the first page of search results, the chances of people finding out about your business are slim to none. 
And this is where SEO comes into play.
Having a
good SEO strategy
is the way to make your website rank high for relevant queries. The higher you rank, the more searchers see you, and the more clicks you'll likely get, compared to if you were located on the second or last page of search results where no one goes. 
But more than making you rank high, driving more traffic to your website, and helping you get more leads, SEO offers something more valuable. 
SEO allows you to better understand your target audience, what they want, and how to satisfy their needs. 
It teaches you to become better not just in terms of website technicalities or marketing, but also in providing value through content, improving your offerings and customer service, refining your brand, and so much more. 
In other words, SEO is the sustainable approach to helping your business succeed long-term!
Tapping into Miami SEO experts today means the sooner you'll get to improve your business, the sooner you'll see results, and the sooner you'll experience success!
Top 3 SEO Trends of 2021 You Need to Know About
Did you know that Google's algorithm changes from time to time? This means there's a possibility that if you rank 3
rd
today, you may no longer be found on the first page of results pages tomorrow. But as long as you follow SEO best practices and keep up with the latest SEO trends, you have nothing to worry about!
So, to help you increase your ranking or maintain it, here are the top 3 SEO trends of 2021 you need to know about:
Core Web Vitals
refer to specific factors that contribute to a visitor's overall user experience in a webpage.  
Core Web Vitals are composed of the following:
Largest Contentful Paint or Loading
How fast your page loads
First Input Delay or Interactivity
How soon it gets interactive
Cumulative Layout Shift or Visual Stability
How stable your web page is while loading
These factors, mainly focus on page speed, which Google considers to be an essential metric for measuring user experience. 
In May 2020, Google announced that Core Web Vitals is going to be an important ranking factor in 2021. So, if you want to appear on the first page, you need to work on improving your page speed. 
But how can you do this exactly?
Here are the Different Ways You Can Improve Your Core Web Vitals:
Optimize the Images on Your Website
Images are one of the biggest factors that influence your core web vitals, which is why you must optimize them. 
Avoid using background images, or if you do, make sure to reduce their dimension to make your page load faster.
Avoid using any images on your above-the-fold content. As much as possible, use text-only and other simpler elements.
 Use lazy loading or on-demand loading to prioritize loading the specific part of your website that is currently being viewed by a visitor and delay the remaining parts until necessary. 
Videos are an essential part of your website. However, they're very large files that can affect your load times so you need to optimize them.
Use a dummy image for video thumbnails.

Minimize placing videos above the fold.
If your website is reliant on CSS, make sure to optimize your code this 2021 to boost your site speed. 
Inline CSS plays a crucial role in the overall design and layout of your theme. 

Run your code through a tool to get rid of unnecessary codes that can affect your page load speed. 

Combine your CSS files and code

Preload your CSS to cause the browser to load it and have it ready when it's needed.
According to experts, JavaScript is one of the major sources of delayed website loading speed. Here's how to optimize your JS:
Run your script through a minifier to get rid of any unnecessary elements.

Review your website and minimize and consolidate as much JavaScript as you can.

Audit your site and see if you're using jQuery Migrate. If you are, replace or update the plugins or apps to get rid of the Migrate because it can slow down your website big time.
Optimize Your Server
Optimizing your server is important because no matter how much you optimize the videos and images on your site, your JavaScript, and get rid of unnecessary CSS code if your server is slow then there will be no improvement in your Core Web Vitals. 
Upgrade to a faster package.

Use a modern CDN or content delivery network for your images, videos, audio, animations, and other multimedia. 

Preload or prefetch DNS queries to lessen the delay between an asset being requested by your visitor and the presentation of that asset. 

Preload your cache to guarantee a fast-loading web page.
Google's BERT stands for Bidirectional Encoder Representations from Transformers. It is a machine learning technique for natural language processing that allows search engine bots to better understand a searcher's query including the intent behind it. 
Because Google search engine bots can now discern if a searcher is looking for information, looking to buy, or looking for a particular website, they can better generate content that matches the intent of the searcher. 
What does this imply for your SEO strategy?
This 2021, you need to start publishing content that matches the intent behind your target audience's search queries! If not, BERT will ignore your content despite how perfect that piece is in terms of word count and the information it provides. 
How to Make Your Content BERT-Friendly?
The buyer's journey is the process consumers go through before making an actual purchase. It is mainly made up of 3 stages and you can use this to guide you in making content that matches your target audience's search intent. 
During the awareness stage, you want to create content that tells your target audience what they need to know about the product or service they're looking for. From its advantages, disadvantages, features, as well as alternatives if there are any. The query in this stage is often question-based, like how, who, what, where, and when. 
Example: What is SEO?
During this stage, your target audience is looking for all the possible options in the market. So, you want to create content that compares you to your competitors and why you're better. You also want to use testimonials and reviews to your advantage during this stage. 
The queries in this stage often include the terms "best", "vs", or "most". 
For example best SEO marketing agency in Miami
During this stage, your target audience has ultimately decided on what he/she will purchase and is ready to make a purchase. 
So, you want to create content that aims to convince your target audience why they should buy that product or service from you. 
During this stage, searchers usually use terms that have an intent to buy, like "buy", "purchase", or "download". 
For example Purchase SEO services in Miami
Get to Know Your Audience
Getting to know your audience is the only way you can produce and publish content that is highly relevant to them. So, before you plot your target audience's buyer's journey, take the time to create a customer persona first. 
Using highly technical terms can only confuse your readers and delay the process of absorbing the information you're feeding them. If you want to reach out to your target audience and communicate with them effectively, use a conversational tone and keep your terms simple. 
Write Content for Your Audience, Not for BERT
If you're thinking about stuffing keywords into your content so that you have a better chance of ranking high, we suggest you don't do that. As technical as BERT and SEO can get, at the end of the day, their goal is to provide a better browsing experience for humans, not bots.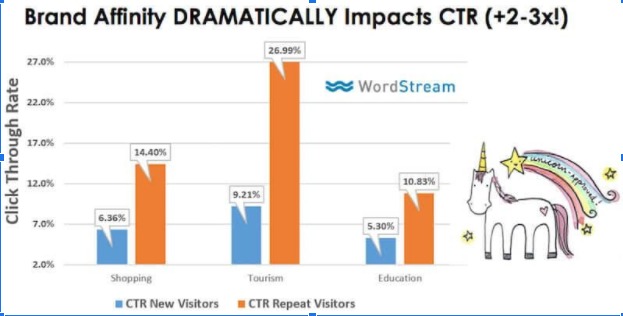 Source: Wordstream
Branded SEO or branded search refers to the results shown when a user searches for your brand name. 
You'll want to rank first for your branded search because it means people already know you, have heard about you and is looking for your company specifically. 
This reflects your authority and expertise in your industry, and that you're a trusted brand. 
This 2021, Google is putting great importance on branding and authority when it comes to ranking websites for relevant queries. This means the more popular you are, the higher and more frequently you'll rank. 
What does this mean for your SEO strategy?
This means you need to prioritize establishing your brand's online reputation this year and increasing your
brand awareness
. You also need to make sure that when people search your company name online, your website is the first to appear. 
Here Are Some Tips on How to Rank for Your Branded Search:
Collaborate with local newspapers, magazines, bloggers, and vloggers in your industry to create content for them or publish an article about your business. The goal is to get them to mention your business and cite your website with anchor text. 
Claim your business on Google My Business and make sure all the necessary information about your business is complete
Enlist your business on popular online business directories and make sure to back it up with Schema
Encourage your customers to leave reviews on your Google My Business account and in other relevant review sites like Yelp, Bing Places, and more. 
Work with Miami SEO experts to help you rank first for your own branded search.
Looking for Miami SEO Experts?
We're already 5 months into 2021 but it's never too late to improve your ranking using these top 3 SEO trends! Follow the tips we shared with you above today to start seeing results. Remember, SEO takes time, so don't be discouraged if you can't see a difference overnight.
Keeping up with SEO trends and the ever-changing algorithm of Google can be a daunting task, which is why it's better to entrust this part of your business to
Miami SEO experts
.