Amidst the pandemic, when a lot of businesses are shutting down, social media marketing has helped millions of businesses stay afloat. On today's date, social media needs no introduction. 
Over the years, marketers have leveraged the social media platforms to connect with their target audience, build the brand, improve sales, and of course, drive website traffic. Now that a majority of the population is staying indoors, social media marketing has become the most effective tool to engage with the audience.
However, conducting a successful social media marketing campaign is not as easy as it seems. In fact, there are very few social media marketing campaigns that have left a significant impact on the audience.
If you are planning to leverage social media marketing to get your business on track, perhaps you should take inspiration from some of the best social media marketing examples of recent times.
Starbucks UK's #WhatsYourName campaign:
Starbucks has used its social media campaigns to show their support for the LGBTQ community on a number of occasions in recent times. In 2019, Starbucks UK joined hands with
Mermaids
, an organization that supports transgender and gender-diverse youth. They came out with the
#WhatsYourName campaign
which focused on trans rights.
Instead of trying something totally different from what they do, Starbucks built the campaign on a well-known aspect of the Starbucks experience.
It used its tradition of writing the name of the customer on the side of the cup and committed to respecting the names the customers wished to be called by. They encouraged social media users to use the hashtag on Instagram to tell about their experience with gender.
Starbucks also sold a mermaid tail cookie to raise funds for the charity organization – Mermaid. The YouTube ad of this campaign earned over 625,000 views, while the Instagram post received over 1,000 comments.
Amazon:
If you follow the social media handle of Amazon, you will realize how funny and witty their posts are. In fact, their responses to their customer posts are equally funny and intelligent. But it is their brilliant use of user-generated content that sets Amazon's social media activities apart. Take the following post for an example:
Amazon simply responded to a tweet on Instagram by posting the reply in the caption. Now, that is smart as it involves two brilliant social media marketing tactics – humor and cross-channel promotion.
Also, this makes people feel special when the brand replies to their posts and comments. Using user-generated content not only encourages more audience engagement but also relieves the brand from creating social media content from scratch.
Airbnb:
2020 has been a difficult time for the hotel and hospitality industry. In fact, the COVID-19 pandemic has affected the operations of Airbnb and similar businesses. However, Airbnb continued its social media activities while contributing positively to the current situation.
While travel and transportation are strictly regulated in most countries, Airbnb is offering free or subsidized lodging to COVID-19 responders.
This has been a great move from Airbnb as it helps them keep their business running and at the same time improves their brand image. The business has used its social media accounts to promote this initiative and stay relevant during this crisis.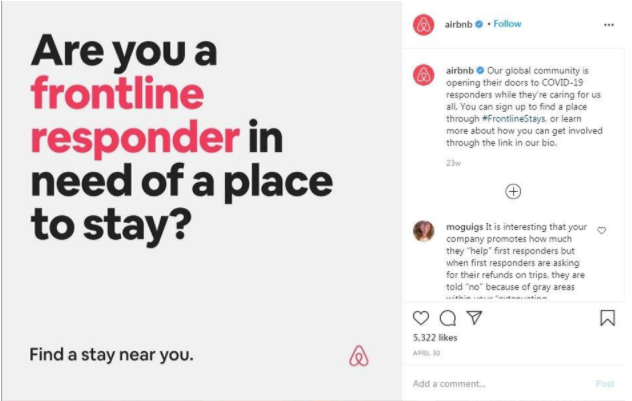 However, it did not stop its social media posts when its operations were halted. In fact, Airbnb's continuous effort to engage with its audience has helped it forge a strong customer relationship in this pandemic.
Netflix – Wanna Talk About It:
There are a lot of businesses that have been affected badly due to the COVID-19 pandemic. In such a difficult situation, Netflix has used its social media account to help people while connecting to their audience in a more meaningful manner.
Netflix arranged a
series of Instagram lives
where people could connect with mental health experts, ask questions, and share their problems. While this helped the brand foster customer loyalty, improving the brand image, it also showed other businesses an effective way to build stronger customer relationships in this difficult time.
HBO:
There have been a lot of social media marketing campaigns revolving around the COVID-19 crisis. HBO has a huge viewership, thanks to its great shows and other content.
Amidst the pandemic, they have leveraged social media marketing tactics to increase their viewership even further. Since COVID-19 continues to affect people all over the world, HBO is encouraging people to stay indoors and binge-watch their shows.
HBO has been using a popular show to get more people to register for the free trial of their subscription. Now that people have more free time, this is the perfect time for them to try new streaming services. Also, once someone gets accustomed to a particular service, they are more likely to continue the subscription even after the end of the free trial.
Spotify's #yearwrapped:
Towards the end of the last year, Spotify came up with a campaign, allowing users to see the most important musical highlights on their app or website.
The dedicated page "Spotify Wrapped" highlighted the user's most listened to artists, songs, genres, and other fun details about their musical preferences.
Users could see how the music they listened to coincided with their life events in 2019. Moreover, users also had the option to share these highlights on social media and tag their favourite artist of the year on those tweets and Insta stories. According to Twitter, the campaign registered a minimum of 1.2 million posts in the first month of its launch.
Zoom – Virtual background competition:
Zoom does not need any introduction, especially to the people who have been working from home during the pandemic. This video conferencing app has gained a lot of popularity in 2020.
And they have used this opportunity to raise their brand awareness and get people to try their free trial. The virtual background competition helped them achieve both goals.
Zoom asked its users to share a picture or video using its virtual background feature. They awarded three winning entries every month with branded items.
This was a great success as a lot of people tried out the platform and used their features to participate in the competition. A lot of them also signed up for the free trial only for the competition's sake.
Dove – #ShowUs campaign:
Dove has always put stress on social causes in most of its social media campaigns. Also, the brand's key target customers are women, because of which they develop their campaigns on issues like women empowerment, diversity, breaking beauty stereotypes, and inclusion.
In the latest campaign, Dove posted pictures of women from different parts of the world and highlighted their uniqueness.
The idea of the campaign was to spread the message of accepting and loving everyone irrespective of their looks and ethnicities. It promoted more acceptance of diversity.
The campaign was a huge success, and it reached women all over the world. In fact, the brand was able to build a library of over 5,000 pictures that they received from women from different parts of the world.
WWF – #EndangeredEmoji:
In 2016, WWF built a campaign centred on seventeen of the endangered species of animals that are included in the emoji index. The objective was to raise donations for species protection.
The idea was really simple. Users were encouraged to donate an amount of 10 cents for each retweet of an animal emoji shared by the official Twitter account of WWF.
All the retweets of animal emojis were tracked, and at the end of each month, users were provided with a summary of their activity along with the amount of donation gathered.
The launch tweet was retweeted more than 36,000 times. More than 1 million tweets included the campaign hashtags. Moreover, WWF gained more than 200,000 new followers and 59,000+ donations in the first two months.
BuzzFeed's Tasty:
Another social media campaign from 2016 makes it to the list, and it was BuzzFeed. In fact, the social media marketing strategy I am about to discuss is still working for the company.
BuzzFeed's Tasty videos are nothing less than cooking shows. The only difference is that it is more enjoyable to the social media generation, and the videos usually lasted less than 2 minutes.
15 months after the launch of Tasty videos, BuzzFeed managed to publish 2,000 recipe videos. It helped the brand develop a steady stream of new content.
The videos currently reach more than 500 million users every month. And BuzzFeed Tasty now has more than 100 million Facebook followers now.
In conclusion
Your business may be a lot different from the ones we discussed in this blog. However, it is important to understand that social media can be leveraged by anyone, if only they know their audience.
Author bio:
Sienna Brown is a marketing manager at a reputed MNC based in Australia. He is also associated with
MyAssignmenthelp.com
, where he serves management
homework help
to students on request. He is also working on his first book on management.
Also Read: 
Why Social Media Marketing Is Important For Businesses In 2021