Ask any SEO about the toughest part of their job and they are likely to mention creating the right link-building tactics.
For most digital marketing experts and SEOs, Link Building is by far the hardest and most important part of their job. So much so that some experts think, that SEO is Link Building. 
Link Building is the process of creating backlinks of your website on the platforms/websites of external publishers.
The higher the number of backlinks your website will have, the greater will be the advantages of SEO that will come to it. 
In other words, link building is at the core of climbing the search rankings on Google. Better rankings lead to more clicks and visibility. OutreachMama has written an article on How to Plan Your Backlinks, check it and try to implement as much as possible to your website.
Also Check:  Digital Marketing Course in Delhi 
Best Link Building Tactics: Beginner's Guide for Link Building
SEO and Digital marketing agencies and experts use many different strategies and tactics to build links. According to Google's own admission, link building ranks as one of the top three ranking factors (Quality content and Mobile Optimization are the other two).
The reason for this is that, for Google, backlinks are recommendations that other websites are giving. This also means that the knowledge, information, and credibility of the backlink carrier is such that other publishers find it trustworthy and resourceful.
Google is always on the lookout for sites, which showcase quality content, which is original and high in value for its readers. Link Building is a digital marketing strategy that has advantages for both user intent and searches intent. This means that it not only contributes to fulfilling user satisfaction but also woos the algorithms of search engines.
Some of the major advantages of pursuing the right link building tactics are-
Building quality backlinks on high authority sites have a direct impact on climbing search rankings. 

Strategic link building helps in diverting website traffic from high-volume sites to a brand's own website. 

Building links over a sustained period is directly proportional to better website metrics and SEO scores (DA, DR, Alexa Rank, and so on). 

Any high performing needs to build credibility to win over audiences. By placing website links on high-quality sites, a brand builds great credibility with users and search engines. 

The best SEOs are able to run highly effective Lead Generation and Sales Conversion campaigns through Link Building. 
There are many other advantages of link building. However, the above five are the most important ones. 
Top 10 Link Building Tactics for Beginners: The List
Almost everyone who has a brief idea about digital marketing knows about the major benefits of link building. However, most people who are starting out in the process are not aware of some of the most effective strategies for link building. In this SEO beginner's guide, we are going to look at the top 10 link-building tactics for beginners. 
1. Guest Posting
Guest Posting is the process of creating content and requesting another website in your niche to publish it on their platform. In return for the same, you are likely to get a do-follow link back to your website in the author bio section. 
Most brands and SEOs do this as it helps divert traffic from an external website back to the new website. If you have a new website with little or no traffic, creating high-quality content for someone else might be the best thing to do. 
2. Blogger Outreach-
In addition to guest posting, blogger outreach services have emerged as a dominant strategy for link building in the past couple of years. Bloggers are authority voices in industry niches, who command significant influence over their readers' buying habits. 
Think of them as auto reviewers or tech reviewers. Their websites see huge volumes of traffic on a daily basis. Most brands use their services to not only get backlinks (in-content) but also run lead gen and sales campaigns, especially during new product launches. 
3. Quora and Reddit Link Building Tactics-
Ask the best SEOs about which rather links they like and they will always prefer high-quality no-follow links from Quora and Reddit than spammy do-follow links. Quora and Reddit are authority platforms, which see high traffic volumes. By engaging with the audiences on such platforms, you can divert targeted traffic to your website.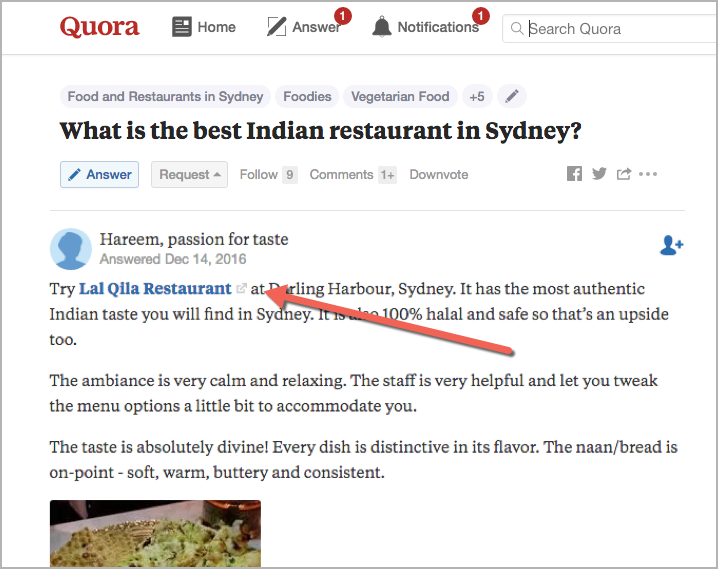 Google is ambiguous whether no-follow links on such platforms contribute to SEO scores or improve search rankings. However, in terms of traffic and building credibility, they are a great asset in themselves. 
4. Backlinks from Social Media Platforms-
Like Quora and Reddit, backlinks on social platforms are of a no-follow nature. However, even in this case, there is a lot of ambiguity when it comes to them contributing like do-follow links. It is important that link-building tactics have a strong social media component to them. 
This helps in diverting traffic from social profiles like Facebook, Twitter, LinkedIn, and Pinterest to the brand website. Brands can choose between sharing blog links or direct links for products and services on their social media platforms. 
5. Exchange Backlinks for Industry Relevant websites and publishers-
The best SEO agencies and digital marketing companies work in a community. They own and maintain industry-relevant sites, which they use for link building.
This also involves exchanging backlinks with other publishers and site owners. This not only helps to build the network but also aids in the revenue-saving process. 
It is important that brands and agencies network with similar industry-relevant communities.
Link exchange can be a valuable value addition to any brand. This not only helps bring down the costs and the resources but also helps in building credibility and growing in a community. 
6. Link Building on Aggregator Sites and Official Directories-
It is important to list the website link of your business on as many aggregator websites as possible. This not only helps in increasing awareness and reaching out to new audiences, but it also helps in building credibility and opening up newer avenues of sales and revenue generation. 
In 2019, almost every industry, be it food, fashion, health or auto has aggregator platforms and official directories. The links on such platforms can be both of a do-follow nature or a no-follow nature. However, whatever be the nature of the links, it is important to build them. 
7. Offering to Write Testimonials and being present on Case Studies-
Almost every business that has a digital presence is looking to get quality client testimonials. They are looking to build as many quality backlinks as possible. This means that there is an opportunity that many in your business are not looking at.
You can reach out to businesses and brands in your niche and offer to write a glowing testimonial for them.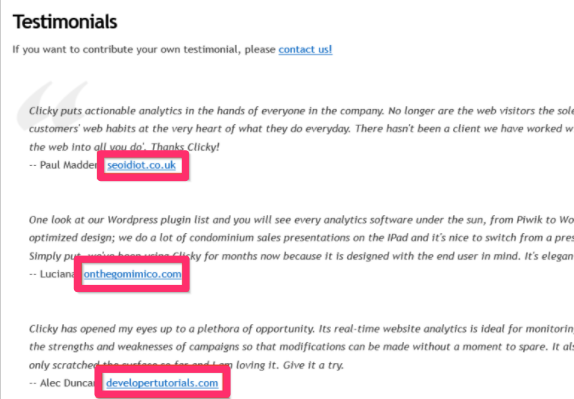 They, in turn, can place your website link just below the name on the testimonial section of their website.
The process can be repeated multiple times with different brands and businesses. You not only build credibility and authority, but you also establish mutually beneficial professional relations with similar businesses. 
8. Creating High-Quality Infographics as a smart link building tactic-
Creating a great infographic is no mean feat. It is not only tough but also requires resources, intelligence, and marketing expertise. However, SEO experts agree that one original, carefully designed and well laid out infographic has the potential to gain at least 10 high-quality do-follow links. 
By creating a riveting infographic, you can request publishers to use the same and give you a website link credit at the end. This can be immensely helpful, as it will lead to high traffic volumes based on the quality of the infographic. Most publishers are always looking to publish infographics on their pages. 
9. Broken Link Building is a great strategy for Link Building-
Let me start by saying that without the right SEO tools, broken Link Building is impossible. However, if you are using tools that can help locate broken links then you can create a strategic plan. Webmasters do not like broken links on their platforms. However, sometimes they do not have the content to replace it. 
This is where you can search for the broken links, reach out to the webmaster, pitch a content idea and help build the broken backlink for your brand website. It is very difficult for a webmaster to say no to a high-quality content piece. 
10. Be direct and request Links as a gesture of help-
Digital marketing is plagued by non-real entities and weird relationships. While nine out of ten people are going to turn down your request for a backlink, the last one will agree. I have personally used this to create at least a hundred high-quality backlinks. 
However, you should be prepared to reciprocate the gesture or give something back to the publisher. Most publishers can ask for many content pieces in exchange for one link. If it is necessary for you to link it to a specific website, you need to do the things the webmaster asks of you. 
Conclusion
Google is very strict about using only White Hat Link Building Tactics. It comes down heavily on sites, that it finds guilty of using Black Hat or even Grey Hat strategies. It is very important that you try to pursue white hat strategies as much as possible. 
Quality link building has a positive impact on your brand's digital performance. There are very few strategies, which can help a website in a complete 360-degree fashion. So let us know what you thought about the article in the comments section below.