Getting the best tools in as a digital marketer is the hardest thing to search for. Here you'll get the list of the 5 Must-Have Tools For Digital Marketing Freshers that you can easily use as a digital marketing fresher in your day-to-day life.
Digital marketing is one of the best fields to choose from. As the approaches of businesses have switched to online, it has become easier for them to approach their customers directly through the web without having to reach their doors. 
Performing digital marketing requires skills but it is not bounded by any educational qualifications. And also providing good returns on the investments done, digital marketing poses as the best option to choose for shaping a bright career.
Top 5 Must-Have Tools For Digital Marketing Freshers
Digital marketing depends heavily on practical knowledge and skills while also requires support from great tools that can help enhance the end results.
However, when starting your career in digital marketing, it is essential to learn Digital Marketing tools that can increase productivity and deliver results. 
There are various tools available in the market that are used for completing various purposes.
The digital marketing tools can be categorized into different categories including data analysis support, social media marketing, SEO support, content marketing support, and more.
Below listed are the top five tools that belong to different categories and help freshers gain an overview of how digital marketing processes work and enhance their learning approach.
Let's Begin
Tools For Digital Marketing Freshers
1# Google Analytics Tool 
This is the most powerful digital marketing tool developed especially for data collection and analysis.
Google Analytics
helps not only experts but it can also be used by freshers to start understanding how a single change in their digital marketing strategy can create multiple ripples in the final results.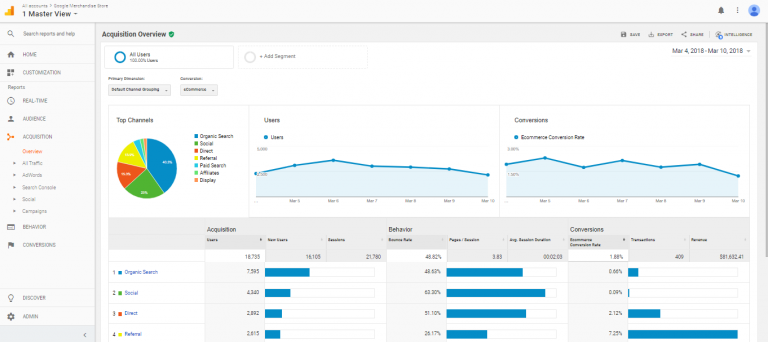 This tool by Google is the best way to check how the website is performing and plan out the next actions accordingly. Moreover, Google Analytics is available for free, for everyone.
This tool is the best one to start with as it helps to develop an understanding of all the parameters that define whether a website is successful or not.
It provides insights on website traffic, viewers' geographical location, session duration,
bounce rate
,
and more.
The ultimate aim of Google Analytics is to provide insights on a dashboard for experts to use it in the best way. Google Analytics has also introduced real-time analytics, where the user can view the activities of website viewers in real-time.
A tool built for all, professionals and freshers, Google Analytics is the best tool available for free.
However, there are other tools like
SumoMe
also that provide similar functionalities. Using the data collected and the analytics, one can design the next marketing campaign easily.
2# Google Keyword Planner
Another tool supporting and answering the SEO (Search Engine Optimization) requirements,
Google Keyword Planner
helps plan out the SEO campaigns and puts emphasis on the set of keywords to be used.
SEO plays a very important role in leading more traffic towards a website and hence conducting this activity in the best manner possible is essential and this excellent keyword planner can provide extended support for that.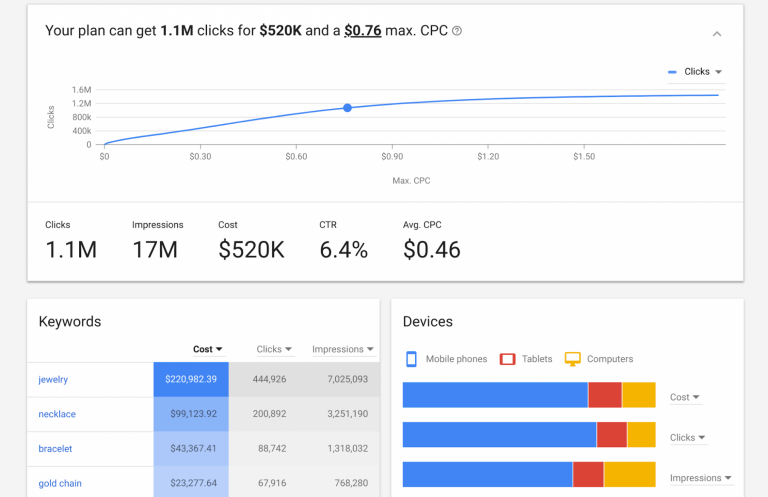 To design the right advertisements that can attract more customers towards the products becomes important and this keyword planner can help you fulfill your goals.
The planner helps find and design new keywords using which an excellent strategy can be planned.
Helping learn the fundamental lesson, choosing and creating the right set of keywords, this tool helps a fresher get detailed insights into how the advertising campaigns are designed and developed.
Moreover, it offers support for multiple account access, hence, a single keyword planner can be used by multiple users altogether.
The embedded keyword research tool helps in researching the keywords well and by bidding on the keywords to complete the entire campaign, it ultimately helps design an excellent plan and for freshers, this can be a great start to understanding the entire process of keyword planning and management.
3# HootSuite
Are you inclined towards social media marketing?
HootSuite
is the perfect tool to suit all your requirements. This tool is the best one to use and freshers can learn many tips and tricks from the support it provides.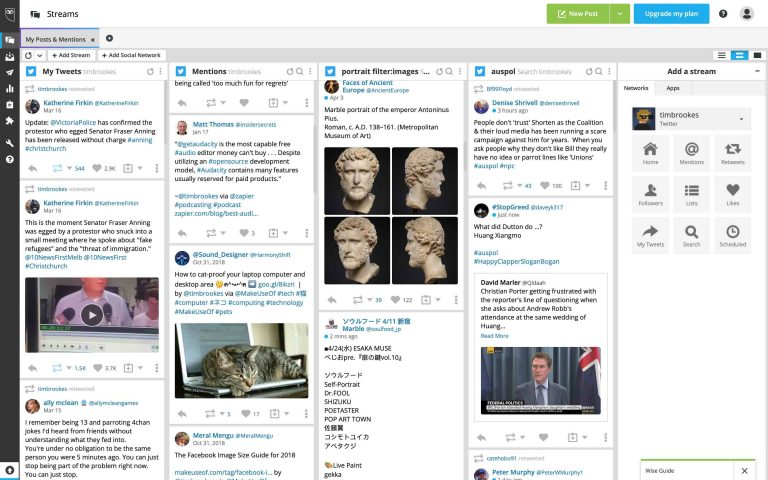 Helping you auto-schedule your social media posts on all social media platforms, it allows for easier management and posting.
Using HootSuite, a professional can even send a message to a teammate to instruct about anything.
Also, keeping an eye on all social media accounts becomes easier with HootSuite dedicated to serve you by creating different "streams" for scheduling messages, posts, and more. 
It helps track and report the performance record of each account and post you have uploaded on social media accounts. It helps schedule and manages posts on LinkedIn, Youtube, Instagram, Google+, Facebook, and Twitter.
The tool offers a 30-day free trial and their pricing plans also include custom plan support for enterprises.
4# HubSpot Sales
This excellent tool helps in tracking what happens with your sent email.
HubSpot Sales
provides you insights on the interactions you perform through email, it helps to know when the lead opens the email and also manages every sales activity at a single place.
The tool is surely designed for experts, but a fresher can use it to gain knowledge on what and how the entire email marketing works.
This tool extends its support for crafting excellent and conversation-leading emails through helping to design and share email templates, perform regular follow-ups, track the entire process, and more.
Even development firms can use this tool to pitch their clients about the new products they launch and know their reactions to decide what actions should be taken next.
HubSpot Sales offers prices that are affordable and an organization can decide to use it as per their requirements and pricing constraints.
For example, if a business is trying to promote its uber clone
 app solution or any other, it is very much likely that their budgets will be concentrating on minimizing the spend while achieving more results.
They can choose a plan that at a time proves to be beneficial for them and later can upgrade it if their budget expands.
5# Hotjar
Understanding your website users well is an obvious requirement for freshers.
Without having to predict what customers/website viewers want,
Hotjar
helps you find out that with its feeds that help understand what your viewers are actually liking about your website.
The tool offers an excellent interface that helps you find out the products or characteristics of your website that users love the most.
Providing insights on the parts of a page where users click the most, when do they leave the site, and complete recording of user activities on your website, helping you set up a feedback form for users and also suggesting the edits, Hotjar is an easy to use premium tool that helps a fresher understand user tendencies and plan out the website designs accordingly.
Hotjar offers packages based on website views per day.
The business plans offered by Hotjar are excellent as they include unlimited team support, reports, data storage for an entire year (365 days), 15- day free trial, and 30 days money-back guarantee. 
Conclusion
There are numerous tools available to use for businesses and digital marketing experts that deliver excellent results.
For freshers, it becomes important to clear their basics and understand everything well to ensure their future plans remain excellent at promoting brands or products.
These tools enhance the efforts put behind marketing a product online.
With the support of these tools, it becomes a lot easier to perform every task with great efficiency and they also help analyze the results that are produced to understand what actions should be taken next.
Author Bio:
Deep is an aspiring entrepreneur and blogger having led 75+ startups on the right path with their information-admiring content. He crafts content on topics including on-demand services like uber clone, finances, technology trends, and many more.