Do you ever edit your website to improve quality? Do you know how to start editing and improving web quality?
If your answer to both the questions is no, then you will probably want to take a look at your post a bit.
In this article, we will give you 10 ways to improve your website yourself. We will show you where you should focus your efforts to make the biggest and fastest changes to the performance of the website.
What is Website Optimization?
Before giving the top 10 ways to optimize your website, let's clarify what optimization is and why it is important.
Website optimization is not only about improving the search engine, interface or ranking of the website, but also improving the experience of each user once they visit.
Good user experience will result in a noticeable improvement to the website.
This improvement covers everything from improving the search engine to checking the usability of the web, and this should be done regularly to ensure your website always works well.
And, then you can refer Classy Website Builder to
 learn more about website optimization.
What do you need to be able to improve the website?
Unless you plan to hire a team to improve your website (of course this is encouraged by me, after all, assigning work to experts will be safer and more efficient), otherwise, you will need some skills and tools to perform.
These are the conditions that you or anyone who wants to do website improvement work to keep in mind:
Your website can use FTP.

Admin access to your site.

There are the data analysis and access pages of your website.

Familiar with the code of your web.

Use Mac or PC (for testing).

Full range of widely used browsers (Google, Chrome, …)
If you do not understand or do not know half of what you have mentioned above and feel uncomfortable working with them, it is better to have an expert on this issue consulted.
Your website says more than your business card, it is the first impression for potential customers, so make sure to give it a part of the effort equivalent to the importance of it.
Ways To Improve The Quality Of A Website
I suggest the following based on the experience of greatly improving my website. The results will vary for each site.
The best thing you can do is for every change, carefully examine the results and choose an appropriate method for long-term use. Here I will show you ways to improve the site based on its complexity:
One of the easiest and quickest ways to improve website alignment is to edit the title tags.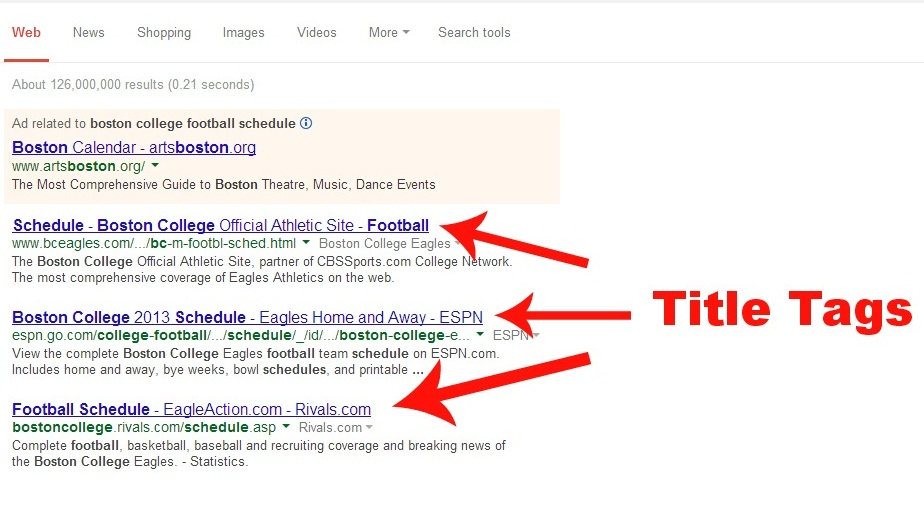 Having a proper headline makes it easy for search engines to know what each page is about. It will also increase the number of visits to your site which will generate more potential customers for your site.
#2 Optimizing website content 
Before you think about new content to attract more visitors, editing what you have is always a good way. Go through the content you have done and implement some simple changes to improve it.
This may include leading the URL through a piece of text, using title tags when applying, adding alt + title tags to your images, and writing a few introductory paragraphs for each page.
You will be surprised at the results that these simple changes bring to you.
#3 Provide your contact information 
Nothing is more frustrating than flash websites or restaurant websites that offer menus in pdf format except that you need a brain like Sherlock Holmes to find contact information. 
Sometimes people just want to pick up the phone and make a call, meet you in person or send you an email rather than filling out forms, providing their credit card information on the website.
Make it simple to keep your contact with a few lines of text (if you're lazy). Displaying contact information about your business can also be beneficial for users who want to search for something in a specific location.
#4 Upgrade hosting 
If your website has heavy images and videos that your readers can find around the world, then maybe you should consider using a content delivery network (CDN) such as Cloudflare to upgrade loading speed and experience for users.
If your site is aimed at users in a specific area, then you should put your host as close to that area as possible. These two things can significantly improve the experience for your users and bring a lot of improvements.
More options for users only make them feel overwhelmed. Simplify your navigation by consolidating many unnecessary options.
Use CSS dropdowns to refactor your navigation neatly, and should have a parent page for small parts of the site.
Use spreadsheets to record current web maps and new sitemaps. You will need this for future navigation and tracking it.
#6 Switch to WordPress 
Nothing hides your love of WordPress. There are many reasons for this, but for brevity, we just say that WordPress works very well. Google seems to like WordPress sites the way it likes to build and work with them.
The ease of use, extensive customization options, and dev community and enthusiasts ready to help make WordPress your favorite choice.
If you are ready for conversion, be sure to use your testing tools to ensure the conversion is not losing the value inherent in your website.
#7 Replace Flash with jQuery 
In my opinion, Flash is a bad choice. It cannot be displayed on most mobile devices and it takes too long to load for hot-tempered customers.
Leaving it aside, jQuery can provide many of the same benefits as Flash but is much lighter and very user-friendly as well as most mobile devices.
#8 Clean up the code 
Before proceeding with code cleanup, you must know what is wrong with it. We will recommend some tools to use such as Firebug of Firefox, GT Metrix Performance tool or Google Webmaster.
These tools will point out errors and give instructions to improve the performance of your website.
#9 Define a major goal in the web 
Decide what you want your users to do when they visit the website. Then focus on everything around it and highlight this on your site.
Users will be naturally guided to the point you desire and you will get incredible results. However, make sure you try different highlights to see which is the best option.
#10 Upgrade design 
You will have 3 to 5 seconds (or less) to impress users enough to keep them from coming back to Google.
If your site is slow, ugly or the content is too weak or simply does not show much of the source, users will quickly leave without a word. Worse than they may never be again.
Make sure you take advantage of every single user experience by using a clean, professional website on behalf of your company or yourself. If you are not a designer, then obviously you will want to hire an expert to improve your site.
Admire a professional website 
Finally, you have it, 10 ways for you, your company can start now to improve your website.
Some things seem to be out of your control, but if you deal with each item one by one, make sure to keep track and check through the process, then you get an optimal site.