Social Media is one of the thrilling elements of the 21st century. It's, in fact, transforming the ways organizations market themselves online.
Not only commoners, the Social Media gives marketers a voice and a way to communicate with peers, customers, and both existing as well as potential consumers. It personalizes the brand image and helps you to spread brand's message in a relaxed and conversational way.
But before you dive into the strategies,  you first need to know about Social Media Marketing.
What Is Social Media Marketing?
Basically, Social Media Marketing is the process of gaining traffic that allows you to interact with your audiences via social media platforms to promote your business.
Moreover, It can be used to reach customers for all the traditional marketing goals like:
Increase sales leads or new leads

Build trust through word of mouth

Provide a genuine feedback

Develop a reputation as an expert

Drive traffic to websites

Discuss and develop new products

Keep people informed about special events and anything else regarding the business

Provide proper customer service
Having a strong presence on major social media platforms is a necessity for any brand to become an industry leader and engaging its potential customers in new ways.
And as new social media platforms have appeared with new updated features, Organizations and marketers have no option but to adapt the changing ways to promote their messages to their relevant audiences.
This is where social media marketing tools come in. And here are 33 Social Media Marketing Tools which can help you to grow your business on the social media platform.
1# Later – Instagram Scheduler
Later is one of the best social media marketing tools to plan your visual content marketing. 
It's an easy-to-use tool to schedule and manage your Instagram posts via any devices such as the computer, iPhone, tablet or android so that you can manage your account from anywhere.
The ability to add team members is a keynote in this particular social media marketing tool.
Free Plan: Available
The free plan allows you to publish u

p to 30 posts 

and 2 reposts 

per month 

on an Instagram profile. Also, there are a couple of things such as it helps to socialize with Facebook, Twitter, and other marketing tools as well.
Other Premium Plans:
For Individuals: 9$
For Businesses: 19$, 29$, 49$
2# Oktopost – Social Media Management For B2B Marketing
Ocktopost is a social media management tool which is specifically designed for B2B companies.
It allows you to curate engaging content, schedule it and then measure its effectiveness. Also, with this tool, you can listen to the social conversations that are really important for the growth of your business. 
The unique ability to manage large social media teams is a plus point for this tool.
Pricing
Free Plan: No (Demo Available)
Pricing is determined by the organizational structure of your company (number of marketing teams), user seats, social advocates, and social profiles, with additional features such as Marketing Automation integration and Twitter Insights available for purchase.
3# Tagboard:  Social Search And Display Platform
Tagboard is one of the best social listening tools. While using the tool, all you have to do is plug in a term, topic, or hashtag, and you'll see how that topic has been discussed in the social sphere.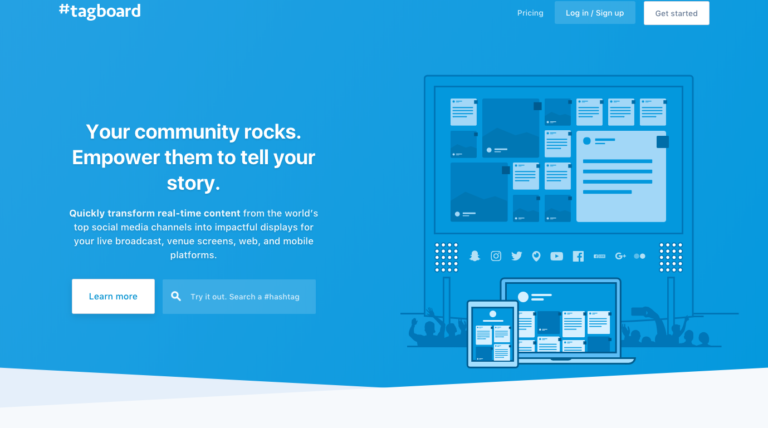 The tool provides you an advanced way to monitor your brand and product mentions. And it's also beneficial to generate new content creation ideas & audience engagement strategies.
Free Plan: No
Other Premium Plans: $500/month
4# FollowerWonk:  Twitter Analytics Tool
This tool is particularly designed for Twitter and one of the most in-depth and useful tools on this list.
It will help you to analyze and optimize your Twitter audience and suggesting people for you to follow which ultimately help you grow your audience. 
If Twitter is part of your social media marketing strategies, this tool is a must-have.
Pricing
Free Plan: Yes, Allows you to do 50 profile searches and 20 analyses per day.
Other Premium Plans:

$

 

29

/month & 

$

 

79

/month
5# Everypost: Manage Multiple Networks Simultaneously
EveryPost makes it easy to curate content all in one place by pulling together relevant multimedia from all the social media channels such as YouTube, Instagram, Flickr, RSS feeds, and more. 
With this tool, you can schedule your posts and customize them to suit the audience of each of your social platforms. That way, you are able to maximize the effectiveness of each and every post.
Free Plan: Yes, allows you to connect only 1 channel
Other Premium Plans: 
Pro: 

$9.99/m

Plus: 

$29.99/mo

Advanced: 

$49.99/mo

Team: 

$99.99/mo
6# Feedly: Content Aggregator
It is another best known as a content discovery tool, like BuzzSumo, but its working is a little different.
Feedly is a content aggregator, and you can use it to collect content from any number of different areas, combining your ideal reading material into a single feed that you can peruse at your leisure.
Pricing
Free Plan: Yes, allows Up to 100 sources & 3 feeds
Other Premium Plans: 
7# Bitly: URL Shortener
Bitly allows you to shorten any URL so that it fits nicely across your social media channels. The shortened URLs work with any channel on any platform.
You can even track your campaign results with individual link analytics, and then optimize your marketing efforts based on the insights you collect.
Pricing
Free Plan: Yes
8# Headline Analyzer: Write Headlines That Drive Traffic
This tool analyzes every type of headlines that converts and tells you the right number of words and balances which can be used for your type of audience.
It also gives the optimal character length and creates easy to digest headlines for your readers.
 Pricing
Free 
9# Tailwind: Pinterest & Instagram Scheduler
A tailwind is a tool that helps you to succeed on Pinterest and Instagram. On Pinterest, you can pin to multiple boards at once, bulk upload, and schedule posts with the drag-and-drop calendar. 
If you want to give it a spin, you can try it out for free.
Pricing
Free Plan: Yes
Other Premium Plans: $119.88/yr
Sproutsocial is an all-in-one social media marketing tool to help managers better control their efforts.
It features multi-level access, allowing directorial control, and access from lower-level team members to better coordinate and delegate tasks.
It comes with full post scheduling capabilities, a detailed analytics platform, and even a social listening platform to better understand how your demographics use your platforms of choice.
Pricing
Free Plan: No, free trial available
Other Premium Plans: 
Premium: $99 per/month
Corporate: $149 per/month
Enterprise: $249 per/month
11# Agorapulse: Simple & Affordable Social Media Management
Agorapulse is one of the simple and affordable online marketing solutions to social media management.
It has all the basic scheduling and analytics features, and you can also run contests, quizzes, and promotions. 
It even allows you to see how your social media marketing campaign stacks up against your competitors. If you want to try it, they offer a free trial.
Pricing
Free Plan: No, free trial available
Other Premium Plans: 
For solos: 

$

49/ Month
For small businesses:

 

$

99/ Month

For small agencies: 

$

199/ Month

For large organizations:

 

$

299/ Month
12# Adparlor: Create Free Ad Mockup
Adparlor helps you to create free ad Mockup for Facebook, Instagram, Twitter, Pinterest etc.
Pricing
Free Plan: No
Other Premium Plans: Pricing is determined by the organizational structure of your company
13# Image Upscaler by Stock Photos
The
Image Upscaler
is a free AI-Powered tool that allows users to optimize images for various social media platforms including Facebook and Twitter. You can resize images and improve quality with just a single click. This tool enables users to upscale images up to 8x the actual size. It is available on both – web and mobile. You can crop images according to the required social media size with the help of this tool.
Pricing: Free Premium Plans: None
14# Audiense: Discover New Target Audiences 
The audience is known as a social intelligence tool that allows you to discover new target audiences, and a segment on your own. Most importantly, it helps you to understand your audience by telling you how they click.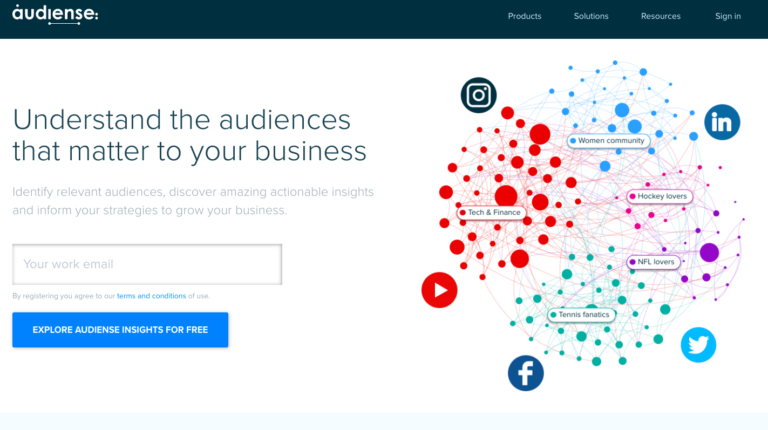 Audiense helps you to optimize your audience engagement at scale with tracking and reports.
Pricing
free 14-day trial
15# Tweepi: Manage Your Twitter Followers
Tweepi is a tool specifically for Twitter which helps you to get more followers. First, it finds relevant users who are interested in your topic. Then, it helps you to engage those users by mentioning them in tweets, adding them to a list, or following them.
Pricing
Free Plan: No
Other Premium Plans: 
Silver: 

$10.75

 per month
Platinum: 

$20.75

 per month
16# IFTTT: Let your apps and devices working together
IFTTT is an acronym that stands for -If This, Then That". With the same social media marketing tool, you can combine different tools together to create individual sets of instructions.
For example, you can set it up to send a tweet every time you make a new Instagram post. It's a bit tricky to get used to at first, but you can use other recipes to simply plug and play. Best of all, it's completely free to use.
Pricing
Free
17# Socialbakers: Engage & Grow Your Customer Base
It is a suite of tools that help you to make social media decisions based on analytics. You can measure your performance versus your competitors, use those insights to improve your content, and then monetize your campaigns by budgeting more effectively.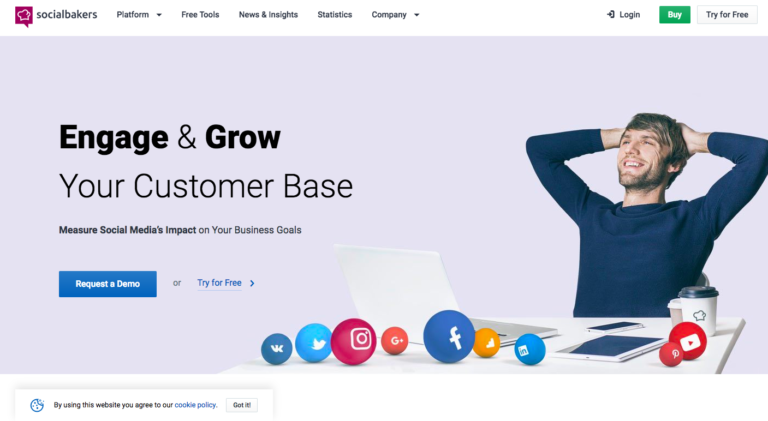 The tool will help you in boosting your customer acquisition, retention, and growth.
Pricing
Free trial available
18) Socialflow: Social Media Solutions for Publishers
Socialflow allows you to schedule your posts based on actionable data about when your target audience is active and what they are engaging with in real time. 
All you have to do is upload your content to the queue, and this software will use the real-time data it collects, along with your own business rules, to determine which posts to publish to which platforms and at what time. It really takes all of the guesswork out of social media.
Pricing
Free Plan: No, Demo Available
19# Socedo: Use AI to grow & engage your B2B audience
Socedo is another social marketing tool that automatically discovers the people on social media who fit your buyer persona using real-time social behavior to pre-qualify those people.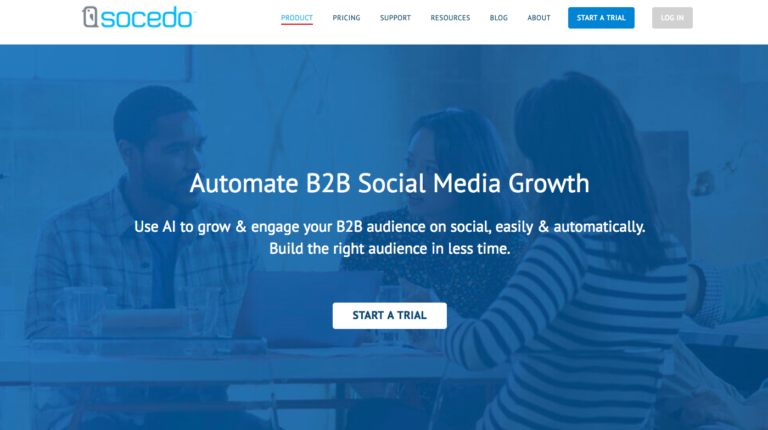 Once you have that audience, you can divide it up into multiple segments and promote multiple products, all in one place.
Pricing
Free Trial Available
20# Hubspot:  Inbound Marketing & Sales Software
It helps to generate more blog ideas. You will never fall short of blog ideas for your content. Simply putting nouns over here and this tool will do magic for social media marketing every single day.
Pricing
Free Plan: Yes
Other Premium Plans: 
Starter: $

50

/month

Basic: $

200

/month

Professional: $

800

/month

Enterprise: $

2,400

/month
Postcreator social media marketing tool helps you to enable to upload the images, instant messages and logo to create more engaging brand-related content. You don't need to design portal to use it to design. 
With this, you can create designs for your social media portals all at once at a single interface. You can design from anywhere or any design without downloading any app.
Free Plan: Yes
Other Premium Plans: $9.99/mo
22# EMV Headline: Headline Analyzer
It stands for emotional marketing value headline analyzer. This free tool will analyze your headline to determine the Emotional Marketing Value (EMV) score.
As you know, reaching your customers in a deep and emotional way is a key to successful copywriting, and your headline is unquestionably the most important piece of copy you use to reach prospects. 
Your social media marketing campaign headline will be analyzed and scored based on the total number of EMV words it has in relation to the total number of words it contains. This will determine the EMV score of your headline.
Pricing
Free
If you are looking for a photo editor other than Canva, then this is the right tool to use. You can do photo editing, collage making, graphic designing, and much more with the same tool.
Pricing
Free Plan: No
Other Premium Plans: 
Basic: $5.99/mo
Pro: $9.99/mo
24# Canva: Create Amazing Graphic Design
This tool is specially designed for non-designers. Canva is one of the favorite tools for creating stunning images for social media posts.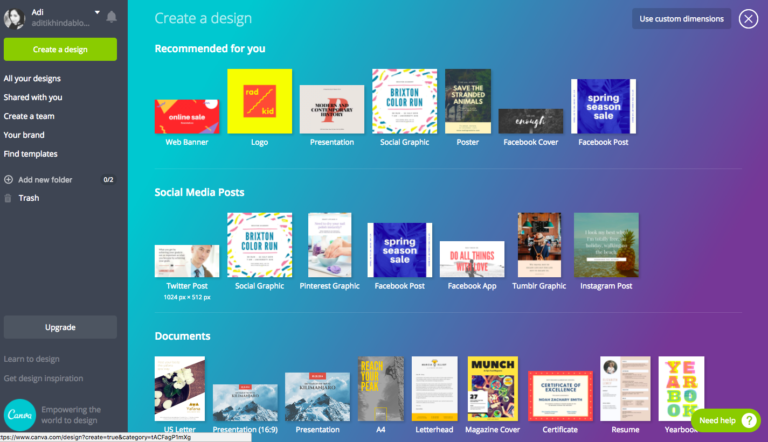 Using Canva's multiple templates, fonts, and colors, all you need to do is drag image elements around and drop them into place. 
Pricing
Free Plan: Yes
Other Premium Plans: 
Upgraded Version: $12.95/month
25# Giphy: GIF Maker
It's the world's best-animated images tool where you can download the latest GIF for your social media marketing campaign or simply upload social media content just for your profiles.
Pricing
Free
26# Bannersnack: Online Banner Maker
It's a revolutionary banner making tool where you can forget all the hassles of working with all the complicated design tools and take advantage of the most powerful banner maker. 
You can download your work as JPG, PNG, Html file or GIF, and share them on social media or embedded web into your website.
Pricing
Free Plan: Yes
Other Premium Plans: 
Starter: $

7

/month

Pro: $18

/month

Team: $4

8

/month
27# Uprank: Advance Research Tool
It is the world's most intelligent digital marketing tool which you can use for your social media marketing.  
Uprank advance research tool analyzes the website and builds a digital marketing strategy for your website in the form of the comprehensive task which will help you to optimize campaigns for your social media marketing.
Pricing
Free Plan: Yes
Other Premium Plans: $119.88/yr
28# SocialRank: Find & Analyze Your Audience
It is the perfect tool to help you to execute on the location-based activation influencing the marketing, seeing products and supplies and delight campaigns.
It is special media audience management tool with the easiest way to identify, organize and manage your followers on Twitter and Instagram. 
You can use filters to segment your social media followers, organize them and then save list or export the data.
Pricing
Free Plan: Yes
Other Premium Plans:
$49/Mo
HootSuite is a simple but powerful marketing tool for the average social media marketer.
With a free version and relatively inexpensive paid options, you can use Hootsuite to schedule posts in advance on a number of different social platforms and measure analytics to understand how your content is performing.
Pricing
Free Plan: Yes
Other Premium Plans: 
Pro: 1260/month
Team: 6600/month
Business: 32000/month
30# Buffer: Manage Your Social Media
The buffer is one of the most recognized tools in the industry.
With it, you can schedule any types of posts across any platform you want, even specifying patterns of posts, such as every day or weekdays. You can also use Buffer to follow up on your posts, evaluating which ones were most effective, and why they were effective.
Pricing
Free Plan: Yes
Other Premium Plans: 
Pro: $15/month
Business: $99+/month
BuzzSumo is one of the best social media marketing tools that have found for discovering new, fresh, or popular content on the web.
With BuzzSumo, you can plug in a topic or a selection of keywords and find a breakdown of some of the most popular trending posts in those categories, as well as a list of influencers who are sharing that content. 
This is an excellent way to learn new ideas for your content marketing and social media campaigns, as well as to identify influencers in your industry who can help you grow your following, visibility, and reputation.
Pricing
Free Plan: Yes
Other Premium Plans: 
Pro: $99/month
Plus: $179/month
Large: $299/month
Enterprise: $499+/month
32# Meetedgar:  Schedule Your Content By Category
Meetedgar is a social media scheduling tool that allows you to recycle the old posts.
All you have to do is organize your posts by category, schedule your content by category, and then Edgar will automatically go through and post your content from each category.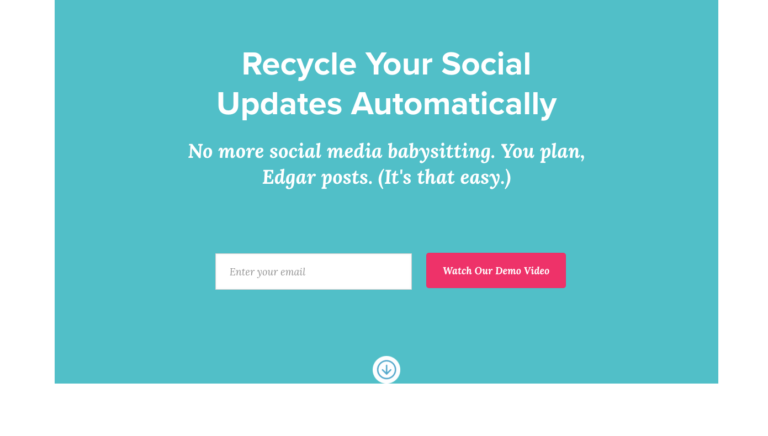 Once it's gone through all of your scheduled posts, it will start recycling the older updates.
Pricing
Free Plan: No
Other Premium Plans: $49/Mo
33# Portent: Content Idea Generator
Portent Content Idea Generator helps you to refresh your ideas simply by entering the subjects on the tool. It starts giving you plenty of ideas to find titles for your blog content or social media marketing campaigns.
Pricing
Free 
Add-on Tool –

Statusbrew
Statusbrew is one of the leading social media marketing tools for big organizations and small businesses. It allows you to schedule, collaborate, and track your social media accounts. The platform is an excellent choice for social media managers to make their workflow easier. It offers to connect the popular social media channels- Twitter, Facebook, Instagram, Google My Business, and LinkedIn.
Pricing
Free Plan: No, free trial available
Other Premium Plans:
Essentials: $99 per/month
Professionals: $499 per/month
Custom: Pricing available upon inquiry
These 33 Social Media Marketing Tools can help you take your social media campaigns to the next level. Also, make sure that your social media strategy is compatible with mobile devices to guarantee worthwhile user experience.
Social media sites continue to gain popularity at a rapid rate and it is important for small and growing businesses to use them to advertise and market what they offer.