You might have come across interesting marketing ideas implemented by big brands and wonder, "how come I didn't think about that in the first place?."
Today marketing campaigns have gotten creative to glue the audience to the brand. We thought we could unlock the secret ingredient behind the creativity/success of a marketing campaign in this blog. 
We list the top 5 new-age marketing ideas implemented by top brands to increase their brand followers. This blog will definitely help startups who are eager to experiment with different marketing ideas and want to grow a loyal audience. 
So, let's get started. 
Get Favorite Influencers of users to market your brand
Influencers are someone who has specialized knowledge in a particular industry or a niche and has a large fan base. These can be bloggers, YouTube content creators,  or even celebrities. 
Search for the influencers who match your brand in the industry you operate. If you found one, convince them to advertise for your
brand in social media channels. 
For instance, you are probably aware of Gojek, an
on-demand service app
predominated in southeast Asia. They have their development team in India and are on the hunt in recruiting top-class engineer graduates. Recently, the company released a YouTube video featuring famous YouTube influencers to join the company brand. 
Posting cute memes & GIFs that lets user's stop scrolling and smile 
This probably would have happened if you log-in to your Facebook account and find yourself scrolling through hundreds of uninteresting posts till the end of the feed. You see so many redundant messages, quotes, and videos and it makes it difficult to stay longer on the platform.
These days what catches immediate attention are the cute GIFs and memes that bring a smile to our face. 
Like this, 
A picture's worth a thousand words. ???? #LetsEats https://t.co/tdnCwlolc2

— Uber Eats (@UberEats) February 21, 2020
UberEats know how users wait by the door for their orders.  
Boss: Can everyone turn their Zoom camera on?

Me: pic.twitter.com/peqjgt3JE2 — Uber Eats (@UberEats) June 25, 2020
How Work From Home scenarios are. 
Also, Netflix understood how Tuesday goes at work.
Memes and GIFs will get across through many uninteresting posts because laughter is contagious.
Give valuable content 
One way to increase followers is to provide valuable content to the customers in helping to solve the problems they face. 
For instance, Upwork has posted a question on IG. The post was answered by customers of the platform sharing their tips and experiences. This helps new followers to understand how UpWork works and learn how to use them.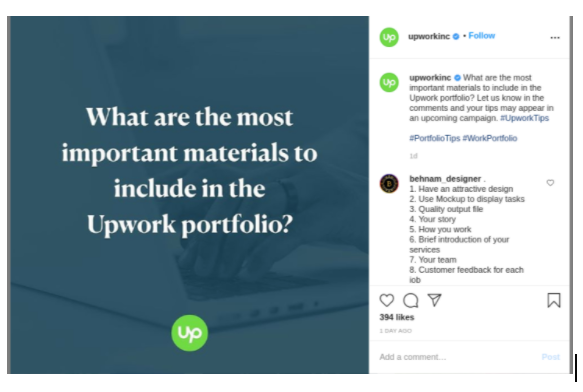 Similarly, Wistia is a video software company in Cambridge, posts blogs about creating engaging video content. By this value content, their customers tried their software and found it worthy. Wistia also does Podcasts talking about video production and marketing. 
Customer reviews to create trust in your brand 
The customer review is one of the important factors to create trust in your brand and increase followers. It helps people in understanding their brand value. It also shows how much the brand is willing to help their customers when things go wrong. 
The reviews are usually from Google, AppStore, PlayStore, or social media. An old-age review would be a clear description of how the brand product or service is and how the person felt in using it.
Most brands post these reviews as a testimony either on the official website or on their official social media handle.
Today, millennials share their reviews of the brand by sharing their funny and interesting anecdotes associated with it.
Postmates have shared an interesting review of their app on twitter and they have shared on their official IG handle. This instigates curiosity among other new users to know about the app.

Simple How-to videos to make users understand your brand 
Not all users understand what your brand is or how to use your service. 
Even if you explain in the simplest of words, there are chances to get misinterpreted. 
According to Wyzowl's research, 84% of people say they've been convinced to buy a product or service by watching a brand's video. Also, the research points out that the people watch an average of 16 hours of online video per week and 66% of consumers prefer watching a video to reading about a product.
Video does create a big impact on consumer minds. As people would be glued to its storytelling and the visual effects. 
The best example I came across is Slack which created a video explaining how to use their platform. 
When Apple introduced the Apple Card, they made a series of videos explaining how to apply it, and make a purchase using the card. 
This how-to video gives a clear CTA, that makes the viewers to immediately understand the context. 
Street art advertising 
Street art advertising has been popular and also reaches customers faster. It is installed in places where large crowds gather to get immediate traction to the brand. Similar to street art is the billboard advertisement that is preferred to
increase brand awareness
. 
When it comes to the cost of advertisement, it depends upon the city and the place where the ad to
be run.
The cost is higher
near famous tourist places or crowded areas and lowers in uncrowded areas. 
For instance, we might have observed advertising banners placed at tourist sites, 5-star hotels, or restaurants. 
Here are a few examples


Always be updated with New Marketing Ideas 
Keep yourself updated about how to influence your customers to stay loyal to your brand.
At end of the day, it is all about how you sell the brand in new ways and being relevant to the current audience. 
To grow your audience for your startup, it takes devoted effort trying different marketing strategies to get those loyal followers. Other than marketing, customer service speaks a lot about the brand. If the problems of the customers are handled quickly with care, customers definitely stay longer with a brand.