At this point, there are over
3.78 billion social media
users on a worldwide level. Most of them use not one, but several platforms regularly, often on a daily basis. They spend hours on social media doing all sorts of things. From communicating with friends to posting their latest photos to looking for products and making purchases – a lot happens on social media these days.
This is what makes it the perfect tool for modern businesses. It is where people hang around, find brands to buy from, and make their purchase decisions. Platforms like Facebook, Instagram, and Twitter have become the most promising marketing tool in this digital world.
Why Should You Have a Social Media Presence?
Businesses with an engaged following on the major social media networks can enjoy wider reach than any other strategy or campaign can offer them. An excellent online presence leads to more visitors and followers, as well as customers. It also makes for a perfect place to spread the word about new products and services, campaigns, and communicate with the audience.
But, having many followers does not equal a successful business campaign. The idea is to have the right followers, those from your target audience. These are the people who will engage with your content, show interest in your offers, share the content in their networks, and become your customers.
To get such followers, you need the right tactics and some effort. If you manage to do it, it will pay off, big time.
Sounds good, right? Let's get started, then.
You can't expect followers if people can't find you. This is the first and essential step. You need to get your brand's profile out there for people to see.
This can be established in many ways. It's done through ad campaigns, consistent content, contests, etc. Unum has a brilliant guide on
how to get more followers on Instagram
and allow them to find you faster.
This source points to "The Explore" page where people use the search bar to come across interesting accounts, hashtags, and brands. On this page, people search by using keywords, words associated with what they are looking for. This is why, when you use the appropriate keywords based on the niche of your brand, you make your page discoverable by the right, interested parties.
Source
Let's say that your brand sells swimming suits. If you use this and similar keywords in your bio, in hashtags and posts, and even in comments, it can pop up when people search to buy swimming suits.
This is how you make it possible for people to
find
you on social media. Next comes the quality you provide that serves to convince them to
follow you
.
2.

 

Consider holding a contest
Contests have proven to be an excellent way to get new people to take action. When you have a contest that requires them to follow your account, you already got yourself a new potential lead as soon as they accept the
challenge.
Most contests also require that people share the post to their social media, which widens your business reach and may attract new people as a result.
Quality contests can go viral within hours of being published in this way. They start with an ad but soon enough, the contest becomes popular and shared by many thanks to word of mouth.
If you choose to take this step, you need to create an engaging, good contest for your target audience. Give something of value to make them interested, create quality content to describe your offering, and use visuals to make it more appealing. Some
examples of contests
published on social media include:
       

Comment to win: you request that participants leave a comment on your post (or they can answer a question)

       

Fill-in-the-blank contest:  you ask participants to answer a question to take part in the contest

       

Caption contest: the caption with the most likes wins the contest

       

Photo contest: the best photo wins (your choice or based on number of likes)
Once you figure out what type of content is right for your business, it's time to get it out there. In your contest, you should offer people something, an incentive that points them toward your business. That being said, your award should be something related to your brand such as the products you're selling.
When you have a contest, it's easy to get it around, especially if it has a great reward. People will share it on their profiles, and word of mouth will spread. You can also use your business website, other social media platforms, and the email list to drum up participation.
With a bit of an investment in the form of a reward, you can do a lot in terms of attracting new people.
3.

 

Make the most of visuals
Visual content is very important for your social media strategy. OutboundEngine has pointed out that 82
% of marketers
believe images are extremely important for social media content optimization. Out of the participants, 52% believe that videos produce the best results.
Ideally, you should mix it all – images, videos, live feeds, etc. This will also be determined by the social media platforms you're using. Platforms like Instagram and Snapchat are based on visuals, while Facebook mixes written text also.
Visuals can be used in many ways. Over the years, visual content has yielded amazing results for companies. Take a look at Taco Bell's video promotion that received over 65 thousand views in a very short time.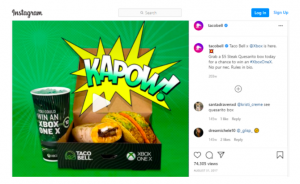 Source
On social media, visuals are high-performing. If you make them eye-catching and offer something of value in your visuals, you can expect a much wider reach thanks to it. Hubspot has reported that content with quality images can rack up
94% more views
than content without it.
This is not a number that you should be ignoring.
Hashtags allow businesses to reach more people. This is one great way to make your brand's social media platforms accessible to others. By using the right, relevant hashtags that your target audience checks, you boost your odds of showing in their news feed.
Many businesses make one huge mistake – they turn their main keywords into hashtags and copy them into all posts. Or, they don't use hashtags altogether.
Yes, your content is the most important thing, but you want people to find it. To do that, you need to use popular hashtags sparingly and strategically – not just your business' keywords.
To find quality hashtags, you need to follow the trends in the industry, as well as the general trends on the social media channels. There are thousands of hashtags available, so scour the web and your competition, as well as your audience's profiles to find which are trending right now.
When a user clicks on hashtags, this takes them to a page filled with posts that are marked with that particular keyword. But, this shouldn't limit your creativity. If you think that a unique idea might work, try it out. You can add many hashtags to a single post.
That's how simple ideas go viral – without anyone anticipating their reach. For example, take #ShareACoke by Coca-Cola. Their campaign is proof that a bit of creativity and a personal touch can do wonderful things for a brand. 
Source
5.

 

Don't skimp on advertising
A slow, consistent content marketing strategy is a sure way of attracting potential leads and getting your target audience to follow your brand on social media. Yes, this is the best option, but it takes a while. Combining it with paid marketing is the best way to get the right people to like your pages – and fast.
Many shy away from paid marketing because of costs and the belief that playing fast doesn't yield the desired results. However, social media platforms have made it very easy to reach your targeted audience via ads. Combine this with the right content and ideas, and you have a win-win situation.
6.

 

Be proactive in the community
The goal is not just to get people to follow you on social media – it's to engage with them and turn them into customers. When people like your pages and follow you on social media, they expect responses to their questions, consistent content, and quality.
According to
MarketingTechBlog
, 83% of a business' fans on Facebook and 71% of the Twitter followers expect to get an answer to their question on the same day. Most of these people will want an answer instantly or will be willing to wait a maximum of 30 minutes.
If you want people to be happy they follow you on social media, and if you want to turn them into leads, you need to be available and proactive. Whether you'll use automation tools to get them instant responses or stick to your phone at all times, it's important to be consistent and communicative.
Wrapping up
Social media is one of the best places to promote a business these days. If you do it right and are dedicated to it, this can bring you many new customers, spread the word around, and help you achieve your goals. But, you have to get started somewhere, which is where the 6 tips in this list come in handy. Good luck!