Instagram is known for introducing various interesting features (like Focus Portrait Mode for Instagram stories, etc) to render its users a fabulous experience, both an individual as well as business level.
Recently, Instagram has introduced a new feature, especially for E-commerce advertisers. Yes, you have heard it right! And, its confirmed.
Instagram shared in the blog, "From Adidas and Aritzia to Louis Vuitton, people have been able to shop from their favorite brands around the World, and now you can shop these brands in Instagram Stories."
Instagram has selected a number of e-commerce brands and introduced them to its brand new
Shopping Bag Icon
to help them with their e-commerce efforts on Insta platform.
The feature has already been enabled where certain advertisers can add a Shopping Bag Icon to their Instagram stories which will display more details about the featured product after clicking it.
Previously, advertisers used to share their product stories and share the link in the bio and so on. Now, with this icon, they can share various types of product information, images of the product, pricing and other details of the products with an icon.
It will contain all the important information of the products featured in the stories and lead directly to the brand's website to purchase the product.
Survey Says:
As per an Instagram report, there are more than 300 million users who use Instagram stories to their advantage. A recent survey has predicted that consumers are more interested to get an insider view and buy the same product which has been shared in the stories.
Even 33 percent of Instagram users have confirmed that they are more interested to buy the brand or product after watching them on Instagram stories.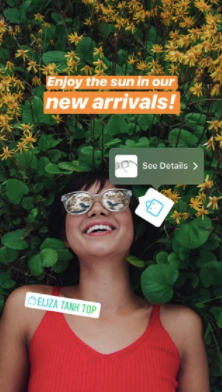 This feature seems already hit among the advertisers. Though as per the announcement, only selected brands by Instagram can use this feature in their stories. Therefore, currently shopping icon does not available for all the e-commerce advertisers. However, advertisers can hope to get it available for everyone soon.