Affiliate marketing is creating a buzz all over the world where each newbie feels excited to step into it. It is online sales tactic that lets a product owner increase sales by allowing others (affiliate marketers) targeting the audience to earn a commission by recommending the product to others. However, it seems a shortcut to earn online, quite complicated in real. In this post, we have shared the journey of one of the famous marketers who is better known as the
Master of Software Launch Funnels – Jai Sharma
. You can call him by many titles – A Successful Affiliate Marketer, A Vendor Guru, A Digital Marketing Savant and so on.
In an open chit-chat with our Product Manager, he has shared his complete journey like how he started his career, the idea behind his company
JVZoo.com
and his journey of being million dollar newbie. He has shared his views on how a newbie can be a good affiliate marketer? How to start as a vendor on JVZoo and sell your digital product? Also, the list of various online products that can help in your affiliate marketing journey and set of freebies only for Digiperform viewers. So grab your coffee and get ready to read about the real affiliate marketing experience.
About – Jai Sharma
Jai Sharma is one of the fastest growing online marketers who has done seven-figure business in product launches and awarded as the
JVZOO Top Vendor Award
in the first year of Online Career. With his passion to achieve the best with a sprinkle of smartness, he has become the
Premium Vendor on Muncheye.com
in the shortest period of time. Currently, he is well renowned as Master of Software Launch Funnels.
He started his digital career at the beginning of 2015 (or late Dec 2014) where he used to learn more about the online products and information related to products on CPO basis. Back in 2015, he had the idea about the plugins and decided to launch and monetize them as per the marketing trends. His passion to know more and keep an eye on the latest marketing trends led him to be a millionaire by today. He has always been a keen follower of the famous website such as Jonloomer.com, Socialmediaexaminer.com, TechCrunch.com, etc which helped to develop and launch products as per the market requirement.
Video Transcription:
Q- How to start affiliate marketing or start as a vendor on JVZOO.com? How to sell your digital products on JVZOO.com as a vendor?
JVZOO.com is one of the Inc. 5000 Fastest Growing Companies in America for 2016, 2017 and 2018. It is SaaS (Software As A Service) that facilitates and automates online sales, marketing, and delivery.  
Jai says – "
If you want to start your career as an affiliate marketing, you need to have the long-term strategy. One should not expect to join and start earning on the same day. It needs your time, knowledge, skill and the right strategy to start as a vendor or affiliate marketer. For example, one should have a strategy to gain traffic for an offer, if you have that strategy, you should look for being a vendor and start implementing it.
"
There are a few steps that you need to follow if you want to start your journey as an affiliate marketer or vendor on JVZOO.com.
One should learn about Facebook ads and how to run them for affiliate marketing.

Facebook Ads help to make a list of subscribers to whom you can send your affiliate product details or offers.

Always give an honest review of each product that you plan to promote. Use wise and genuine content – a mix of videos, texts, and graphics.

Make an account on WarriorForum.com from where you can buy ads and get an audience who are interested in online marketing and products related to the same.
In JVZOO.com, sellers can create unlimited buy buttons and add as many products or webinars as desired to our Product Library and never be charged a fee whereas Affiliates have instant access to all of our affiliate tools and training.
Q- What do you mean by Recurring income products?
Recurring revenue is the portion of a company's revenue that is highly likely to continue in the future. It means something that you can charge for your product monthly as a commission. In same, you get the monthly payment for your product.
Q- Please share about Muncheye.com. How Muncheye.com and JVZOO.com can use together for affiliate marketing?
Muncheye.com is launch calendar where you can see the launch date of products by each vendor, upcoming big launches in the industry and so on. Big Launches are from vendors with a good reputation in the community who consistently do high profile big launches that get a lot of attention. It represents the biggest launches happening in the internet marketing space. It is not a representation of the size or success of a business, simply whether the launches are likely to be big and from reputable vendors. These big launches are generally shown on the left side in BLUE and considered as Premium Vendors. You can also see Jai Sharma's name in Premium section along with others.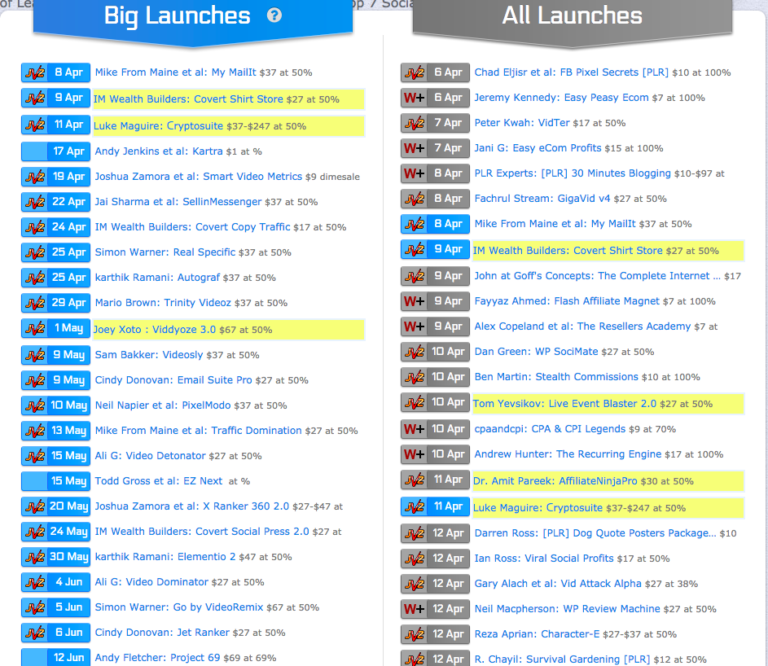 Once you click the highlighted blue link on the home page, the link will take you all the affiliate links related to products. For example, in the picture below, you can see the details and links related to his recently launched product – SellinMessenger ( with the launch date, commission cycle etc.)  
To give an innovative and creative user experience, you can try to customize the launch design and make it unique by adding graphics with proper researched content.
About the Upcoming Product – SellinMessenger (Approved by Facebook)
Launch date
: 22nd Apr-18 (as shown on Muncheye.com)
Vendor Name:
Jai Sharma
Front-End Price:
$37
Commission:
$50
SellinMessenger will let you sell anything through messenger.
Previously launched Product: FunnelMessenger
This funnel help to convert all your website visitors into Facebook Messenger Lead. Have a look on video in which Jai Sharma explains about the product.
Goodies for Digiperform Readers:
We understand you must be geared up after reading the post on how Jai Sharma has achieved so much in such a short span of time. He has offered special offers to Digiperform readers as a token of love to the readers. Yes, you have read it right!
Goodie 1: Instant Approval – Affiliate Program
Newbies, who are interested to join Jai Sharma's affiliate program on JVZOO.com can apply directly by mentioning the name – DIGIPERFORM. This single name will help you to get Instant Approval by Jai Sharma at just one go.
All you need to do is
Go to the website JVZOO.com

Click his Blue highlighted link.

Click on his affiliate link.

Apply and mention DIGIPERFORM.
Goodie 2: Free Product
You can avail his previously launched product –
FunnelMessenger
(that can convert all website visitors into your messenger subscriber just like email subscriber)
The market price of FunnelMessenger is $47 per month. This you will get all free. What else you need the man? All you need to need is to create a Free Account, that's it.
Goodie 3: Million Dollar Newbie
Million Dollar is a book or mini-biography based on Jai Sharma's professional life and his digital career since Dec 2014. It's a complete and transparent enclosure of his professional and business life during the period. This book will help new marketers to understand how to coordinate with the smart and hard work which will them to motivate themselves and aim high in short period of time.
I hope you like the interview. We had a great time discussing the affiliate marketing with Jai Sharma. We wish him a great success in future.