In
DigiTalks by Digiperform
industry speak section, we used to share the personal as well as professional experiences of digital industry experts which included entrepreneurs, bloggers, YouTubers, etc. From going forward, we would also be sharing the real experiences of working professionals who have decided to take a step ahead to shape their career in the digital marketing industry irrespective of their degrees. Likewise, in this post, we have shared the one-on-one discussion with an
SEO & Content Manager
who is currently working with India's leading digital marketing agency,
Convomax Digital
.
Meet Tejas Shahakar.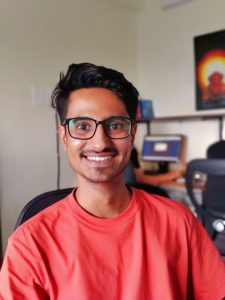 He's a B.Tech Graduate (Computer Science) who has a great passion for writing since his school. Instead of pursuing his career in the IT industry, he decided to follow his passion for writing and grow with it. We decided to get in touch with him and asked about his ambitions, journey and Why he had chosen SEO over all other digital parameters. Have a look!
Digiperform- Hi

Tejas

. First, welcome to our industry speak section, DigiTalks By Digiperform. It's a pleasure to have your interview. Our readers would like to know about you. We would like to know about both, professional and not-so-professional

Tejas

.  
Tejas- Hello, first I would like to thank team Digiperform for giving me this opportunity. You guys have an amazing presence in Digital Marketing Training among the people out there. It's my pleasure to interact and share my expertise with you. 
Since my school days, I have always loved languages. It is such a fascinating medium to convey what you feel, so easily, I felt.
Later, during my graduation, I tried my hand at writing content for some of my friends and I developed an inclination towards writing. That was the time content writing as a career option started brewing up in my mind.
That time, Digital Marketing was a comparatively new field. To be honest, I was confused but I was sure about not choosing IT as a career option.
It was a big NO for me. I kept exploring for a while and then my interest drove me towards SEO and Content Marketing.
According to me, everything around us is content which we consume in the form that best suits us.
That being said, I chose a digital marketing career because we can arrange and put forward the content in front of the people, ethically, to help them make decisions.
This made me feel through this career option, I could live my dream career and follow my passion for writing.
Digiperform- You are currently working as an SEO and Content Manager at Convomax Digital. Generally, people hesitate to choose an SEO stream and work for the same. What made you choose SEO as your career?
Tejas- For a couple of years after graduation, I tried my hand in other aspects of digital marketing – PPC, Social Media, etc. This is where generally most of the pursuers go and I too went with the flow to gain experience.
But, as I got to understand, my focus shifted towards SEO.
I have always believed to work on things from bottom-up and strengthening the core first. As it happens SEO sits at a very basic level of any online business and serves as a foundation.
Also, I think SEO as a gentle giant like an Elephant. It is slow, gradually growing day-by-day, needs a lot of patience, but once it's mature enough it can dominate the landscape around.
Digiperform- Taking care of both SEO and Content is not that easy. Especially, when SEO keeps on fluctuating every day. Like, Google is famous for updating and creating new rules for organic results. How you keep yourself motivated for the same?
Tejas- Indeed, SEO and Content is a real hustle. Keeping an eye out for any algorithm changes seems like a rather monotonous task.
In SEO, you do it right or be prepared to lose everything you have worked for, after that algorithm update where businesses have crashed in just one day.
My motivation comes from the fact that I would like to keep businesses unaffected by such algorithm changes and that is the beauty of it.
Digiperform- It's said, "Content is the kind of marketing". How much you agree with it? And, Why?
Tejas- As I have said earlier, everything around us is content in a variety of forms which we consume in bits and pieces that is the most relevant to us. We normally use the content as a reference for the solution we need for a particular situation.
Marketing is a way to craft that content in an organized way to aid us in finding the perfect solution to our needs. Thus, 'content is a kind of marketing'.
Digiperform- How much SEO and Content are related to each other. Which one has bigger role to play as per your experience and why?
Tejas- Content is the core of any marketing strategy.
Let's just say content is the essence of SEO and SEO is the essence of any digital marketing strategy.
SEO and content can't be separated.
All the answers we need are found in the content and SEO is the means to help you find those answers in the quickest way possible.
Thus, SEO and content both have an important role to play and they complement each other.
Digiperform- If someone is operating a startup and looking for various ways to rank first, what kind of SEO and content strategy you would offer him/her to follow to deliver the best content and reach out to the maximum audience? Let's say, someone owns a club. What kind of strategies should be followed, as a digital marketer?
Tejas- SEO proves to be one of the most fun and challenging aspect to make a startup successful. It is a lengthy process and needs time before it starts showing results.
To start with, keyword research would be the foremost important thing to carry out.
Any online business, new or established, will only work if you provide your prospects with answers they seek for. Keyword research will help you understand what exactly they want.
Further, all the elements of the on-page SEO should be optimized keeping in mind the keywords. These include page titles, meta-tags, etc.
As we proceed with the SEO process, the next thing to focus on is the technical aspects of a website that include the URL structure, internal linking, optimizing the website for individual page load time, the mobile-friendliness and the XML sitemap.
Once this is done, one can move on to establishing and increasing the website authority. This is done by gaining backlinks from other sites and is also called off-page SEO.
These things work for every business in general. For a club, focusing on the long-tail keywords that the club going people might search for, the kind of content needed would be trendier and which will go well our generation and optimizing the website for Local search would be some of the specific aspects to focus on.
For beginner's, I would recommend reading-
The Complete Free Beginner's Guide to SEO Marketing
, written by me. It has all the necessary concepts to understand SEO and what kind of things you should follow to grow your business digitally.
Digiperform- How much you believe that SEO is evolving in 2019? What are the three trends you would like to suggest to everyone?
Tejas- SEO is an ever-changing and evolving process.
With the search algorithms constantly improving for search, firstly having structured data markup on the website would be advantageous since AI is becoming increasingly popular.
Secondly, optimizing the website for mobile pages would be a wise choice as most of the traffic to a website comes from mobile devices.
As we discussed earlier that the content is at the core of any marketing strategy, search audience is also evolving and becoming intelligent in terms of putting forward what they exactly need.
Thus providing quick answers to user queries using a variety of content forms like infographics, images, etc.
Digiperform- As you are aware, Digiperform provides training to people who want to make a career in digital marketing which includes content marketing and SEO as well. What exactly you would like to suggest a newcomer who wants to make a career in SEO or something like that.
Tejas- Of course, Digiperform is a reputed digital marketing institute among the others out there and has a vast presence in that domain.
The newcomer is always at an advantage as there are immense possibilities to gain knowledge. For starters, there are no boundaries to keep experimenting and learning new things.
Keep yourself updated with the trends by reading blogs, listening to podcasts, and try out different strategies in all the domains and gain as much experience as possible.
Digiperform:
Thanks, Tejas for sharing your input and experiences with us. We wish you great success for your future.