According to a recent report titled "Storytelling: The Current State of Branded Content," conducted by Forbes and S.I. Newhouse School of Public Communications at Syracuse University in collaboration the impact of branded content was found to be superior in comparison to display advertising mainly in areas like recall, brand perception and intent. The research that included over 4,000 Forbes readers in the U.S., conducted a survey and asked the respondents to view webpage content featuring brands such as SONY, Maserati and Boeing. It was found during the study that branded content works better across the branding funnel than display ads.
The major highlights of the report:
Branded Content Works:
As discussed above branded content is becoming more impactful across the branding funnel outperforming the display ads. As per the report there was a 59% increase in brand recall apart from the 7% lift in brand favorability and 9% increase in purchase consideration.
Branded Content Holds Up Over Time:
Despite the loss of novelty often seen with ad products across time, branded content was as effective, if not more so, in 2016 compared to results seen in the 2013 study.
Brand Interest Increases with Branded Content:
Branded content may drive lasting interest in the brand. Consumers were 14 percentage points more likely to say they intend to seek out more information about the brand in the future.
Don't Be Afraid to Mention Your Brand:
'Higher Branding,' defined as 2x the number of brand mentions, caused brands to be perceived as more educational by over 7 percentage points and performs better on mobile devices.
Longer Form Branded Content Drives Millennial Purchase Consideration:
18-34 year olds responded better to long articles, driving higher engagement consideration rates and aiding recall.
Branded Content Is Perceived Better:
Consumers perceive branded content as being more consumer-centric because it is less about selling products and more about providing value to consumers.
Performance on Forbes.com Shows Value:
Among those most engaged with the content, there was evidence that branded content performed particularly well on the Forbes website compared to brand sites.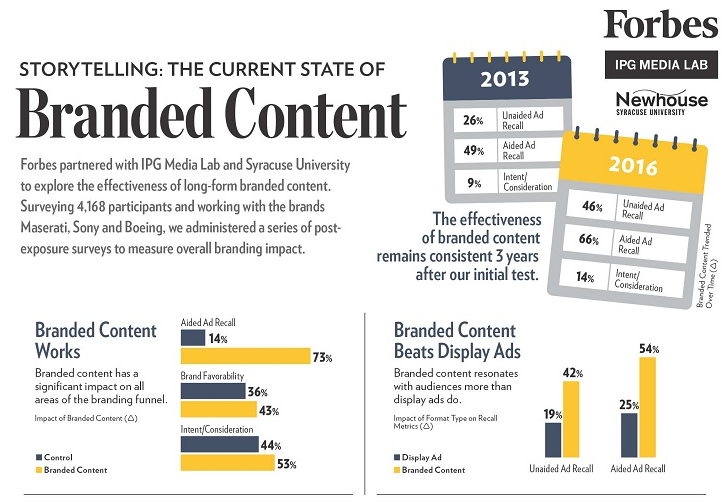 The Most Remarkable Point!
Though this survey was conducted among the U.S Forbes readers, the same trend is being observed in rest of the globe with a higher figure even in Asia Pacific according to other various studies conducted globally. This clearly signals on how the marketers should become more serious about the branded content than barely focusing on display ads. By producing branded content, even the one piece of work they have done will keep yielding results years down the line and so one can think how a bulk of branded content would help the marketers rather businesses. Though there could be many, but the top most results that branded content can give you are:
It's long lasting giving your time & effort better results
It is more engaging and increases more interest among the consumers about your brand
It increases the recall value of your brand if you mention your brand with every piece valuable content that you give to the consumers
You can target the consumer base better through the apt length of your branded content
It is perceived better by consumers, for it focuses more on giving value than making sales