In my daily experiences, I come across many students who want to pursue a career in Digital Marketing. The students generally come with the queries like, "
Which stream is ideal for learning Digital Marketing skills? How can Digital Marketing beneficial for students? What the career future perspective of Digital Marketing?"
Today I would like to dedicate this post only to those students who are craving the answers of these questions. Being a Digital Marketing certified, I understand the nervousness and confusion of the students as a single decision can make or ruin their careers. Let's discuss step by step regarding the same:
What is Digital Marketing? Why is it trending?
As the world has been on the path of digitalization and globalization, the marketing has changed its course of action with respect to same. This evolution of internet has made us searching, buying and paying so easy on the internet. We cannot forget that mobile is our new buddy who is always there to help us in an arm's reach. With this same belief, our Prime Minister is trying in every way to transform India into digitally empowered society and knowledge economy. He also aims at the inclusive growth in areas of electronic devices, products, manufacturing and job opportunities. This vision clearly delivers the message that the time will come when whole India will be digital empowered and blessed. As if now, there are already more than 465 million internet users all over India. Worldwide it has been reported that by 2019, there will be 3.9 billion global internet users, just over half the world's population.
This evolution is the main reason for the birth of Digital Marketing. As everyone will be internet savvy, marketers and businessmen will have to
learn digital marketing
. This will make it possible for them to specifically and personally reach out to each of these people. This clearly defines that
Digital Marketing is the form of marketing that helps marketers and businessmen to promote and advertise products and services with the help the Internet and digital devices. It is a set of marketing online tools and strategies
.

Which stream is ideal for learning Digital Marketing?
Digital Marketing is a universal skill which is open to all. You don't need to have any topmost qualifications, numbers or degrees to learn this skill. Digital Marketing is a skill that hacks growth for the company and businesses. Whether your education stream is science, commerce, arts, psychology, political science, etc, Digital Marketing is for all types of students. For those who want to pursue MBA, they need to know that according to study, only
7% of MBA candidates from Indian Business Schools excluding those from the top 20 Business Schools get jobs straight after completing their course and hired in the corporate sector. Rest MBA candidates are struggling to get the job as per their qualification.
On contrary to this, Digital Marketing can provide you the all the benefits of the long-time career that a student is looking for without being worrying for getting admissions in the top B class schools.
What are the future career prospects of Digital Marketing?
A profession in Demand: While other industries are fighting with a growth rate of 5-10%, Digital Marketing is rolling up with an incredible growth rate of 40% and it is not going to remain stagnant. Due to this, Digital Marketing has been acknowledged as one of "The Top 5 Professions" in the world. In India itself, Our Prime Minister has confirmed that due to digitalization and encouragement of Digital India Campaign, there will be a demand of more than 18 lakhs digital jobs by coming next three years and India still don't have enough professionals to fulfill the gap.
Get paid more than other Professions: Due to its demand, the digital salaries are rising as companies need professionals those can target the right audiences and generate leads and sales for them. For this, Founders are ready to a handsome package to digital marketers, exclusive bonuses. Apart from job, digital marketing helps you to earn extra money many other ways like blogging, freelancing, online money making, and so on.
You can Start Your Own Career: One of the remarkable benefits of Digital Marketing is that you can be your own boss. You can start your own business independently and market or advertise it by your own. Digital Marketing is the future of marketing and learning it will make you feel more confident and one step ahead of all the other marketing strategies and tactics.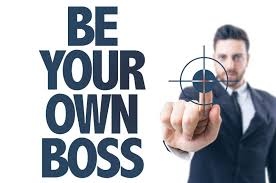 You can be a Freelancer: A person with Digital marketing skill can be a full-time Digital Marketer in a company as well as self-employed Freelancer. A freelancer is a term generally used for a person who is self-employed and offer services to multiple organizations at the same time. The type of work freelancers varies from person to person specialization such as social media marketing, content writer, copywriter, graphic designer and more. You can work as your wish in flexible hours.
Digital Marketing is the only skill which is not a gender or education bias, from students to housewives, job seekers to businessmen; anyone can learn and enjoy the fruits of the trendiest marketing skill.