Need a dress or a pair of shoes, guests coming for dinner so need groceries before night, feeling hungry at midnight but no mood to cook. These are few day to day examples of our living style.  What comes to your mind when you want to come over with these situations, Online Order-E-commerce. For a dress, you order from Flipkart, Jabong or any other site, for groceries- Grofers.com and Zomato for food. E-commerce is a like any type of business where buying and selling involve the Internet. As this industry solely based on the internet,
Digital Marketing
plays a major role in its growth because it is the only tool that can help in any business growth hacking through digital mediums. The rapid growth of smart phones and internet give greater access in selling and purchasing merchandise with convenience.
How Digital Marketing plays an important role in ecommerce Industry?
Social E-commerce : Using Social Media, E-commerce generates huge revenue as it helps to build your audience and brand value.
There has been an analysis that 37 million social media visits led to 529,000 orders approx.
Facebook has been a great source for traffic and sales which constitute average 85% of all orders. It has the highest conversion rate for all social media e-commerce traffic at 1.85%.
Also Read:
What You Need to Know before Launching an E-commerce Website
E-commerce to generate 12 million jobs in India over 10 years: HSBC
Global e-commerce market is worth $22 trillion: A Report
Digital Marketing tools like
HootSuite, Sprout Social, Social Oomph
, and much more makes very easy to engage the relevant audience for sales. Study: A very famous e-commerce company-
Diamond Candles
, sold their products in a unique way. These scented soya based candles can give a customer a surprise fancy ring ranging from $100 to $5000 in value. Instead of promoting their product on Social Media, they discussed the brand with every 3rd person and asked their customers to post their picture with a ring. Later on, they used same pictures to re-post on Social Media to engage their customers. CEO of Diamond Candle pretty much believed in "Showing" rather than "Saying" and thought out of the box to make it a huge success with help of social media and word of mouth.
Google Analytics: Analytics gives a wider view on the data where people come from to find you and the keywords they use. This analysis helps to make a perfect strategy with the following trend to win over sales. It can help you to run ads on the basis of audience behavior on internet and acquisitions at real time.
Tools: Google Analytics and Google Webmaster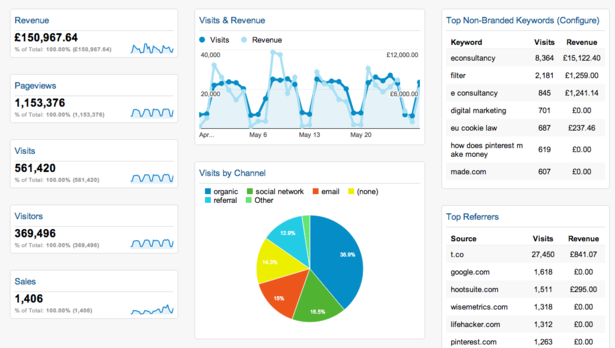 E-Mail Marketing: Ecommerce email marketing is the art and science of using email to generate sales for your store.
It can be effective in many ways like Jabong and other shopping sites do with the help of  digital marketing tools like
MailChimp, Mailerlite
and much more like; * Informing about new discount deals, seasonal sale or festival sale.
* sending mail an email to people on abandoning their shopping carts. Emails act as a catalyst to sales and urge customers to check out successfully before it gets vanished.
Mobile/App Marketing: As shopping apps are available for mobile devices, mobile marketing plays an important role in e-commerce. The Asian market has experienced epitome of 240% growth in e-commerce mobile marketing since 2014. In fact, 70% of mobile users spend the majority of their time on their device in apps, which contribute to the growth of mobile commerce over other forms of E-commerce.
Successful E-Commerce sites are no different from other online businesses if they have a well-defined Digital Marketing strategy and tools. Learn How Digital Marketing plays a big role in hacking growth of e-commerce companies
click here