As one of the most prestigious market leader in the ecommerce industry, Flipkart redefined the word 'big' in many ways on 6
th
October 2014. Nothing of this scale was witnessed before where on one side it received a lot of backlashes on social media and on the other side, the company claims of achieving sales target of $100 million in just 10 hours of the day. How big was really this 'Big Billion Day?'
Digiperform
explores the big picture of this Big Sale Day
BIG Promotion
Mirroring the buzz generated by the 'Black Friday Sale' in the United States, Flipkart worked on the same concept by introducing Big Billion Day sale for its huge customer base in India on 6
th
Oct, Monday. The company did every possible effort to promote this sale on almost all social, print and visual channels. Commercials were created featuring celebrities like Vir Das to promote this big day. Almost all daily Newspapers on Monday were seen with a full page advertisement of this big sale day.
Moreover, a day before the sale, special personalized message was sent to all the subscribers mentioning significance of conducting this sale on the date 6th Oct (6-10)
BIG
Response
As a response to the big promotion of the big billion sale, Flipkart received overwhelming response from its customers since 8am. With a range of exciting offers on quality products and that too at disruptive prices, a huge response was expected. All the happy customers made sure that their wishes were reaching the ears of Flipkart. The response was so high that Flipkart received 3, 00,000 orders in just 6 hours duration. It sold goods worth $100 million in just 10 hours.
BIG Bashing
Although, the 'Big Billion Day' managed to achieve the record sales, but when it came to establishing close connect with the customers, it ultimately failed. During the day, customers crowded the social media with complaints ranging from inflated prices, non availability of products and also non-confirmation of their orders. To make it worse, Flipkart did not even offer refund or cancellation option. The sale was expected to go throughout the day, but it ended within 7 hours. Overall, the customers were not able to get what they had actually bargained for.
What went wrong?
So what really went wrong on this day that annoyed people to joke and bash. Did Flipkart underestimate the shopping prowess of over 25 million online shoppers in India or was it just a case of bad planning? In reality, this sale was a combination of improper planning and technology. With so much of advertising and hype created around this sale, such huge traffic should have been expected. It was no different from airline sales where the cheapest seats get picked up early, leaving others disappointed. Flipkart should have prepared for the sale long time ago. Instead, it prepared for a war room where people monitored both sales and twitter feeds while also tracking the logistics. However, for Flipkart it was a big day as they not only register a billion hits across devices, but surpassed usage of any other social networking site during the day.
Marketing Lesson Learnt
This historic sale was a lesson for both Flipkart and its competitors such as Snapdeal and Amazon. In future, before launching any such kind of sale, better plans will be initiated in order to prevent customers from getting irritated and hooked up. Moreover, despite of all necessary steps, ecommerce companies need to watch out their steps carefully as consumers are fickle minded and would land up a place where they get better deals and services.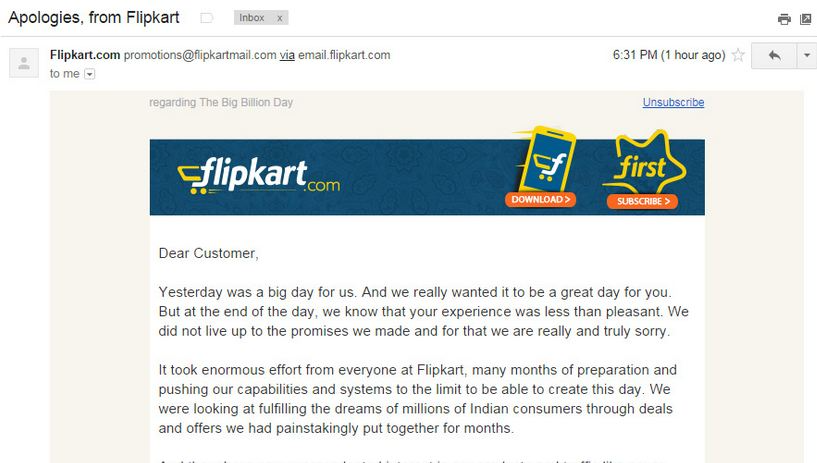 One Last Move: BIG Apology
Although in the end Flipkart was still able to manage to win few customers back by their apology letter but the true impact of this could only be learned in longer time as trust once lost on E platforms is really a hard thing to gain back.