Nowadays, searching for latest job profiles on the internet, you will find few changes in the Google search results. Earlier when you used to search for jobs on the internet and type for example, "
Digital Marketing Executive Jobs
", the job search results you generally were getting by major job providing companies on the top such as TimesJobs, Naukri, Shine etc.
However, as Google keeps on experimenting with the search results to provide the best user experience, now it has launched
Google Jobs,
aimed at job seekers looking to simplify the way they look for jobs.
Working of Google Job Search
Ideally, when users will search for "
jobs near me
," "
jobs for freshers
," or similar job-seeking queries, they will see a special module that can be expanded up to 100 jobs or more as per the query. Once you click the list to have a glance view of comprehensive information about the posting such as job title, location, whether it is full-time or part-time, and several other details. From here, users can directly proceed to the job listing page on the website and apply there.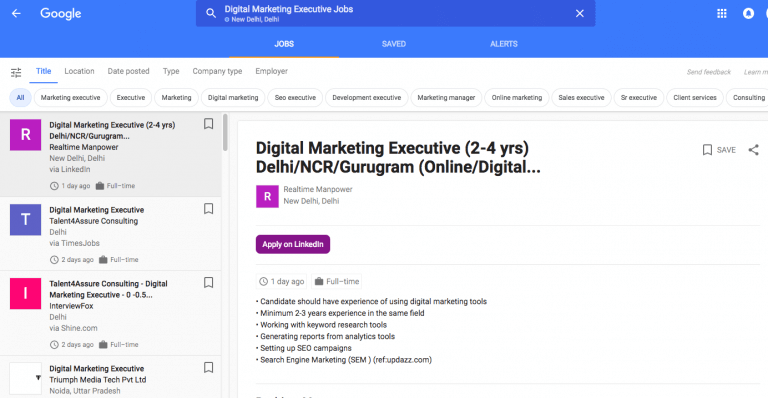 After launching Google for Jobs last year in the US, this time Google has launched the same feature in India to improve the job search experience for users across. As per Google, it would help to provide the easier and quicker experience for job seekers to find the relevant employment opportunities within their location as well.
Users can now directly type in the related job profile into the web and get job listings from across the popular job listing websites, online classifieds, and companies. This feature is currently available in English on the Search app on Android and iOS, and in Google Search on the desktop and mobile.
For the same, Google has deliberately worked on the validity of data by collaborating with major job providing companies in India such as Aasaanjobs, Freshersworld, Headhonchos, IBM Talent Management Solutions, LinkedIn, QuezX, QuikrJobs, Shine.com, T-Jobs, TimesJobs, and Wisdomjobs.
What does Google feel?
As per stats, Rajan Anandan, Vice President India & Southeast Asia, has said that- "In Q4 last year, Google has conceptualized more than a 45 percent increase in the number of job search queries which is continuously growing. However today, the job search experience is not always effective. On the other hand companies especially SMEs (Small and Medium Enterprise)  that are the largest job creators are often unable to make their listings discoverable. This new job search experience powered by our partners and our open platform approach attempts to bridge this gap".
The Google search will also allow users to refine the results using filters, save the job listings they like, share them with their contacts, and sign up for job alerts. This feature is currently available in English on the Search app on Android and iOS, and in Google Search on the desktop and mobile.
In order to maintain the worthiness of the listed jobs and help SMEs to make their job discoverable, Google has also released open documentation, using open structured schema.org web markup standards that Google supports in this new search feature.
The new update sounds great and reliable. Keep Googling!