2019 just wrapped its first quarter. And, this is the time period when freshers, as well as students, look for various ways to make money online or start to prepare for a career by enrolling into skill oriented programs. The year 2019 can be lucky for those who'll be keeping a tab on what's trending in the market, or not. Like Digital Marketing!
Today, digital marketing is one of the booming industries of the world. It is the set of marketing strategies that help marketers as well as businesses to promote their products or services through online platforms. Though Digital Marketing is a broad concept, it is the fastest medium for businesses if they really want to target millions of customers at once.
However, in this article, you will get to know how digital marketing is winning the hearts of millions of people all around the world. And also;
How Digital Marketing plays a big role in India's economy?

Why you should learn Digital Marketing? Why you should look for a career in digital marketing in 2019?

How to learn digital marketing? How to start a career in digital marketing?

What is the career opportunity for digital marketing in India?

What is the bracket of a digital marketing career salary in India?
So, grab your coffee and sit tight as this will take you to the complete guide to start a career in Digital Marketing. Here we go!
How Digital Marketing plays a big role in India's economy? (Facts & Figures)
India is the fastest growing economy of the World which is believed to surpass the USA's GDP by 2040.
If we talk about India's e-commerce industry only, it is projected to cross over the US $150 billion marks by 2022 and generate a million new Digital Marketing jobs annually.
Indian E-commerce companies support more than 20 million small and medium-sized industries clubbing logistics and warehousing industries which operates solely on digital platforms.
Role of Digitalization
If we talk about digitalization, the penetration of India's got legs up with an Indian government's open call for Digital India Movement.
With India's internet users expected to register double-digit growth and reach 627 million by the end of the year, the Indian economy is projected to become USD 1 trillion by 2022 from around USD 450 billion digital economies at present.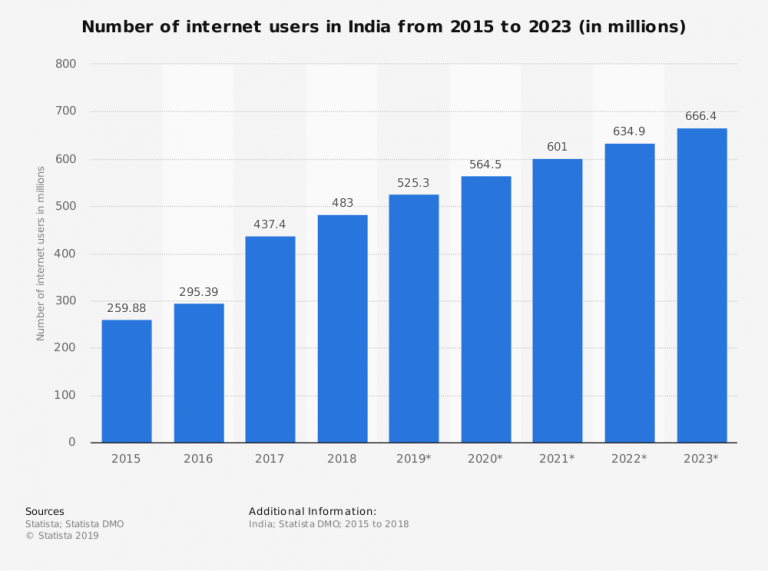 Talking about digital advertising report by
Dentsu Aegis Network
, India's advertising industry is set to peg around Rs 8,202 crore which is slated to see a growth at 32% CAGR to reach Rs 18,986 crore by 2020.
The report also states that currently digital media spend is contributing almost 15% of the total advertising will definitely reach to 24% of the entire online market by 2020.
With this rising digital age, Digital Marketing is becoming the next door partner for every business who want to come out of their old business legacy and challenge today's set of milestones.  
Today, Digital Marketing is the only way out to leverage these online people and turn them into potential customers and sales. And, SMEs accept this fact!
Why you should learn Digital Marketing? Why you should look for a career in digital marketing in 2019?
This is the major question asked by freshers that why they should learn digital marketing. And, why they should start a career in digital marketing. You'll get your answers after reading this section.  
As per the TRAI stats, the current number of smartphone users in India is 337 million which is expecting to reach 442 million by 2022. This states that there will be an abundance of the online market.
With this vast sea of online users, brands have no other choice to put more effort into online marketing strategies and target these fishes (online customers) to generate more business. Businesses are reluctantly spending on online marketing strategies to gain the attention of these potential customers and generate sales/revenues.
Biggest Online Marketing Industries – E-Commerce (Both Multi & SMEs), FMCG, Telecom and BFSI
Digital Ad formats – Social media -28%, Search -26%, Display – 21%, Video – 19%
85% of the Internet user base spends up to 1/4th of their waking hours on the Internet.
To cultivate these online marketing strategies, from small to big brands, they are in utter need of skilled digital marketers who can help them to achieve their sales targets. In short, companies need digital marketing professionals to fill the void to execute their digital marketing strategies.
As per the top job portals of India, there will be
60-65 lacks digital jobs predicted by 2025
.
At present, on
Naukri
, there are around
3,01,062 jobs
listed, on
Monster
around
69,119
, on
Shine
around
2,56,234
and on
Timesjobs
around 2,72,321
 job options.
When there is so much demand for digital marketers in the market, it gives especially freshers a chance to start their career with growing industry.
If you will start today, it will help you to grow tomorrow!
How to learn digital marketing? How to start a career in digital marketing?
Starting a career in digital marketing may seem a big thing to achieve but if you'll do your right research, it will get simpler. So, how you can learn digital marketing?
Read As Much As You Can
The basic task to start your career in digital marketing is to learn and read about digital marketing. Digital marketing is a vast field which has various components such as Content Marketing, Email Marketing, SMM, SEO, AdWords, PPC, Growth Hacking, Affiliate Marketing, Mobile Marketing, Web Designing, etc. Therefore, it's not a 1-day process to learn digital marketing and start working in the same.
What you can do?
Read and follow famous digital marketing bloggers such as Neil Patel, Sujan Patel, etc. to stay updated. They have various guides and blogs for beginners where they have shared A-Z basic to learn digital marketing.

Follow their YouTube Channels if like to learn through videos.

You can also subscribe to marketing blogs like MarketingLand.com, SocialMediaExaminer.com, etc. to learn about the latest update of the digital marketing industry.
Learn From Digital Marketing Expert
There are numerous digital marketing Course providers in the market who help freshers as well as working professionals to learn digital marketing and get certified as well. But there is a catch in this.
Look for the Trusted Digital Marketing Institute who can provide complete digital marketing clubbing with all its components. Also, who has tie-ups with major industries and can provide you in-depth industrial exposure as well.
Following points that you need to keep in mind if you are looking for digital marketing institute to learn digital marketing:
Do they provide digital domain skill training?

Do they have tie-ups with different industries?

How many freshers they have trained?

What is their placement ratio? How many freshers have been placed by them?

What are the various certifications provided by them?

Do they provide live class practical sessions to clear doubts?
Also, if you will look into the duration of digital marketing programs as compared to other skill training programs, its quite less and the result is very much appreciable.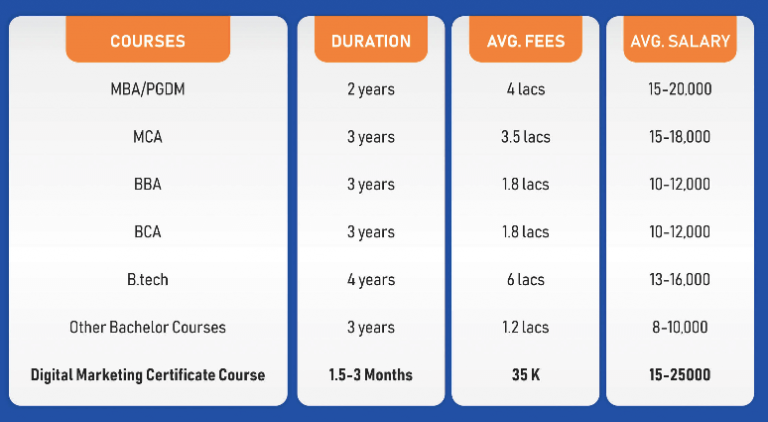 Therefore, once you learn digital marketing from industry experts and become a Digital Marketing Certified, it gets easier for you to get hired by top companies. In short, it becomes easier to start your career in digital marketing and earn simultaneously.
What is the career opportunity for digital marketing in India?
As we have stated earlier in the post, with the increasing dependence of customers on the internet and utter demand of digital marketers to target these online customers, there will be 60-65 lacks digital jobs predicted by 2025.
This gives a unique competitive advantage to those who want to make a career in digital marketing. You will be preparing yourself up for a career where demand exceeds supply which will in turn – a great move!
And, there will be a variety of roles required by the companies to fill these voids which will in turn help freshers to explore their talents in many innovative ways.
Digital marketing is a platform that combines cutting-edge technology with creativity. On the basis of the survey, reports and experts prediction; here are some of the highest paying jobs in digital marketing.
We have classified Digital Marketing into
8 domains
which are a cluster of
28 full-time job roles
. Have a look!
Domain 1: Search Engine Optimization
A good search engine optimization helps you to get massive traffic on your website without spending a single penny.
This is the reason why there are terrific opportunities relating to SEO.
Job Roles Available:
1: SEO Intern
2: SEO & Webmaster
3: Link Building Expert
4: SEO Executive
5: SEO Specialist/ Consultant
Responsibilities:
Support content teams on optimization of websites and projects to improve user engagement

Designing the development and maintaining the framework for keyword research

Develop and maintain link building strategies

Regularly reporting on-site and blog traffic

Working with content and development team to ensure on-page, off-page, and technical SEO best practices are being implemented

Assist with monitoring and developing social media content

Work with developers on site architecture and design

Execute tests, collect and analyze data and results, and identify SEO trends and insights
Domain 2: Social Media Marketing
Social Media marketing is separated into two major roles.
The first one is to spread the content through social media platforms, and the other one is to run paid advertising in Social media. Both roles require expertise and experience.
Job Roles Available:
1: Social Media Intern
2:Social Media Moderator/ Executive
3:Social Media Specialist/Consultant/Community Manager
Responsibilities:
Building and maintaining an editorial calendar for all relevant social channels

Engaging with audience members on a daily basis by communicating with followers and responding to comments and posts

Maintaining a consistent brand voice and tone

Monitoring and reporting on paid and organic social campaigns

Working with the content team on strategic planning and blog promotion

Develop comprehensive social strategies to increase traffic to digital content

Create a detailed roadmap of social campaigns/tactics and execute campaigns

Collaborate with Content, Product, and Sales to determine business-prudent social messaging

Lead the development of standards, policies, and rules of engagement for social media

Keep up with and implement new industry trends and technologies
Domain 3: Content Marketing
Content marketing is all about creating and distributing valuable, informative, and relevant content to a clearly defined audience, and encouraging them to interact with your brand meaningfully.
One of the benefits of being into content marketing is that you can work from home without any hustle.
Job Roles Available:
1: SEO Content Writer
2: E-commerce Content Writer
3: Web Copywriter
4: Content Marketing Consultant/ Specialist
Responsibilities:
Conceptualize, pitch, research, and write search-friendly blog content that provides value to prospects and readers

Write landing pages, product pages, white papers, newsletters, social media campaigns, and other content-related collateral

Copyedit a variety of content for print and digital

Have a general understanding of SEO tactics—including link building, site structure, image optimization, keyword-centric copywriting, and keyword research

Use keyword research to generate blog topics aimed at converting specific business goals

Manage a team of in-house/freelance writers. Implement and oversee a content calendar/schedule

Deliver content that supports inbound marketing efforts, demand generation, sales enablement, and other initiatives

Collaborate with designers, product marketers, and sales to plan the production of videos, case studies, website copy, and other digital and print marketing collateral
Domain 4: Digital Advertising
Digital advertising, also called Internet advertising is when businesses leverage Internet technologies to deliver promotional advertisements to customers.
Digital advertising includes promotional advertisements and messages delivered through email, social media websites, online advertising on search engines, banner ads on mobile or Web sites and affiliates programs.
Job Roles Available:
1: Search Ads Manager
2: Display Ads Manager
3: Social Media Ads Manager
Responsibilities:
Setup and ongoing optimization and management of PPC/Digital Advertising campaigns for multiple clients

Perform A/B testing,  setting up audiences, and optimizing for conversions and KPIs

Analysis of campaign data and reporting on recommendations and strategy on a monthly basis

Management of ad budgets, text and creative, and keyword research

Perform digital advertising audits

Manage multiple accounts and tasks with an effective resolution of conflicting priorities

Collaborate with digital marketing specialists and account managers to align digital advertising campaigns with other ongoing initiatives

Ensure implementation of best practice guidelines and follow company processes
Domain 5: Analytics Optimization
Analytic & optimization involves getting the audience data specific to your business and customize your website accordingly.
Analyze customer behavior & developing custom reports specific to your goals.
Job Roles Available:
1: Web Analyst
2: CRO Specialist
3: Digital Analytics Specialist- Mobile, Web, Email, Social Analytics
4: Customer Relations
Responsibilities:
Ability to lead digital audience creation and execution efforts

Evaluate and prioritize business personalization use cases

Determine correct target audience for campaigns through a thorough analysis of performance reports

Knowledge of 3rd party Data Onboarding platforms

Create cross-brand requirements for third-party data that should be incorporated into the DMP

Understand the latest industry trends

Shape enterprise data collection and management strategy for customer identity graphs

Have knowledge of the ad buying marketplace including DSPs, bidders, and programmatic platforms

Passionate about data-driven marketing

Ability to run AB Multivariate tests on an A/B testing platform

Excellent analytical skills with an ability to translate data into actionable insights

Experience with digital analytics platforms and content management system

Understanding of best practices in testing, targeting, and optimization

Create overall AB testing plan and roadmap

Partner with product managers to identify web optimization opportunities

Increase sales through AB test optimization efforts

Work closely with our design and user experience teams to build brand and UX compliant tests

Reporting and analysis of tests based on an in-depth understanding of major site conversion funnels

Work to increase test efficiency and throughput

Knowledge of marketing automation principles and platforms
Domain 6: CRM Specialists
CRM specialists are analysts who constantly examine and monitor a firm's practices with existing customers, helping ensure that retention levels are as high as possible. They also analyze data to find ways to attract new customers, as well as assist in the rollout of such measures.
Job Roles Available:
1: Digital Account Manager
2: Online Reputation & Helpdesk Specialist
3: Affiliate/Publisher Relations Executive
4: Digital PR/ Influencer Marketing Specialist
Responsibilities:
Coordinating the data verifications efforts of the organization – both on the organizational and individual level

Completing reports, lists, labels and custom data collections to support the work of the organization

Pulling specific data lists as required for internal and external use

Preparing reports & Processing accounts receivables

Providing analysis, commentary and insights on the customer base and product sales as part of the monthly business planning process, including presenting findings and recommendations to senior management

Profiling and segmenting the customer base and analyzing purchasing behavior to uncover drivers of performance, identify trends and highlight new growth opportunities

Identifying and developing customer/ channel reports or dashboards to enable other departments to take action to improve performance
Domain 7: Business Development
Business Development specialists role is to assist their companies to acquire new customers and sell additional products or services to existing ones; this means the role is a crucial one for any business with the ambition to expand or the necessity to diversify its clientele.
Job Roles Available:
1: Inbound Sales Specialist
2: Digital Solution Sales Specialist
Responsibilities:
Identifying new sales leads

Pitching products and/or services

Maintaining fruitful relationships with existing customers

Researching organizations and individuals online (especially on social media) to identify new leads and potential new markets

Researching the needs of other companies and learning who makes decisions about purchasing

Contacting potential clients via email or phone to establish rapport and set up meetings

Planning and overseeing new marketing initiatives

Preparing PowerPoint presentations and sales displays

Contacting clients to inform them about new developments in the company's products

Developing quotes and proposals

Developing sales goals for the team and ensuring they are met
Domain 8: Digital Marketing – Cross Domain
Digital marketing is the marketing of products or services using digital technologies, mainly on the Internet, but also including mobile phones, display advertising, and any other digital medium.
Digital marketing specialists manage the online marketing strategy for the organization. They plan and execute digital marketing campaigns and design, maintain and supply content for the organization's website(s).
Job Roles Available:
1: Digital Marketing Intern/Executive
2: Digital Marketing Officer/ Strategist
3: Digital Marketing Specialist/Consultant
Responsibilities:
create and upload copy and images for the organization's website;

write and dispatch email marketing campaigns;

provide accurate reports and analysis to clients and company management to demonstrate effective return on investment (ROI);

research new online media opportunities that may benefit the business including mobile, social media, development of blogs and forums;

design website banners and assist with web visuals;

communicate with clients, affiliate networks and affiliate partners;

conduct keyword research and web statistics reporting;

contribute to social media engagement and brand awareness campaigns;

use web analytics software to monitor the performance of client websites and make recommendations for improvement;

contribute to company and industry blogs and manage e-communications;

assist with paid media – including liaising with digital advertising agencies;

develop and integrate content marketing strategies;

keep up to date with current digital trends;

manage the contact database and assist with lead generation activities;

negotiate with media suppliers to achieve the best price for clients.
What is the bracket of a digital marketing career salary in India?
As we have already stated how the demand for skilled digital marketing is going to be higher than its supply, recruiters will be ready to give the best market price. If you have good practical knowledge and understands the digital marketing concepts thoroughly; then, for sure, you would be getting hired by big companies with better packages.
Also, this industry is very good for those who are seeking a change in career or looking for good prospects. Digital Marketing is the creative and never dying industry. Those who want to change their career or looking for creative options can definitely go for digital marketing.
With their past experience and new skill set, anyone can earn more and better than their existing jobs. Working professionals who have learned digital marketing along with the job have already received a 35% hike in their existing packages than their peers. This sounds huge, right!
Alongside, working professionals, as well as freshers, can look for freelancing projects to accommodate their financial demands and work on their regular jobs simultaneously.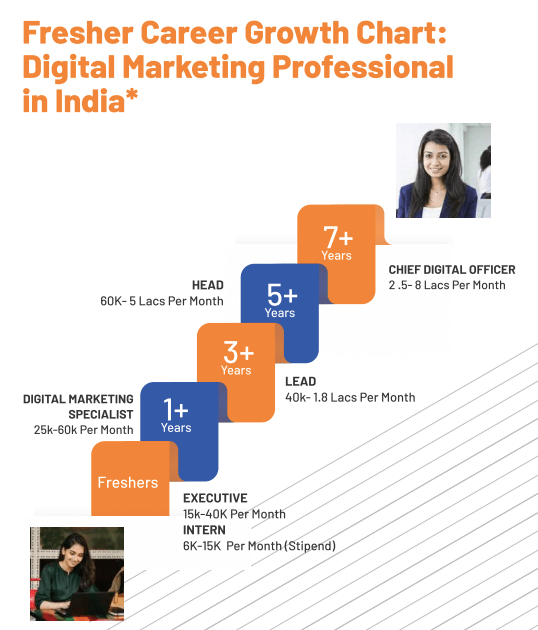 What you can earn in the Digital Industry?
Here are the salary brackets according to the job roles:
Social/Search/Digital Marketing Analyst/Executive (0-1 years) Salary
INR 15,000 – 40,000 per month.
Search/Social/Digital Marketing Specialist (1-3 years) Salary
INR 4-5 lacs per annum.
Social/Search/Digital marketing strategist/Team lead (3-4 years) Salary
INR 6- 8 lacs per annum.
Search/Social/Digital marketing account manager– (5 – 8 Years) Salary
INR 8-12 lacs per annum.
Social/Search/Digital marketing – VP- (8-15 years) Salary
INR 12-50 lacs per annum.
Have an overview of other job profiles in digital marketing as well: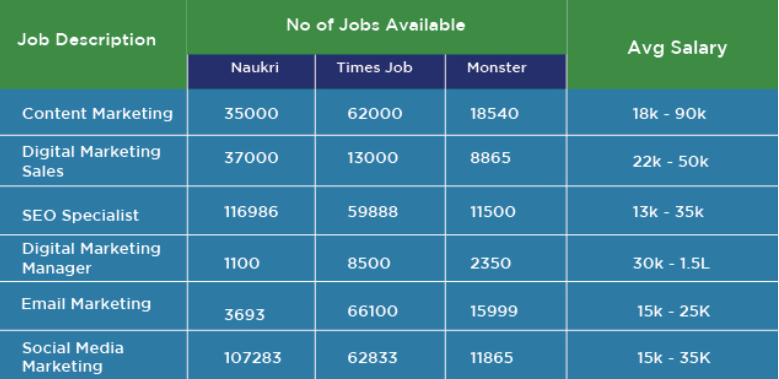 When you begin your career, you must be specializing in one area, but for a senior role like Digital marketing managers, companies will expect you to know all the channels, manage a team, allocate budget and work with an agency if necessary. You can even start your digital marketing business plans. 
Conclusion:
Reasons are endless to join this industry. Digital marketing is one of the TOP 5 Industries of the world. Companies need skilled marketers and you can be the one if start learning it right now.
You can learn digital marketing through various YouTube online videos or offline digital marketing courses.
Learn digital marketing and start cherishing your career being the part of the most demanding industry of 2019.