#TraineeSpeak
In our trainee speak section, we decided to get in touch with one of the recently certified students of Digiperform Indiranagar Bangalore.
Meet Digiperformer Sri Ram Prasad who is currently working as a Brand Communication Executive at AMC Cookware, Bangalore.
Being a working professional, he was looking for various ways where he could help his company to increase sales and gain visibility in this digital era. He started looking for various platforms to increase the visibility of the company's products.
Now, he is currently leading a team at his company where he manages all the digital roles of marketing and helping to promote at a large scale.
Digiperform Head Office decided to give him a phone call to know more about him and congratulate him for his success as well as asked about his digital journey.
By talking over the call, we realized that we can call him a smooth talker as he's quite professional in talking and knows what he has been doing so far.
We asked him how his career journey got started, what motivated him to learn digital marketing, and how it has been going so far.
And, the conversation was splendid!
Here's is the transcript of the conversation we had with him, summarized in a short way.
Digiperform: Hi Sri Ram, How are you? First, congratulations on getting digital marketing certified. You look amazing in the picture. We just want to know a little bit about your background.
And, why you decided to learn digital marketing?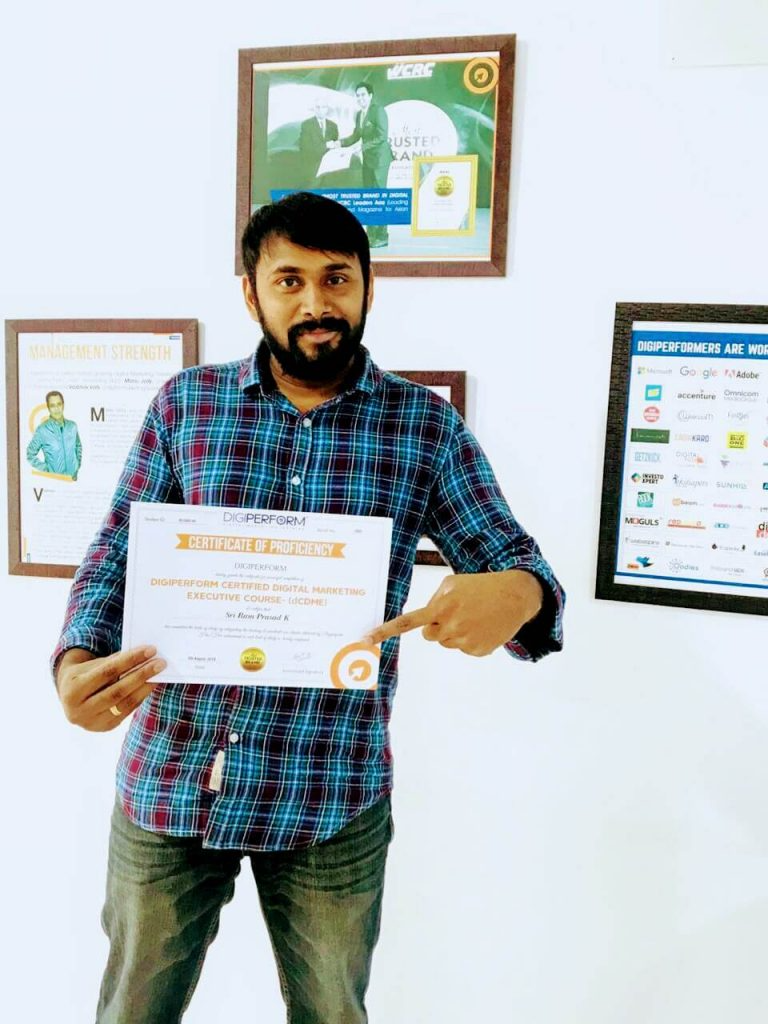 Sri Ram: Hi, I'm Sri Ram Prasad K from Indiranagar, Bengaluru. I am a graduate and have been working as a Brand Communication Executive at AMC Cookware. Also, I'm a vivid landscape photographer and running my own blog.
During my tenure at AMC, I have realized that my company needs to be active on digital platforms to stay ahead in sales. Therefore, I decided to promote my companies products on social media platforms and sending mail to potential customers.
Meanwhile, I realized that promoting our products on social networks won't be enough, they need to be promoted on Google where maximum research happens.
Therefore, I decided to learn how to run Google Ads on my own. During the time, my seniors asked me to take lead on this digital project and get trained by the experts. They suggested me to join Digiperform.
My motive for learning digital marketing was to enhance my skills and keep on adding the latest strategies to increase the sales of the company.
Digiperform: You mentioned earlier that you have a passion for photography. Is learning digital marketing helping you in following your passion?
Sri Ram: Yes, learning digital marketing not only helped me to increase my skills professionally, but it also helped me to live my passion.
I love landscape photography and always wanted to have my own website and pages showcasing my clicks.
Now, along with my job, I manage my own social media pages showcasing my talents and my love for photography.
It feels amazing that one skill can help you in so many ways, both professionally and personally. 
Digiperform: Would you consider Digiperform as a trusted & reliable resource for Digital marketing training? Why?
Sri Ram: Definitely!
I'm glad that I decided to learn digital marketing from Digiperform. The faculty was so good. The trainers were so encouraging.
They helped me analyze my company's current marketing strategies and guided me to understand how I could promote my company's products in the best possible way.
They taught me so many ways, so many marketing strategies that could only an expert could guide you. 
How can't I recommend such a nice learning resource for anybody?
Digiperform: Where do you see yourself in the next 5 years?
Sri Ram: Haha, it feels like you are taking my interviews now, ROFL. I would definitely like to grow in the same company as Brand Head or may be working with a well-established brand.
To Be Honest, now, I can proudly call myself – Certified Digital Marketer. I can easily create Google Ads and promote my company's products on the basis of the ideal keyword research, all by myself.
Digiperform:
Thanks, Sri Ram. It was great talking to you and sharing such valuable thought. We wish you good luck with your future endeavors.