Stats if leveraged well along with multiple channels help marketers to a great extent in acquiring more customers as well as boosting engagement rich conversions. This is why we have piled up a few very productive stats especially for Indian marketers based on the Octane Research (#VOIM: 'Voice of India Marketer' Report).
1. Primary Marketing Goal:
2. Revenue generated by e-Marketing:
3. Online Marketing activities that will see increase in investment:
4. Impact of Integrated Campaigns: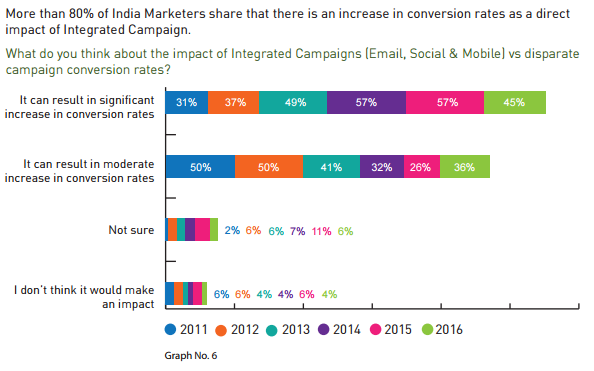 5. Maximising Customer Engagement: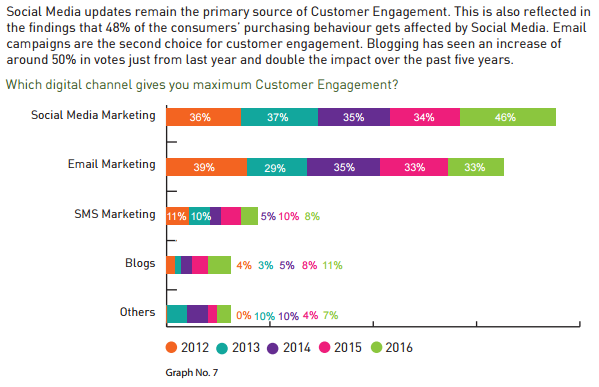 6. How to keep track of your campaign's success:
Major Highlights of the Digital India in 2016:
Customer Acquisition:
Majority of Indian Marketers consider Customer Acquisition as thier primary focus for marketing activities to be carried out in 2016.
e-Marketing revenue contribution is above 10% for half of the Indian Marketers:
85% of Indian Marketers are monitoring revenues generated through e-Marketing activities for their business. 50% of the Indian Marketers consider e-Marketing activities to contribute over 10% of share of their revenues.
Integrated Campaigns increase Conversion Rates:
80% of India Marketers consider integrated campaigns including Email, Social and Mobile to result in moderate to significant lift in conversion rates.
Maximum Customer Engagement is achieved through Social Media updates:
with 46%, Social Media updates achieved maximum customer engagement followed by email campaigns with 28%.
Top Marketing Activities for 2016:
with 66%, Social Media spots the first position in the chart of marketing activities being planned for 2016, followed by Email marketing with 53%. Over 50% of the Marketers are expected to raise investment in Marketing activities.
Online Budget for Email Marketing:
45% consumers in India respond positively to email offers accounting for 3 times that by US consumers. 50% of marketers in India will be increasing their investments by 31%-50% in Email Channel in 2016.
Influences of Social Media on Email Marketing:
Marketers in India are expecting a considerable impact of Social Media on Email Programs with 31% acceleration in growth of subscribers, whihc is a 500% increase from 2015.
Email Marketing Segmentation Techniques:
India Marketers beleive that Purchase History are quite helpful in craeting Email Marketing Segmentation.
Source: Octane Research (#VOIM: 'Voice of India Marketer' Report)