Content marketing is a commitment, not a campaign.
This is well accompanied by one of the growing entrepreneur and content strategist –
Shivang Sinha
who believes he's a "
Born Entrepreneur
". Shivang is the co-founder of
Alphabet Factory
and leading
Vocabberry who 
develops a strategy for delivering content for audience across all platforms with a focus on constant experimentation and thoughtful recalibration based on findings. His role requires strong analytical skills, excellent communication, and has an interest in the technology, innovation, and editorial worlds. I analyze digital performance and devise a future roadmap in accordance. In our industry speak section, 
DigiTalks By Digiperform
, we decided to get in touch with him personally and ask for his journey from college students to Digital Entrepreneur. Have a look and we hope his life and experiences will help others to motivate and feel confident in their abilities.
Digiperform- Hi Shivang. First, welcome to our industry speak section, DigiTalks By Digiperform. It's a pleasure to take your interview. Our readers would like to know about you. We would like to know about both, professional and not-so-professional Shivang. 
Shivang- Thanks for having me on this platform and giving me the privilege to share my story.
Talking about myself, I always wanted to be an entrepreneur since school. Always had fun in being able to sell things and make some profit. I even started selling pens in school when I was in 6th standard for a profit of INR 1-2/pen and made some 20-30 bucks each day. Later, started giving tuitions in class 9th through 12th to fuel my desire to keep buying clothes and accessories. 
Always wanted to get into Pharma so took up pharmacy as a professional career while still writing content for references, mostly paid.
Later, after my first startup went down due to operational issues, I started working at Vocabberry full-time to serve the intent of great content and deliver valuable content solutions to clients.
The intent to serve clients with quality content raised while working with international and national brands such as Fresenius Kabi and Biocon.
The outsourced content was mostly never of value and hence, it never saw the light of the day when it came to publishing the same. What started with Vocabberry was propelled further by Alphabet Factory – specialized content creation and marketing platform not just for B2B, B2C or D2C segments but also for e-learning. 
Apart from this, love to make and listen to music, write poetries, read influencer blogs on entrepreneurship and business ethics, trade and more. Love to travel. I am a lean traveler. I can travel as soon as the next hour! Hahaha!
Digiperform- What you would like to call yourself, Marketer, Public Speaker, Columnist or Content Strategist? And, why?
Shivang- I would like to call my self a marketer because of my ability to blend with people quickly and share opinion and thoughts basis the surroundings.
As a marketer, I possess the etiquette of public speaking (something I love) about content, business processes and more.
The same applies to be a Columnist or a content strategist.
Being a marketer is a constant hustle. You have to remain updated about everything in business and whatever is trending for the shortest span.
Hence, a marketer is everything – a speaker, a columnist, a strategist and whatever you may like to call.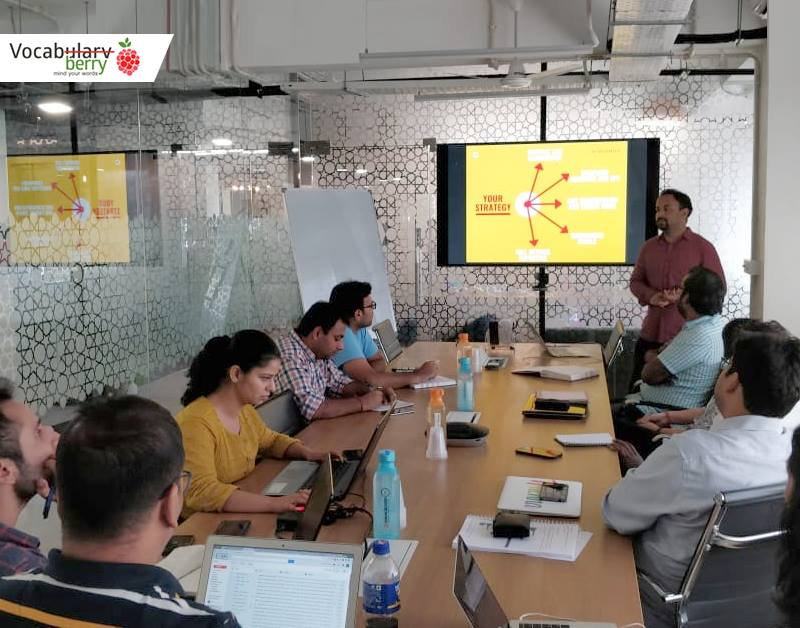 Digiperform- You are a Co-founder of Alphabet Factory and leading Vocaberry as well. Please share about both the companies. Share the foundation and what kind of services you provide.
Shivang- With Alphabet Factory, the aim was to further the vision of serving quality content to not just B2B and B2C segments but also to Universities and Corporates.
We realized the value of quality content was missing when it came to eLearning courses that the university and corporates were taking.
At Alphabet Factory, we aim to deliver emerging technology courses ranging from AI to IoT and whatever one needs to learn at the same time other courses like POSH, Soft Skills and other personality development courses to help achieve personal as well as professional goals. 
Vocabberry is a creative content solutions company and the domain is entirely different from Alphabet Factory. At Vocabberry, the aim is to deliver content that creates an impact on the brand and helps the brand to reach out to the maximum. 
Digiperform- It's said, "Content is the king of marketing". How much you agree with it? And, Why?
Shivang- I agree with the fact because the content is the next big thing when it comes to marketing and as the guru of content marketing, Seth Godin said – "Content marketing is the only marketing left".
The civilization is bent on reading(blogs/articles/news), watching(videos, snippets, podcasts, films), listening (radio, podcasts, Voice messages) and following graphical form of content.
Hence, it is evident to market the right form of content and put strategies to use that can define the authenticity of the content created. Keep chewing content, we will keep creating it. 
Digiperform- If someone is operating a startup and looking for various ways to content, what kind of strategy you would offer him/her to follow to deliver the best content and reach out to the maximum audience? Let's say, one owns a small restaurant. What kind of strategies should be followed, as a marketer and entrepreneur? 
Shivang- The strategy is always strong on paper and fails when executed incorrectly. While I aim at delivering and framing exceptional strategies it is about how the person executes it.
To the owner of a small restaurant, I would suggest going with the story of the brand. Storytelling always works wonders.
The owner should talk about why and when he opened the restaurant. What is the ulterior motive and how is he serving in the best interest of everyone.
Then usual things like – how is he solving the problem? What is different in his restaurant?
Apart from this, market the unmarketable – talk about the chefs, market the dishes on a daily basis.
Give the dishes a funky name and probably offers discounts if the customers posted a picture with the dish on Instagram tagging the restaurant.
I would always go for a very personalized approach. 
Digiperform- How much you believe that digital marketing is evolving in 2019? What are the three trends you would like to suggest to everyone?
Shivang- Digital Marketing is getting all the pros from the likes of technology growth and especially when it comes to AIML (Artificial Intelligence Modelling Language) and marketing automation.
2019 and 2020 will be a fruitful year in terms of growth and recognizing newer models of content marketing and its forms. 
Three trends considering the commercial aspects would be Content marketing with defined customer cycle and other technicals.
Second would be AI, I believe the most popular marketing applications will enhance personalization and marketing automation which brings us to the third trend which is engagement-based email automation. 
Digiperform- As you are aware, Digiperform provides training to people who want to make a career in digital marketing which includes content marketing as well. What exactly you would like to suggest a newcomer who wants to make a career in content writing or something like that. 
Shivang- Of course, Digiperform has been reasonably seen as one of the premier institutes in providing training to people.
For newcomers, I would suggest keeping indulging in experiential learning and reading – whenever possible.
Listen to podcasts, blogs, go to Blinkist or any such app and keep yourself updated with the latest trends in all domains.
Having written in almost all domains, I draw my knowledge and inspiration from reading and listening to industry updates. 
Digiperform- Any suggestion you would like to give to our readers and trainees as well. 
Shivang- Suggestion would be to keep reading, keep yourself updated with the latest protocols and algorithm changes related to SEO and Instagram and Facebook marketing. The trends help you stay upbeat in the dynamic social media age. 
Digiperform:
Thanks, Shivang for taking us to the memory lane and sharing so much about your experiences. Your journey really seems like a gem and the best thing to read by our readers. Thanks again for giving us your time and allowing us to know more about you and your company. We really wish great luck to you and your company.