An open chat with Digiperform's Ex-trainee and
Yo Womaniya!
Blogger – Samiksha Jain. Read on the complete session where she has shared her venturesome path as a blogger and experiences of Blogging World.
Yo Womaniya, So what's the secret behind such a "Yo" name?
Ans. Yo is the slang word referring to any Women's swag/Charm. The idea behind keeping Yo before Womaniya is to make it a slang word before anyone refer to any woman. So, I want to replace the word "Hey" to "Yo".
Post Graduate in Mass Communication to a professional Blogger, Why?
Ans. Becoming a blogger was something I always wanted even before I started my Post Graduation. I love to share my opinions and try to find out if other people also think the same way.  I started Blogging in 2013 but it did not work out because of lack of knowledge. The time I started my Digital Marketing Course at Digiperform, I realized that I can pursue my interest cum passion again and there I am, Back to the platform which I love.
Why should people follow Yo Womaniya, In 50 Words?
Ans. Yo Womaniya is a platform where one could have related to how fashion and beauty can go hand in hand with food and travel. To have a quick update about what is new, one should check out social media handles of Yo Womaniya and within ten seconds, you will have an idea. People who follow Yo Womaniya are "Special Peoples" for me.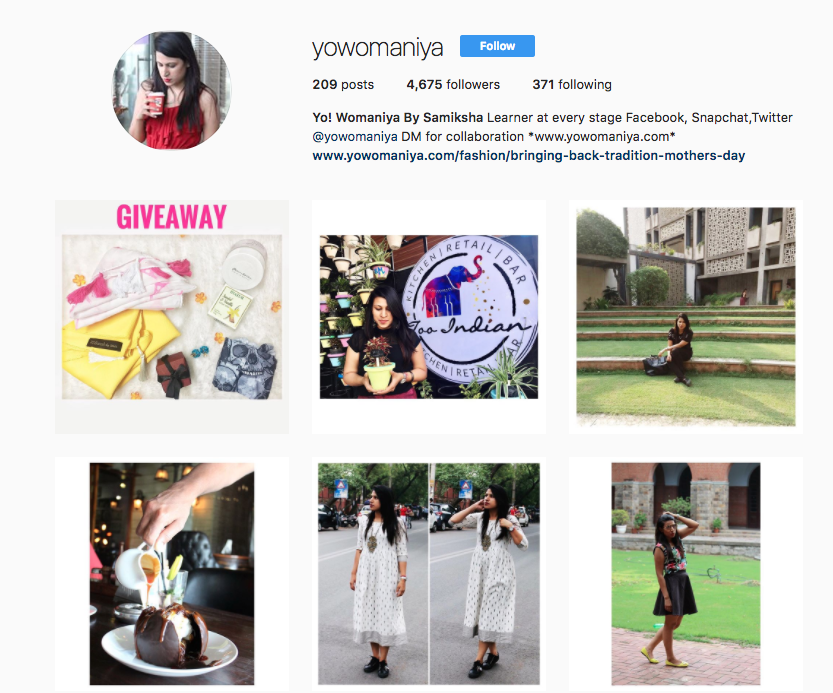 What was The "Best moment" of your blogging journey?
Ans. There are a lot of Best Moments in my Blogging Journey, From My Website going live to the appreciation that I have received, My First Earning to my recently started YouTube Channel, I am everyday learning and I am enjoying it.
You have 5 Blogging Categories; Which One is Your Favourite?
Ans. I do have 5 Blogging Categories but to choose among them would be very different because all of them are so interrelated. While Beauty and Fashion go hand in hand so as Travel and Food and this has become a part of our lifestyle. Imagine, A women exploring the streets of Milan with a Burger in hand wearing Versace Dress and Mac on her Lips, that's the part of her lifestyle.
What is the Most Challenging part of running this blog?
Ans. Challenging Parts of running this blog are Time and Money.  Initially, one needs a lot of time to dedicate to create and promote the content. Currently, I am working into altogether a different sector now for me to take out the time to attend the events and write the content is a difficult task. Secondly, Initially to promote the content you need money. I am focusing on earning money from a different sector and then investing it in my Blog. For me, Managing Time and Investing Money are the Challenges.
You recently had a Rapid Fire with "Chef Sanjeev Kapoor" and "Chef Kunal Kapoor", how big of an experience was that?
Ans. Meeting Chef Sanjeev Kapoor was already a dream come true for me. From my childhood, I have always seen my Mom watching his shows and he being a cooking legend, there is a lot to learn from him especially when you belong to that industry. I am working into Food Industry from past 4 years and meeting with an expert means learning a lot of things from his experience.
A rapid fire with Chef Kunal Kapoor was an amazing experience. No doubt, his presence in real as charming as you can see on TV.
What is/are your favourite channel(s) for content promotion?
Ans. Every day, there is a new change when it comes to technology. There are a lot of platforms available to promote the blog what I focus majorly is on Social Media because that's where my Readers are. And when it comes to Social Media, My personal favorites are
Facebook
,
Instagram
, Snapchat and WhatsApp. These all four have a different audience to cater to but one thing which is common is quick sharing.
Your first revenue from a blog? How and Experience?
Ans.  My first Revenue from my blog was Rs. 5000. I earned it while working for a fashion brand. The feeling was great, hard-earned money from something to which I dedicated my everything. I could not stop smiling and sharing it with people. But I used this money as an investment for my blog because I want to grow from what I learned.
"Yo Womaniya's" Goal for this Year?
Ans. The goal for this year will be to perform better than What I was doing last year. Looking forward to expanding my team.
Your Experience at Digiperform and any message for youngsters planning to take digital marketing or blogging seriously.
Ans. My Experience at Digiperform was completely life changing. Honestly, Before this course, I did not even think that I start with my Blog. I thought to pursue this course to prepare myself for a Job in Digital Marketing but Here I am planning to expand my team over something which I started.  I will always be grateful to all my mentors at Digiperform for their never ending support even at the odd time and post the course as well. All I would like to say the youngsters that Nothing is easy until done practically. Practice more and more, Be patient and just keep on learning. Great Efforts results in wonders. All the Best!!