Did you know that 70% of consumers including businesses, look at multiple online review sites when choosing any business service provider? Also, in Google search results, reviews can have a 7% influence on the rankings. 
The power of the internet is immense. All customers need to do is post a bad or negative review about your services, and you'll lose all your
online reputation
in a fraction of a second. In simple words, your online reputation is very important for business continuity prospects. If there are any unpleasant reviews posted about your business on any of the online mediums, no business will like to request your services, and no customer will like to associate with you. In simple words, your online reputation is everything. It decides the people who'll interview your company, your clientele, the revenue your company generates, and your online stand in the market.
What Is Online Reputation Management?
So, what is online reputation management? 
A lot of people will say, it is a way to manage all your social media profiles and monitor them. Some others will say, it is all about public relations, maintaining a positive and faltering public image of a brand. Mostly, people hold these misconceptions about online reputation management, and there are still others who literally have no idea regarding the impact a brand's online image has on businesses and their sales. To define ORM or
Online Reputation Management
, it is the process of managing, improving, and strengthening the reputation of businesses and brands online. In simple words, through ORM, a brand can protect its identity as it appears online. How? Through the creation and managing of information that is available about a specific business on all the online mediums. The process involves SEO, review management, and productive social media strategies. All these tactics help in developing an influential and meaningful brand image for those customers reading about the brand.
Why Is Online Reputation Management Important?
As a business owner, don't you want to know what customers think about you?
With over, 81% of shoppers researching about a brand before purchasing their products or requesting their services, maintaining a positive online image seems to be a rather important task. A brand's online reputation determines how consumers will perceive your business when they search about it online. For example, search for any business on the review sites like Yelp, Yellow Pages, Better Business Bureau, etc.
What do you see? 
A mix of positive and negative reviews.
Doesn't that influence your assessment of the brand?
It does, and so is its story with thousands of other customers who read those reviews. The 21st century is known as the digital decade for a reason. It is this decade that witnessed the massive acceptance of internet by consumers and businesses alike, transformed marketing strategies around online mediums, hired personnel that knew how to handle their social media profiles, saw a rise in online management instead of traditional methods, etc.
Still don't understand why online reputation matter?
Read the following statistics to understand the massive influence on the online reputation of brands.
72% of customers trust online reviews similar to personal recommendations and word of mouth. 89% of global customers trust online reviews. 
65% of customers consider a positive brand experience to have a bigger say than expensive advertising strategies. 
88% of online customers don't like to buy from brands that leave comments on social media that are non-responsive. 
51% of the millennial generation likes to buy products right from the social media profiles of brands. 
These present an overwhelming report of how indispensable online reputation management is, and why do brands need to invest in it right away.
How Does Customer Experience Impact A Brand? 
It will be easier to explain it this way; brands need customers and not vice versa. Customer experience is a broad understanding, encompassing different domains like marketing, customer service, and IT. The internet, mobiles, laptops, and tables have all impacted our daily activities. The key to connecting with the customers is through efficient interaction by the brand. All customers want is clean, responsive, and easy-to-navigate services and for brands to answer their questions and doubts timely. Brands need to have consistent in implementing a strong social media presence across all the channels. For this, organizations need to stay updated about the reviews being posted on social media platforms. A successful customer experience approach includes integrating communication across all the channels, to ensure that customers are receiving a reply to their messages via their preferred method. However, you may explore more about the
online customer experience
How To Manage The Online Reputation Of Brands?
An online medium that can help you establish your brand image can break it too. A wrong turn by the brand, and they head towards the biggest nightmare in their history. This digital age is such that a post can get viral easily, and overnight, brands can suffer through the atrocities of a bad review. Therefore, brands need to extra careful when working on their social media profiles and talking to the customers. And customers are very witty these days. They know the power of their online reviews and they can use it for their advantage. Unfortunately, how vigilant you are with your online reputation management, you aren't safe from the PR disasters. This is where online reputation management agencies can help you out. They can detect a slight mishap in your online reputation, connect with the customers immediately, and make sure that the problem is resolved before you know it.
So, what do these agencies do?
They represent the face of the brand, playing a crucial role in keeping your online reputation intact. Before the situation reaches to the top management of any business, the
call centres in India
frontline employees of such online reputation management companies will regain control over the situation.
How do they do it?
The following are some ways in which call centres can help brands survive an online crisis.
Channel attention to the customers
Let's say some customers posted such a review on your brand's social page? Well, obviously it is going to fuel up the reaction of other prominent customers of yours. Now, you must handle such issues delicately. The idea is to understand why customers acquired a specific problem with your services and solve it. In doing so, you can either contact them, if their contact number is listed with you, or you can ask them to contact you so that your employees can handle the situation. In either way, you need to address not just one customer who is disheartened with your services but several others who are reading such a review.
Provide excellent customer service
It is normal for customers to be dissatisfied with your services every once in a while. As an effective brand manager, you need to make sure that all those issues are being addressed. Brands need to always provide a positive experience to their customers.
Consider this example. Any review like the one stated above needs to be noted at the earliest. When the American Express read this type of a review posted by a customer, they immediately looped in the right team to make sure that such a serious situation is solved. This is how excellent customer service works. If you have a PR team to handle these reviews, then looping in the right team is the perfect thing you can do.
Reply on every request or opinion
Businesses need to treat their customer respectfully. You need to show your customers that their opinion matters to you. This is only how customers will continue their association with you and even recommend them further.
Consider this example. A customer posted how she loves the mattresses from Casper but she cannot afford them. In reply, Casper replied to her providing her with the links of the mattresses that might work within her budget. They also said how important, as a customer, she is for them. This is how online reputation management works.
Share your achievements and rewards 
It is a normal human tendency to trust companies who have some accolades and recognition to their name. It is good if you have some good projects in your name and if you can showcase some of them to your customers. Such positive reviews fuels customer's belief in a brand.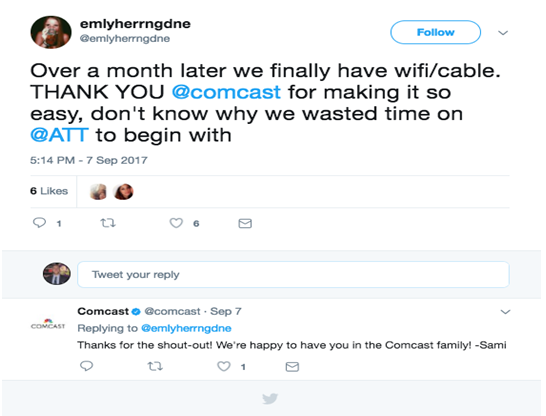 Such a review is an achievement for brands. It is worthy of being showcased over your social media profiles. A happy customer is a reward too.
Keep your content simple and understandable 
A content piece such be such that it can be understood by everyone. That is only how you will drive engagement to your page. Make sure you are addressing all sorts of customers and not a segment. Use normal language and expressions that are not triggering.
Wrapping it Up
These are just some of the steps that can help you in improving your online reputation. Remember, no rule book states the steps of monitoring a positive brand image. It is a result of constant, consistent and user-centric efforts.