"Creativity helps to think more efficiently and Graphic Designers are the one who known as the Mind Readers." – Anonymous
Digital marketing is one of the rapidly growing industries in India which is mostly based on the visuals and informative content. With the same aspect, the Graphic Design is more than just pictures and drawings. It is the major chunk of content marketing which is an art of communication, and problem-solving through imagery pictures and creatives. For businesses, this is a most effective as well as the ideal ways to engage with customers. As per the marketers, Graphic Designing is one of the key components in the digital marketing world to build brand awareness and influence the customer's decision-making process.
Due to the rapid growth of social media and dependency on the internet, the consumers are likely exposed to "Tweets", "Likes","texts" and "messages" on the Web and on their mobile devices. With the need to read or view images in seconds as well as on smaller screens; Graphic Design plays an increasingly important role in getting proper attention. Let's dive more into the concept of Graphic Designing and role of Graphic Designing in Digital Marketing World.
What is Graphic Designing?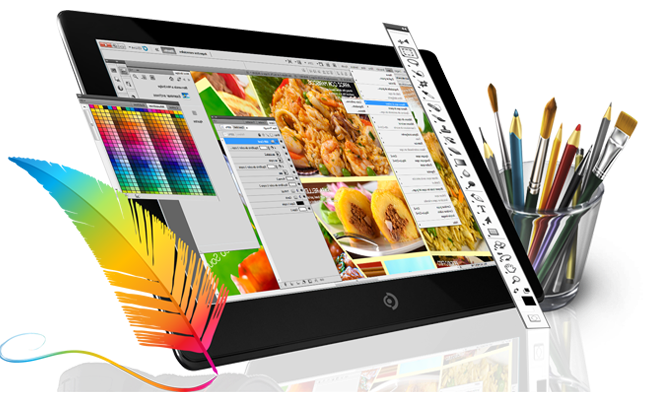 The term graphics is derived from word 'graph'. Graph literally means a visual that should be an accurate and proper by calculation. The Graphic Designing is part of marketing strategy that uses the number of artistic and professional disciplines (called as Graphic Designers), to convey a specific message or a piece of information or content to a group of people through various graphics such as pictures, shapes, lines, visuals etc.
The term Graphics Design is also referred to as
Visual Communication
or
Communication Design
. The process of a designing often involves a graphic designer and a client where the end result is the viewer or consumer. The designer can use different topography skills, images, words, visual arts and page layout techniques in order to produce the final creative outcome without any rules and obligations. The designer arranges various elements of design on different media such as website, poster or a package with the help of various graphics software program.
Basic Tools used for Graphic Designing:
Adobe Illustrator

Adobe Photoshop

CorelDraw

Adobe InDesign

QuarkXPress
Role of Graphics Designing in Business:
Here I have stated top five reasons stating why one should incorporate graphic designing for business:
Building a Brand Identity
Graphic Designing is one of the important aspects of your business if you want to establish a brand image, to stand out from the competitors and help establish to create your own visual identity. Every business has its own identity & strength. One should definitely not want to look like anybody else.
     2. Helps create a Strong Impression
A visual gives a great impact on person's mind. As per the stats, the visuals receive 94 percent more engagement than any usual content. An impressive graphic design always leaves an impact on the audience in the first instance. The graphic design helps to grab attention and keep them hooked on.
It helps to convey the Brand's Message
Most of the times it so happens when words cannot convey your brand's information than videos or visual. It is at such times graphic designers can play a key role in conveying the message in the creative ways. Your business is complex with many products, sizes, colors and sizes and many other factors which are available. This can sometimes prove a little complex in conveying the accurate information. A good graphic design can communicate your offerings in the form of reports, charts, and illustrations.
A good graphic design can Narrate a Story
It is important that readers or consumers get the feel of what brand is up to. A thoughtful and creative design captures the audience's or a potential customer's attention. Through pictures and graphics, one can share a story or moment to describe how your product has brought smiles to the customers. How your services have cheered the audiences? These little gestures can more precisely share through graphics rather than just a written content.
Maintains Consumer Trust
We are living in an era where everything is online even from the minutes of information. A poor interactive design will not communicate your brand's message effectively if the visual is not readable, and understood by the audience. As people respond quickly to a rich creative illustration, you should use every opportunity to develop consumer trust and confidence. A poor interface design can develop a rather an unfavourable image of the company.
Scope for Graphic Designer:
The usefulness of graphic designer extends beyond designing the logo and website. Graphic design can produce a visual environment that will help to communicate your ideas. An informative and creative image can transmit ideas that cannot be expressed with words alone. You can use professionally designed images to create a positive impression and avoid misunderstandings. Graphic designers are required in so many industries like Advertisement industry, Print Industry, Web designing industry etc. If the person is a creative with heart & soul and wants to showcase their wild imagination through graphics, then this is a right choice of career.
Role & Responsibilities of a Graphic Designer:
Graphic designers typically do the following:

Meet with clients or the art director to determine the scope of a project

Advise clients on strategies to reach a particular audience

Determine the message the design should portray

Create images that identify a product or convey a message

Develop graphics for product illustrations, logos, and websites

Select colors, images, text style, and layout

Present the design to clients or the art director

Incorporate changes recommended by the clients into the final design

Review designs for errors before printing or publishing them
A note by our own Graphic Designer: Ritika Thakur
Conclusion:
A good design is the mainstay support of your business. You should utilize your graphic design in the best way possible which will promote the company objective and establish brand recognition. Graphic designers combine art and technology to communicate ideas through images and the layout of websites and printed pages. They may use a variety of design elements to achieve artistic or decorative effects.