According to a report generated by comScore in July this year, smartphone apps now makes up for 50% of all digital media time that is a rise of 44% in comparison to that of almost a year ago.
Talking about the overall digital media time spent, it is a whopping 68% for mobile while 32% for desktop, as per the report.
This data released by comScore is of course furnishes a number of immediate implications & takeaways. For instance, the data is indicative of the fact although it is a cross-platform world we are living in, still mobile indubitably has become primary.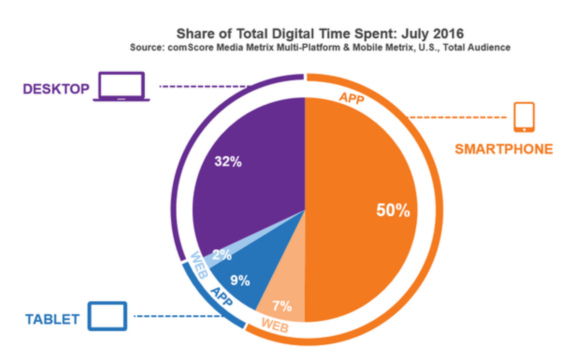 Someone arguing for an equal treatment for all platforms is perhaps acting imprudent. Of course there should be a solid user experience across platforms and that no platforms should ever be neglected however the smartphone experience must be paid the attention well and given the utmost priority. Any failure in delivering a good mobile experience will certainly compromise the brand perceptions.
The report also revealed the fact at the same time that although the share of digital time for desktop is shrinking still the platform dominates online conversions. A bad mobile user experience could be the main reason behind this as per the report. Throwing light at the market scenarios, the report also unveiled that there are still a number of brands, retailers and publishers that are very desktop-centric and treat mobile supplementary to the PC experience instead of realizing the truth and acting accordingly.
One very remarkable point that needs attention is with the digital media time shifting to mobile devices, publishers are becoming much more vulnerable to ad blocking that takes place more often on mobile. In fact, significant page view volume worldwide is now exhibiting ad blocking. However if you talk about ad blocking in apps, it is less common than on the mobile web.
Moreover, with consumers devoting more & more of their digital media time in a small number of apps, reaching and engaging them along with getting them to download the apps is becoming increasingly challenging. Although the mobile web has better reach but creating engagement with it is a little tactful & tricky and that taking the substantial effort along with testing and the right resources is the answer & solution to all the questions & concerns.