What is the first thing a rational person does when he/she decides to buy a property? Almost every prospective buyer looks up the internet for buying options.
Individuals who want to buy a new house have to juggle multiple activities that include fulfilling job descriptions, preparing the kids for the school, and extending
assignment help
.
They take to the internet because it saves their time and allows them to multi-task. That's why it is essential for a real estate professional to make the most of the digital landscape.
The Real Estate in a Digital Age 2017 Report
by National Association of Realtors revealed that
99 percent of the millennials
search on online websites to find properties (especially homes).
Did you know that 90 percent of the real estate companies have websites? So, what can you do to get the attention of the prospective buyers? The answer is Digital Marketing.
In fact, there are several digital marketing practices that can help you boost visibility and sales.
1. Make your website more user-friendly:
Do you know that
100-millisecond delay in load time
of a website can cause the conversion rates to drop by 7 percent?
If the delay reaches one full second, the conversion rates drop by 70. You cannot afford that, can you? The best way to deal with that issue is to optimize your website to accelerate its loading time.
Hire a professional web designer and optimize all the elements that are reducing the speed of your website. Too many plugins, heavy images, and links are the major reasons behind a website's slow loading speed.
You can get rid of unnecessary plugins and install all-in-one plugins such as
Jetpack
to speed up the website.
Also, it is recommended to optimize the website for mobile devices. Since half the web browsing is done on mobiles, it is essential to ensure the website responsive to all screen sizes. In short, it is a mobile-friendly website. 
You can use tools like
reSmush.it
for image optimization. Besides, to give your clients the best experience, including blogs, that can guide them with the property buying process, a list of all new listings, and links to all the relevant services (such as movers, lawyers, home inspectors).
2- Post valuable blog content:
While optimizing the website is essential for better user experience, it is also important to rank better in the search engine results page (SERP) for relevant keyword searches.
You will be surprised to know that responsive websites with insightful blogs have
434% more indexed pages
, which is a great deal for search engine rankings.
Write and publish blogs that add value to your services while answering the major queries your prospects can have. It is always a better idea to hire brilliant writers and build a content team, which will regularly produce engaging blog posts for your website.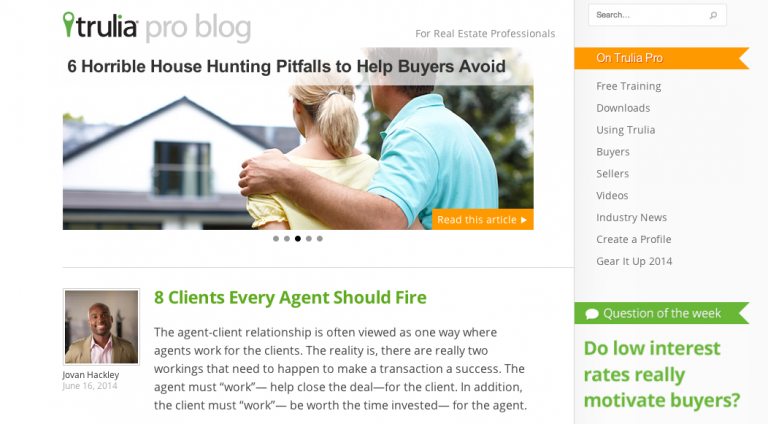 An impeccably written blog with engaging and SEO-friendly content can boost your conversion rate rather significantly.
Click
here
to learn effective tips for SEO-friendly blog posts
3- Organize email campaigns:
No matter what others say, email marketing is still effective and remains to be the most effective tool for customer engagements.
And now that you have the options to schedule and personalize your email campaigns with tools like
MailChimp
and
Campaign Monitor
, you can actually boost the open rate and click-through rates of the emails.
As you may realize, email is a tool that can be effective in attracting the prospects, converting them into leads, closing the sales, and delighting the customer.
If you want your email campaigns to work, focus on the time when the recipients are active, create an interesting subject line and personalize the message to engage with the individuals.
Social media platforms are the best place to market your business. You do need to determine where (on which platform) the majority of your prospects are.
You need to prepare your strategy accordingly. After all, posting real estate-related content on Facebook or Twitter once a week won't be enough to boost your sales.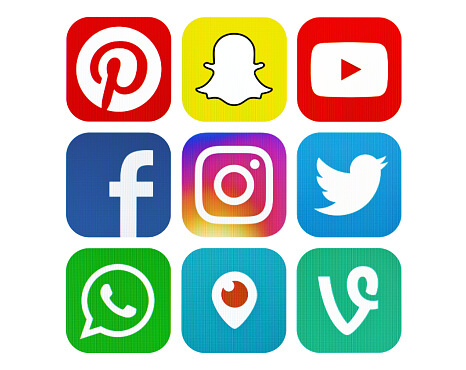 Start by posting relevant content across the most active social media platforms. It can be case studies, blog posts, success stories or new listings.
Just like the email campaigns, you also need marketing tools like
Buffer
to produce and schedule social media content for better engagement. If you are using Instagram and Pinterest, focus on sharing high-quality images.
5- Adopt pay-per-click advertising:
If generating new leads is your priority, Pay-Per-Click (PPC) advertising can be an excellent strategy for your real estate business. You must have noticed that once you search the internet for a certain keyword, you keep seeing related ads even after a couple of days from the keyword search. This is the charm of PPC ads.
You can use Facebooks ads and Google Adwords for setting up PPC ads for your real estate services. Interestingly, you only need to pay for the ad when someone clicks on it. So, it is more economical than traditional advertising.
6- Introduce virtual tours:
If you want to attract a number of visitors to your website, providing responsive pages won't be enough. To stand out from your competitors, you need to offer more features to your visitors. Virtual tours of the homes and other properties can be an interesting feature to add.
It goes without saying that any person would choose a virtual tour of a property over the website that only offers a few photographs of the property. Use real-life footages of the property. Also, try to make the tour as interactive and responsive as you can.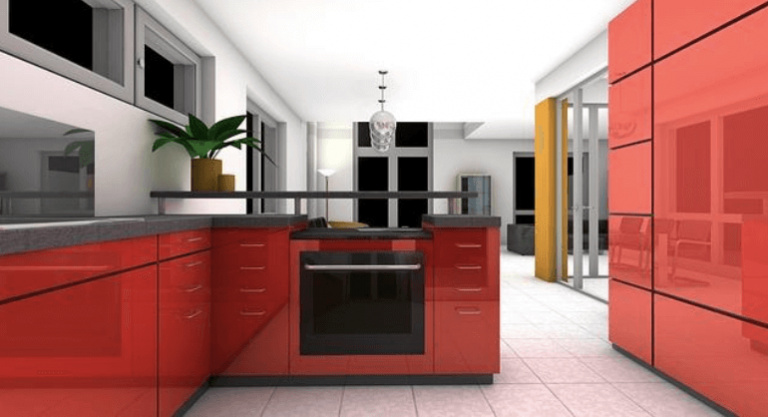 7- Generate leads on LinkedIn:
Even though LinkedIn is essentially a social media platform, it is mostly used for professional purposes. As a realtor, you can join LinkedIn groups not just to extend your network but also to boost your sales.
Choose the groups where your target audiences spend a significant amount of time. You can join the discussions and contribute to the conversation before making a professional pitch.
If you choose to join a real-estate investment group, share blogs and articles about the local properties that are listed on your website.
If you are in a group of first-time home-buyers, try to earn their trust by answering their queries. Once you have built rapport with other group members, you can follow up with people who are interested in and engage with them further.
8- Host webinars:
Many people fail to realize this, but sharing your expertise as a real estate professional can be a great strategy for marketing your business as a brand.
Webinars and online workshops allow you to leverage this marketing strategy to address a larger audience while staying relevant to the industry.
Obviously, you need to promote the webinar or workshops on the internet for the people to know. If enough people don't join you on the webinar, hosting such an event won't serve the purpose. Tools like
GoToWebinar
can help you create and host such events quite easily.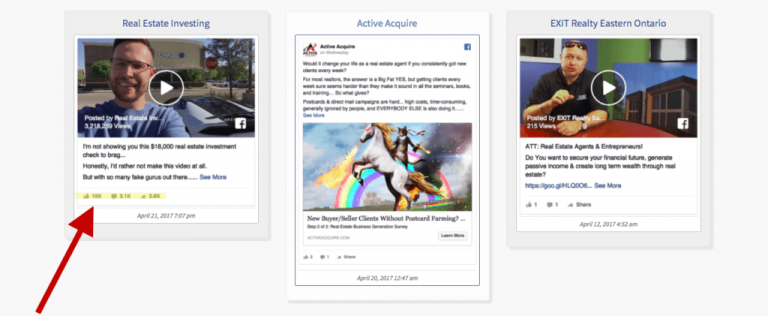 9- Target "For Sale by Owner" listings:
It is surprising that only
3 percent of "For Sale by Owner" listings
make the sell within the desired time. Only 18 percent reportedly receive the right price for it.
You can find such listings on other real estate sites, and offer to help them get the most from their listings.
You can share blog posts with them, or perhaps show them a few bulleted stats to let them know why working with an agent can benefit them. Follow them up if they are interested in learning more.
10- Focus on search engine optimization:
Search engine optimization is a lot more than just posting SEO-friendly blogs on your website. You need to ensure all the significant pages on your website get better ranks in the SERPs during relevant searches.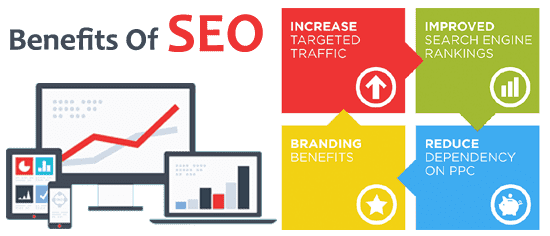 Since the search engines like Google keep on changing their algorithms, it becomes a hectic job for the marketers to maintain higher ranks on the search results.
Conduct proper keyword research before drafting the webpage content. The positions and the density of the keywords in the web content play a crucial role in determining its SEO rank.
Besides, there are other elements such as the backlinks, metadata, online directories and social media pages that contribute to the ranking of a webpage. It is a no brainer that when your SEO rank rises, the number of visitors on your website starts to soar.
The takeaway,
Thanks to the internet, it has become a lot easier for the realtors to deliver effective support to their prospects as well as existing customers.
Owing to the convenience, the competition in the market has skyrocketed in the past couple of decades.
Digital marketing strategies have been quite effective for brands across various industries to boost their sales. If you haven't tried it yet, it's high time to implement the digital marketing measures to drive sales.
Author bio:
Sienna Brown is the marketing manager at
MyAssignmenthelp.com
from the past 6 years. He received his MBA degree from the University of Monash.