There are millions of consumers looking for brands like yours online, regardless of the industry you are in.
Whether small or big, your company's online presence is vital if you wish to grow and thrive. Considering this, SEO (Search Engine Optimization) plays an important role when it comes to marketing your company online. 
The term SEO refers to how you program your website design and content in order to make it visible to search engines.
This increases the visibility of your business in organic or unpaid search results. When you are launching an online presence for your business, there are 4 things you can do to ensure that you reap maximum benefits in terms of growing your company. These are: 
#1 Creating quality content
To boost your SEO ranking, It's essential to create high-quality engaging content.
Ideally, the content you create should be unique enough to set you apart from your competitors. There are businesses that opt to forego the ingenuity that is needed to excel while undertaking the SEO route by posting monotonous content on their website – but this does not work.
What such businesses fail to realize is that content that lacks substance is harmful because it affects your SEO negatively and you can invite Google Penalty. 
Search engines such as Google and others penalize such sites for poor content because their content is not useful to visitors.
The other thing that lowers the quality of content is keyword stuffing. This means placing too many keywords in your content than is necessary for no genuine reason. Here is an example of keyword stuffing, that you should avoid while creating a keyword strategy for SEO.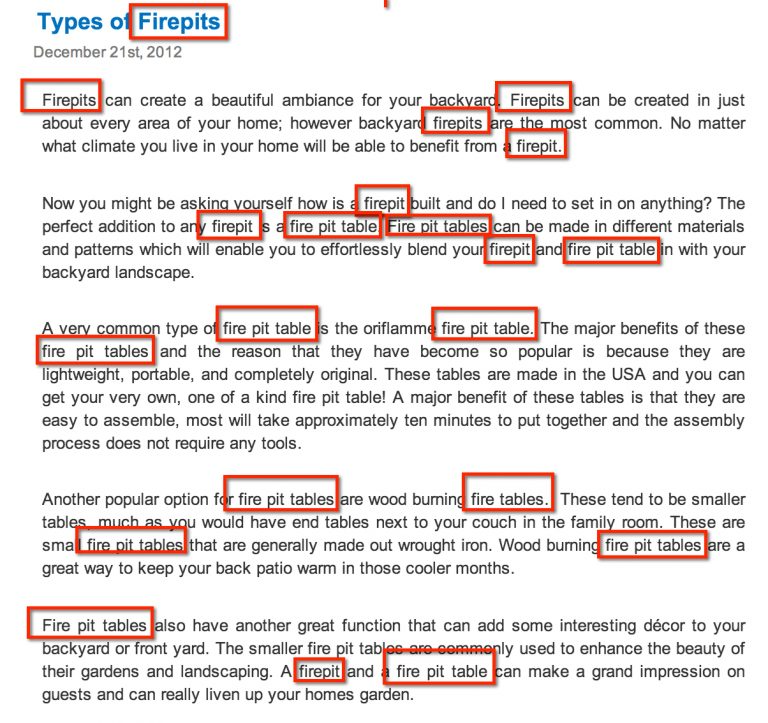 For instance, if you add a keyword more than 10 times to a blog post, that diminishes the value of the entire article. As a result, search engines opt not to rank the post highly because it lacks relevance and does not add value to visitors.
#2 Integrate technical SEO
Technical SEO is a vital component of the whole SEO process as it involves optimizing your website for the crawling and indexing phase. This helps users understand your site quickly and efficiently – which makes it an important aspect when it comes to growing your company's online presence.
Technical SEO influences some important aspects of your website. These include the speed at which your site loads, the structure or architecture of the site, and the internal linking and redirecting capabilities of the site. 
Technical SEO also determines the mobile-friendliness of your site, heading and body optimization of the site among others. When you improve your site's loading speeds, you not only reduce customer bounce rates,  you also enhance user experience on the site.
Apart from giving your site an immediate traffic boost by bolstering its speed, choose to also address other issues that can improve its ranking on search engines.
Joel House Search Media
can help you address challenges relating to slow loading speeds, poor site architecture, wonky redirects, and tag issues and put you on the path to growing your company's online presence.
Site authority ranks second on Google's ranking factors. Your site's ranking potential is directly related to the number of quality links available on your website.
When you develop high-quality content that outranks the big players out there and fails to link that content to high authority sites, your efforts may end up being futile and your competitors may easily carry the day.  
Depending on your niche, the use of long-tail keywords and links to levels of sites may work for some time.
However, as people become sophisticated in the use of SEO and content strategy, this can lose effectiveness pretty fast, making it hard to survive without strong authority.
There are several ways that you can boost the authority of your site. These include content marketing, guest posting and link building using PR. 
Integrating these approaches in your content strategy can put you on the path of growing your company's online presence by increasing your site authority to become more of a reality.
If you check out the top-ranking pages for any queries, you will notice that high authority goes hand in hand with content quality. This is not affected by page speed even if the latter is a key factor in search engine ranking. To be on the safe side, you should ensure a strong technical foundation for crawling and indexing, build and obtain links back to your site, and create awesome content.
#4 Enhance your on-site SEO
On-site SEO has to do with optimizing your content for search algorithms so that your site can rank high for your target keywords.
Also known as on-page SEO, on-site SEO, is the practice of optimizing elements on a website as opposed to maximizing links to other sites and other external signals to rank higher and attract relevant traffic from search engines. 
Besides helping search engines interpret on-page content, this type of SEO also enables users to address search queries faster and in a much clear way.
When done properly, on-site SEO enables search engines to understand what a human being will encounter and what value they will get from your website pages. 
As a result, search engines are able to pick and display content that people will find valuable and high-quality in response to the specific keywords used in a search. 
The primary goal of on-site SEO is to ease the work done by search engines and human visitors. Primarily, the two should find it easy to understand what your website pages are about, identify those that are to search queries, and find pages that are worth ranking well on the search engine results.
Initially, on-site SEO was synonymous with keyword usage – especially high-value keywords on various website pages. This has changed significantly – today, keywords are no longer essential in on-site SEO as the latter has become more sophisticated. 
Search engines have evolved exponentially to a point where they are able to extract meaning from web pages' based on the context in which content appears or from the use of synonyms. Currently, more emphasis is being placed on relevance despite the growing importance of keyword use such as placing the exact keyword match on specific pages.
As such, on-site SEO focuses less on keyword repetition. Instead, it is more user-oriented so that visitors can get what they are looking for. This determines how businesses find ways to create content that meets the needs that online visitors have.