As human beings, we are guided by our emotions. Almost every decision we make is based on what we feel. Consumer decisions are typically influenced by emotions which is why brands focus on emotional marketing. 
For generations, marketers have been crafting ads that showcase their respective brands' unique value propositions. Such messages helped guide reasoned and deliberate purchases. However, things have changed, and now consumers opt for brands that feel right to them. 
With the advent of the internet, information became readily available, and advertisements are at every turn. Consumers can now research and understand the products before making any purchase. So, what differentiates brands like Nike, McDonald's, Coca Cola or Apple from the rest?
It is simple- emotional branding. 
What is emotional branding? 
It's an art employed by marketers to elicit emotions that pull consumers toward their respective brands. It's vital for building a brand and maintaining customer loyalty. Think of it as a way to create awareness of your brand and build a lasting bond with your customers. 
For example, on a hot Sunday afternoon, you are coming from a long car ride and your family is thirsty. What is the first drink that comes to mind? The chances are that it's a soda because you've associated Coca-Cola with the feeling of thirst on a hot afternoon. 
Emotional branding triggers emotional responses from customers and creates human connections between brands and customers. Almost every brand and business is trying to implement emotional branding into their marketing strategies.
However, not everyone has been successful. It's more complex than creating funny posts or sharing memes on your social media pages. It's more than just asking your audience to subscribe to your newsletter or follow you on social media. 
Emotional marketing focuses on the customer's needs. You can begin by learning what your target audience needs and create content that satisfies this need.
Use a language that connects your audience to your brand. Maintain this consistency and ensure that you deliver on your promises. Don't be sweet with your words and have nothing to back up the sweet talk. The sweet words and promises will attract customers, but it's the value you offer that will keep them coming. 
How effective is emotional branding?
A recent study on how emotions impact the effectiveness of an advertising campaign had researchers analyzing some of the most successful advertising campaigns of the last 3 decades. Researchers analyzed 1400 campaigns based on criteria such as profitability, effectiveness, and marketing strategy. 
Campaigns that relied purely on emotional appeal performed better than campaigns that focused solely on rational content. According to the researchers, emotional content was twice as effective as rational content (31% vs. 16%).
Campaigns that combined emotional and rational content also performed better than campaigns with purely rational content (26% vs. 16%).
Numerous brands have tried to emulate this marketing strategy, but very few have been successful. Where small brands have failed, prominent brands like Apple and Nike have perfected the art of emotional branding. 
Maya Angelou once said, "People will forget what you said, people will forget what you did, but people will never forget how you made them feel." 
Great brands such as Nike focus on providing quality products, but they also ensure that their customers feel good and are contented with the products and services offered by the brand. This is why Nike is the most popular sports brand in the world. Here is an example of quick customer support from Nike: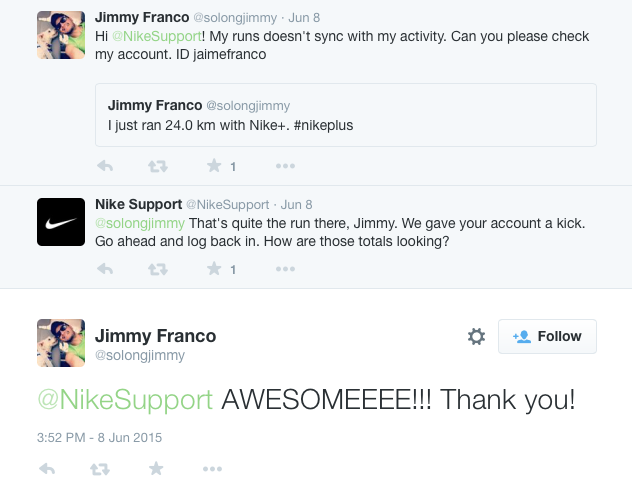 Nike excels in a lot of areas, but the most remarkable is its branding strategies. Some of these include signing big names like Cristiano Ronaldo, Michael Jordan, Lebron James, Tiger Woods, etc.

There is also emotional marketing, and nobody does it better than Nike. Almost every advertising campaign by Nike has a story that leaves a lasting impression on the audience. 
Nike is famous for its "Just Do It" slogan. The slogan began in 1988 when Nike featured Walt Stack, an 80-year marathoner who ran 17 miles every morning. This campaign was directed at everyone regardless of age.
It evoked emotional responses from viewers and challenged them to become better. The campaign was so successful that Nike's revenue increased from $877,357,000 in 1987 to $ 1.2 billion in 1988. Profits almost tripled from $35.8 million to $101.69 million. 
In 1995, Nike released an ad that supported women in sports; the campaign saw international sales rise by 36% in the next fiscal year. In 2007, Nike advocated for disability with their "No excuses" campaign. Revenue grew by 14% from $16.3 billion to $18.6 billion. In 2012, Nike touched on gender equality which saw revenue increase by $3.2 billion. 
In 2018, Nike released a "Just Do It" campaign with the controversial quarterback Colin Kaepernick. The campaign touched on dreams and aspirations. Colin was the face of the campaign and advocated for people to believe in their dreams, hopes, and aspirations regardless of whether it meant sacrificing everything.

The campaign received backlash on social media, news outlets and even the president, Donald Trump. Their stocks dipped 3.2%, but their online sales grew by 25%. Nike's income increased by 10% in the second quarter of 2018 and social mentions were up by 135%. The "Just Do It" campaign is not only inspiring, but it also tells a powerful story that resonates with billions of sports enthusiasts around the world. 
Nike isn't just a brand that sells sportswear; it's also a brand that inspires millions of people to become athletes. It connects to consumers through emotional appeal, which ultimately influences consumer decisions. 
Is Emotional Branding effective in online marketing?
While emotional branding has proven to be effective for big brands, can marketers replicate it with the same success in online marketing? Unlike conventional marketing, online marketing targets a more savvy audience.
Consumers can easily find information on brands and products by searching on Google, Bing or any other search engine. They get a better feel by reading or watching reviews of products before making any decision.
Therefore, as a marketer, you have to offer your customers value and ensure that they're satisfied and emotionally connected to your brand/business. This will keep them coming. 
How do you accomplish this feat?
Before you can even create an emotional connection with your customers, you need to build your credibility and authority in the niche. For example, having an active social media presence is good, but customers prefer businesses with websites. 
An official website is seen as the "home base" for the business. Customers can learn more about the business or make orders any time via the website. It also offers an avenue for brands to provide meaningful content for their customers.
It's not just any type of content, it's high-quality content that focuses on user needs rather than sales. 
2# Embrace empathy 
Research more about your customers, and put their needs above yours. Online marketers typically focus on content that will sell more instead of content that solves readers' problems. This might work for a while, but emotional marketing will have better success in the long term. 
Therefore, focus on the struggles and problems encountered by your audience and try to solve them. Create content that reduces pain and frustration for the audience. This will increase engagement which in turn reduces the customer acquisition cost since you're spending fewer resources to convince the audience to buy. 
3# Tell a story 
Although content rules over the SEO world, it's soulless and doesn't trigger meaningful emotional responses. However, a good story always sells. Stories are captivating and often activate the limbic system, which is responsible for controlling emotions. 
Stop treating customers as numbers or a means to an end and create something that connects with their emotions. You can accomplish this by using storytelling. Begin by writing stories that are relatable and easy to understand. The goal of these stories is to make your audience care and develop a connection with your brand. 
Your stories should be interesting. In a world, where internet users have so much content to choose from very few are willing to continue reading a story that isn't worth their time. A quick skim through the first 1 or 2 paragraphs will determine whether the user will continue reading or not. 
Your stories should have life and leave the audience breathless, yearning for more. Write a story that isn't direct or has an easy storyline. Create a few uncertainties and build up anticipation before the big reveal. You want to have the audience, guessing, doubting and wondering how the story will end. Also, leave room for the audience to draw a few lessons from it. 
Make sure the story is relatable and highlights the common reference points between the audience and the brand. Ensure that the story has a clear flow of events. Test out your story by narrating it to several audiences and encourage the audience to give feedback. Use the feedback to tweak the story to fit your primary audience. Finally, create a story so captivating that no one will care that it's an advertisement. 
Influencers, bloggers, YouTubers, and Instagrammers are embracing storytelling as a way to connect and reach a bigger audience. Some have perfected the art of storytelling so well that they can include the products in a plot with affecting the storyline. Everything feels so smooth and well put that you begin to associate the product with that particular story. 
In conclusion, great brands sell emotion, and if you can perfect the art of emotional branding, you'll quickly rise among the ranks. Create an emotional connection so strong that it inspires brand loyalty. 
About Author
Susan Castle works as a writer and blogger at Media Fortress that offer SEO to clients in Sydney https://mediafortress.com.au/seo/sydney/ , she enjoys all facets of digital and search marketing. She loves to discuss the latest trends in SEO and SEM and share her knowledge and experience and thoughts with end users and other professionals. For more blogs and content you can follow her on Facebook, Twitter, and Linkedin.